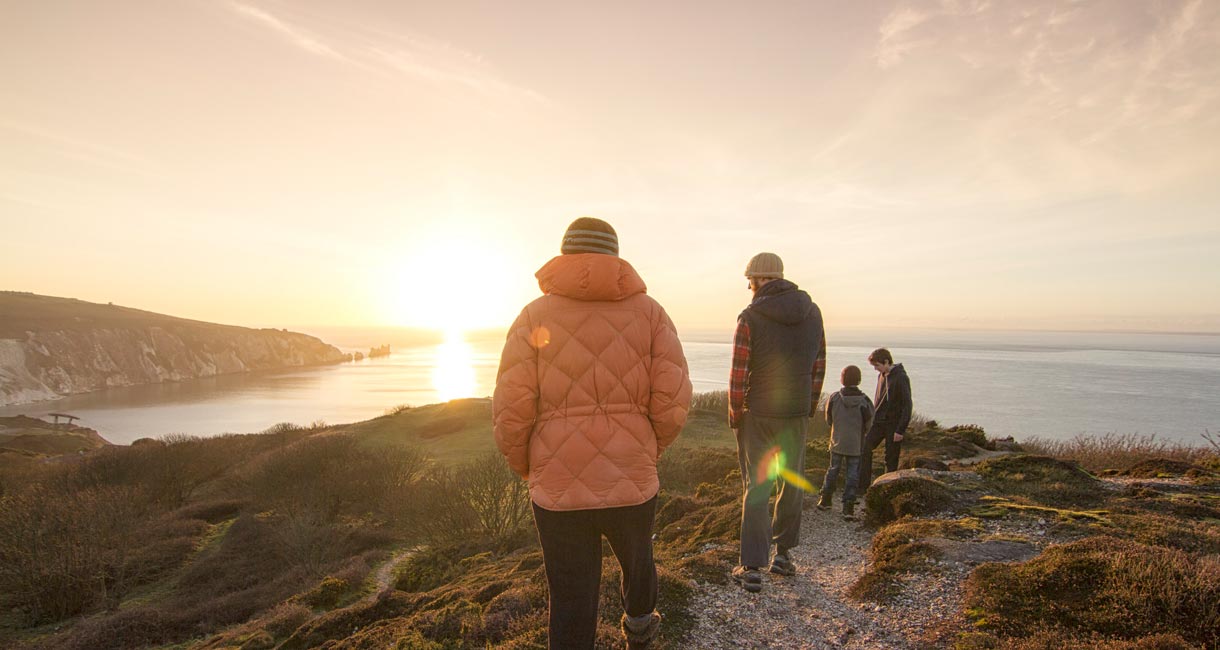 The autumn can be one of the best seasons with sunny days and cold crisp mornings to get out and about. The Island really comes into its own in autumn with quiet beaches, forests and woods alive with colour and some great Isle of Wight attractions that all the family will love.
There's loads to do and lots to see even though the Island is quieter than it is during the summer months. Many of the beaches revert back to being dog friendly and there's nothing better than getting your wellies on and taking Fido on a long walk. Appley and Yaverland beaches are particularly good for dog walking, shell collecting and even making the odd out of season sandcastle.

Quarr Abbey is beautiful and tranquil at any time of year but with the leaves turning it's even more spectacular. The tearoom serves snacks and lunches and the pigs will always appreciate a bag of food which you can buy there too. Take the nature trail through the grounds and swish your way through autumn leaves or visit the Abbey for some quiet contemplation.
English Heritage properties Osborne House and Carisbrooke Castle are open throughout the week until November when they open only at weekends so take the opportunity to enjoy Osborne's walled gardens and take a trip to Victoria's beach or travel the ramparts at the Castle and channel your inner knight. You could take a trip to Brading Roman Villa and see how our ancestors lived, ate and played. Open all year round, it's a fascinating look into the past.

There's nothing to say that you can't have an ice cream in autumn so head over to Sandown and Shanklin and indulge. You can walk along the sea path from one to the other and back and visit the Dinosaur Isle or the Isle of Wight Zoo in Sandown if your small folks are amateur palaeontologists or zoologists. Both are open year round and you can happily while away a day with both the living and the somewhat more bony! You could also hop onto the Steam Railway and enjoy a heritage day or a Wizard Week with plenty to enjoy for all the family.
If you're feeling more adventurous, then The Needles Battery is a great place for little historians with both the Old and New Batteries filled with historical information about both World Wars and the 'race for space' where rockets were tested in secret during the Cold War. There's a 1940s styled tearoom too with binoculars for doing a spot of your own spying. Or if you need to let off some steam then Tapnell Farm is just the place with animals, an enormous pillow trampoline and plenty of space to run around. There's the Cow serving delicious lunches and a café for coffee and snacks.

There are plenty of ways to get around the Island from the open topped The Needles Breezer bus which runs till 28th October (you may need a bobble hat), the Island Line Train which runs from Ryde Pier to cycling along the many cycle tracks which criss cross the Island. Stop off at Blackgang Chine which is celebrating its 175th anniversary or Robin Hill which has its ever popular Festival of Light event which celebrates Diwali.
Whatever you decide to do this autumn, you'll be spoiled for choice. So pull on a coat and hat and get on a bus, train or bike (or maybe just walk) and delight in what the Island has to offer. You won't be disappointed. And, it couldn't be easier to get to the Isle of Wight by car and passenger ferry and by hovercraft. You can find helpful information on travel to the Isle of Wight, and a range of timetables, links and advice to assist you in getting around the Island once you are here.
Don't forget to check out our offers page for travel, accommodation and attraction deals to the Isle of Wight.
Related
0 Comments