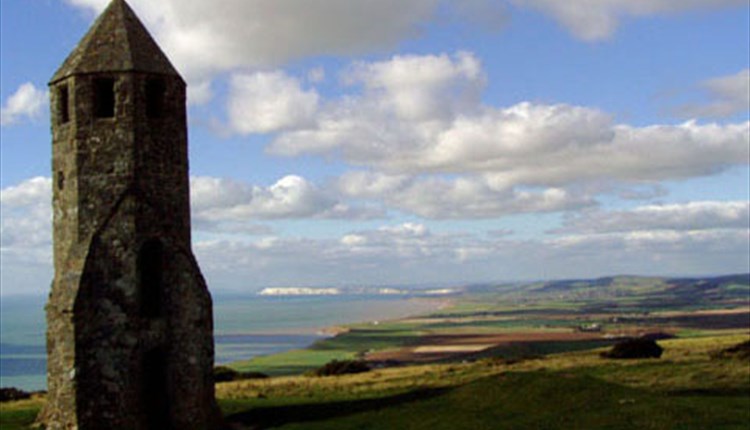 About
The tall, octagonal tower, the shell of a medieval lighthouse, was built in 1314 as a penance for stealing wine from a merchant ship that ran aground on the treacherous rocks of Atherfield Ledge.
The cargo of 174 casks, from Edward II's Duchy of Aquitaine in France, was salvaged, and much of the wine came into the hands of Walter de Godeton, who owned land in the manor of Chale. Charged with illegally recieving the wine, bound for the monastery of Livers in Picardy, he was ordered to pay a large fine and was almost excommunicated from the Catholic Church. To atone for his sin, Walter built a lighthouse with an oratory for a priest to tend to the light and pray for wrecked sailors.
Affectionately known as the Pepperpot, it stands on one of the highest parts of the Island and is the only medieval lighthouse surviving in England.
The slender tower is 35 ft (11 metres) high and has an eight-sided pyramid roof. Inside it is a square-sided shaft; at the top are eight rectangular openings so the light from the fire could be seen at sea. Only the foundations of the oratory have survived.
The four buttresses to the lower part of the tower were added in the 18th century. To the north is a circular stump forming the base of a new lighthouse started in 1785 but never completed. The present day St Catherine's Lighthouse, Niton, of 1838-40, is much nearer the coast.
** Text & Photo courtesy of Albany Associates.
Book Tickets
Map & Directions
TripAdvisor
Opening Times
Opening
(1 Jan 2023 - 31 Dec 2023)