With contrasting landscapes and an ever-changing coastline the Isle of Wight has some of the best and most varied beaches in the country, perfect to visit at any time of the year!
Set on the cliff tops, with stunning sea-views, and filled with an eclectic mix of attractions, magical theme worlds and exciting rides, you'll find something for all the family at Blackgang Chine.

Swing on by to Monkey Haven and visit the Island's award-winning primate rescue centre that makes animals happy - and people happy.
Take a ride on the world-famous chairlift down to the beach to see the iconic chalk rock formation and coloured sands!
A top family action attraction: all-weather, outdoor, racing driver experience for 3-103 year olds. Take a look on our Google and TripAdvisor reviews and don't miss out.
Things To Do on the Isle Of Wight
With such a wide variety of things to do on the Isle of Wight during your holiday, you'll want to come back again and again. Whilst you won't be able to fit everything into a single visit, we've highlighted some of the great attractions, activities and places to visit for you to choose from.
View the latest information before you visit by checking the attraction/activity's own website. To do this use the 'Search Things to Do' box above and click the 'Visit Website' button on the individual attraction/activity web page.
You can even build your very own itinerary of things to do by clicking the "ADD TO MY POCKET" button next to any listing, then review it using the Heart Icon link at the top right-hand corner of your screen. If it is new experiences you are looking for, try visiting the Island for one of our fantastic events or festivals, such as the annual Isle of Wight Festival.
Whatever your age or interests, Shanklin, the well-known, charming traditional seaside resort is packed with things to do from historic attractions to a theatre that provides entertainment for all ages.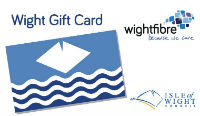 This is the perfect gift card that can be used at a range of Isle of Wight venues including attractions, activities, accommodation, food and drink and shops. Visit the Wight Gift Card website to purchase the perfect present from the Isle of Wight for your loved ones.
Exciting Attractions

Attractions and places to visit are in plentiful supply on the Island, with something to suit everyone. Get a taste of the Isle of Wight's history and culture by visiting one of our museums, galleries and historic sites.
Possibly the Island's most recognisable landmark is The Needles Rocks and lighthouse, nearby to which The Needles Landmark Attraction is full of things to entertain all the family. Sandham Gardens is a relaxing day out for all the family, with glorious gardens, Skynets: The Big Bounce, karts and Dino golf. Go wild at Tapnell Farm Park located close to Yarmouth. Meet the resident animals, spend time enjoying the play barn and get even closer to nature at the farmyard barn. Or lose yourself in the Land of Imagination at Blackgang Chine…the UK's oldest amusement park where you step out of the everyday and into a magical world.
Alternatively, swing on by to Monkey Haven – the happiest attraction in Newport! You'll meet all kinds of wonderful creatures at this popular animal sanctuary, including the singing Lar Gibbons, cheeky Meerkats, slithering snakes and the cutest owls.

View all attractions

Adventurous Activities

If you enjoy outdoor activities, the Isle of Wight has it all. The stunning coastline and warm climate mean that this Isle of the perfect playground for those who love the outdoors. Walking, cycling and horse-riding are freely available for those of all abilities, with more than 500 miles of footpaths and established walking routes, and 165 miles of bridleways waiting to be discovered.
If you're after something a little more extreme, you can try your hand at one of many adventure activities such as tree climbing, paragliding, or sailing, with several top class events taking place throughout the year. There are also plenty of water sports for you to get involved in throughout the year. The Isle of Wight also has a number of golf courses, many of which are set against picturesque backdrops, making it the perfect place for a golf weekend break or holiday.
View all activities


Stunning sea views & beautiful beaches

A visit to the Isle of Wight wouldn't be complete without visiting some of our famous beaches. The Island currently has the highest number of award-winning beaches in England, all managed to the highest standards.
One of the best ways to see the beautiful coastline of the Isle of Wight is from off-shore, and there are a number of sailing and boat charters available throughout the year. These range from leisurely sight-seeing tours to sailing tuition and more "hands on" sailing experiences. For Fishing enthusiasts there are also charter boats available.
See more about our beaches

Stargazing

Looking for a great night out, but not into pubs and clubs? Then head for the Isle of Wight and treat yourself to a night out with the stars… the actual stars. Now a UNESCO Biosphere Reserve, the Isle of Wight has some of the darkest skies in the UK, making it perfect for an astronomical night out.
The Great Outdoors

Get closer to nature by enjoying a countryside walk, where you will find a whole host of local wildlife including red squirrels and some unique butterfly species – you can also see a great variety of birds which take advantage of the many different habitats on the Isle of Wight.
Let's also not forget that the Isle of Wight is one of the richest places in Europe for dinosaur heritage, and there are a number of walks and attractions available showcasing the best of the Island's fossil collection.
Explore the Isle of Wight

Food and drink

Finding great places to eat is one of the highlights of any holiday, and the Isle of Wight offers a fabulous array to cater for all tastes and appetites. As soon as you step off the ferry you will be spoiled for choice, with an abundance of afternoon tea rooms, country pubs, quality restaurants and beach-side cafes. Every town and village across the Island will have places to tempt you. Whether you are looking for family friendly or gourmet dining, the Isle of Wight is truly unique in what it can offer.
Find out more

Shopping

There are many shopping opportunities on the Isle of Wight for those looking for some retail therapy. The artistic heritage of the Island means that there are plenty of arts and craft outlets, selling everything from handcrafted jewellery to sculptured glass and wood carvings. There is also a range of fantastic locally produced food and drink available, with local restaurants, farm shops and the weekly Farmers' Market catering for all your needs.
Find out more


Accommodation & special offers
If you are planning to visit some of the many attractions and landmarks on the island, then you will probably want to book some accommodation. Fortunately, there are plenty of different types of accommodation to choose from, including hotels, B&B's, self-catering apartments, holiday cottages, holiday parks and campsites.
Throughout the year many Isle of Wight attractions & activity providers run special offers and discounts which you can take advantage of during your visit. For a list of current offers and discounts click here.