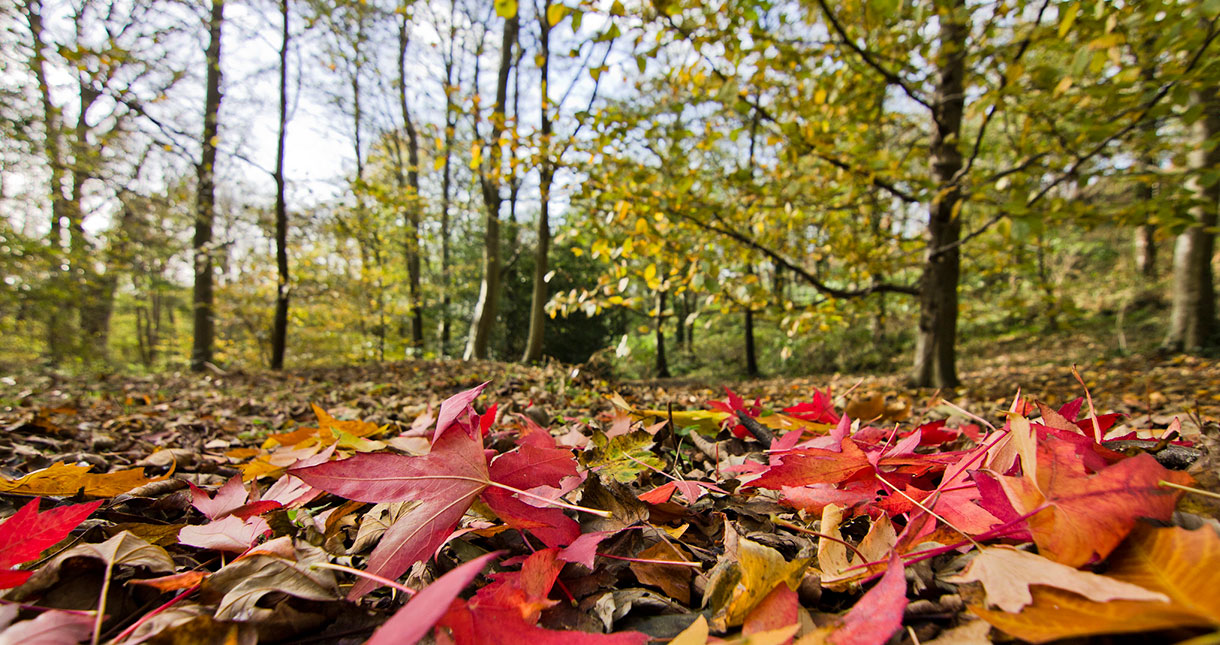 The Isle of Wight has a range of beautiful woodland where you can stroll through ancient forests and enjoy the sight of oak, beech, ash, elm or sycamore which turn magnificent colours of red, yellow and orange – and feel the crunch of fallen leaves and nutty brown acorns under your feet.
Borthwood Copse, near Sandown is owned by the National Trust and is a fragment of the medieval forest which covered most of the eastern end of the Island. Here, there are some fine oak and beech trees which stand amongst glades of coppiced sweet chestnut and hazel. A bridleway and a myriad of smaller paths guide you through this beautiful woodland, which is a joy to behold in the autumn with its vivid golden colours. America Wood behind Shanklin is another ancient woodland open to the public and of similar quality.

Follow the way-marked Pine and Oak Forest Trails at Parkhurst Forest and listen for the squirrel's distinctive chattering call and look out for gnawed husks of pinecones on the ground. You may even catch a fleeting flash of flame high in the trees as the highly regarded red squirrel with their tufted ears and twitching tails run up and down at amazing speed. Check out the Slow Travel Guide to the Isle of Wight for more information about walking in the Parkhurst Forest area.
Firestone Copse provides a peaceful haven for visitors seeking some autumn colour. From English Oak and Ash to coniferous Douglas, Cedar and Scots Pine, there's a whole range of deep autumnal hues to be enjoyed. It's also another good place for potential sightings of red squirrels because of the feeding stations that attract squirrels to the forest.
You can explore the Island's forest on a guided walk this autumn. The Isle of Wight Ramblers Association offer a variety of group walks, including a "Hilly Walk around Shorwell" (3 October/10 miles) through Brighstone Forest and "An autumnal walk around Godshill" (24 November/5 miles).

For the more adventurous, join Goodleaf Tree Climbing for a trip into the canopy and experience the changing colours of Autumn up close.
Whatever you decide to do and however you're travelling, it couldn't be easier to get to the Isle of Wight via Lymington, Southampton, Southsea or Portsmouth. There are regular rail connections to the south coast via SWR.
Travelling as a foot passenger is simple due to our excellent transport links with trains, buses, foot passenger ferries and our hovercraft service. Our friendly and knowledgeable Travel Ambassadors are on hand to help you decide where to go, what to see, and of course how to get there using sustainable transport – meaning you'll also be helping us to protect our environment too.
So, head to the Isle of Wight and discover a stunning natural landscape amidst the colourful falling leaves of autumn and find out why the Isle of Wight is the perfect autumn escape.