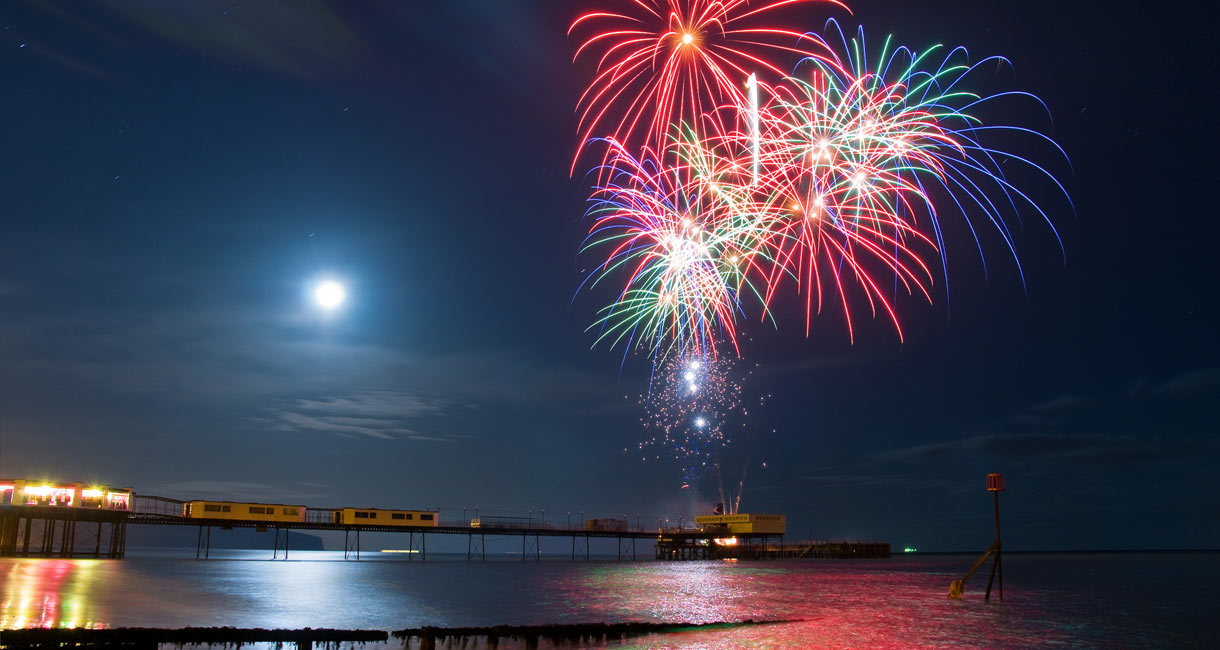 November is seen by many as a time to hibernate indoors in front of the television but here on the Isle of Wight there's still plenty to do and see – just make sure you wrap up warm!
Festivals and Whizz Bang Pops

Blackgang Chine and Robin Hill will close their doors soon for the winter but there's still time to catch Wicked Nights and Festival of Light Inspired by Diwali – on until the 4th and 3rd of November respectively.
There are firework events across the Island to celebrate Guy Fawkes Night with Ryde Rotary celebrations, Bembridge fireworks, Sandown fireworks, Spooks and Sparks in Newport and Yarmouth Guy Fawkes fireworks. So, get your sparklers out and sparkle!
For George Formby fans there's the Ukulele Festival which takes place at Quay Arts on the 9th to the 11th of November with workshops, jams and open mic sessions. Perfect for beginners or the more experienced.
Learn Something New

Following in the footsteps of Julia Margaret Cameron, participate in a two-day wet plate collodion workshop with ward-winning Czech photographer Honza Sakař at Dimbola Lodge. A rare opportunity to create stunning images in the very birthplace of the close-up on the 3rd and 4th of November.
Head to gorgeous Northcourt Manor for a weekend of residential yoga, meditation and relaxation combined with an exclusive venue, log fires, access to beautiful walks, wonderful home-cooked vegan food and great company. 9th to the 11th of November.
If you see yourself as the next Nigella Lawson or James Martin but need some help getting there then sign up for a cookery school at Thompsons. Watch chef Robert Thompson put dishes together from scratch and then enjoy the fruits of his labours for lunch. Or how about leaning about the intricacies of wine? Experience an evening of wine tasting presented by Tim Flint from Eurovines. Robert will be serving a special tasting menu to match with the range of wines selected by Tim, all served in a relaxed and light- hearted atmosphere in front of the kitchen on a large communal table.
Game Nights

Enjoy two different sorts of game at The Boathouse and The Fishbourne Inn during November with locally shot game to begin with and a game of Tiddlywinks and a quiz to follow.
Get in the Festive Spirit

It'll be here before you know it and it's great to be super prepared for Christmas so that you can enjoy the big day when it rolls around.
Peruse the stalls at the Ventnor Indoor Christmas Market on the 23rd and 24th of December and stock up on presents and stocking fillers.
Or what about home-made Christmas presents? Then a weekend of Christmas craftiness including aromatherapy candle making, bath bombs, natural firelighters, decorations and a fantastic natural wreath is the weekend for you.
Make a bear puppet at Brading Roman Villa as part of 'We're Going on a Bear Hunt'. Hunt for the parts to make your bear puppet and then go inside and decorate him or her. You can also decorate masks, make a mosaic coaster and lots more.
There's always lots to do on the Isle of Wight. Remember there are also walks and beaches, many of which have reverted back to being dog friendly for the winter to be explored. Get your wellies on, pull on your hat and gloves and go and enjoy all the natural beauty that the Isle of Wight has to offer.
Whatever you decide to do, it couldn't be easier to get to the Isle of Wight by car and passenger ferry or hovercraft. You can find helpful information on traveling to the Isle of Wight, and a range links and advice to assist you in getting around the Island once you are here.
Don't forget to check out our offers page for travel, accommodation and attraction deals to the Isle of Wight and sign up to our email newsletter.