Escape to Adventure Island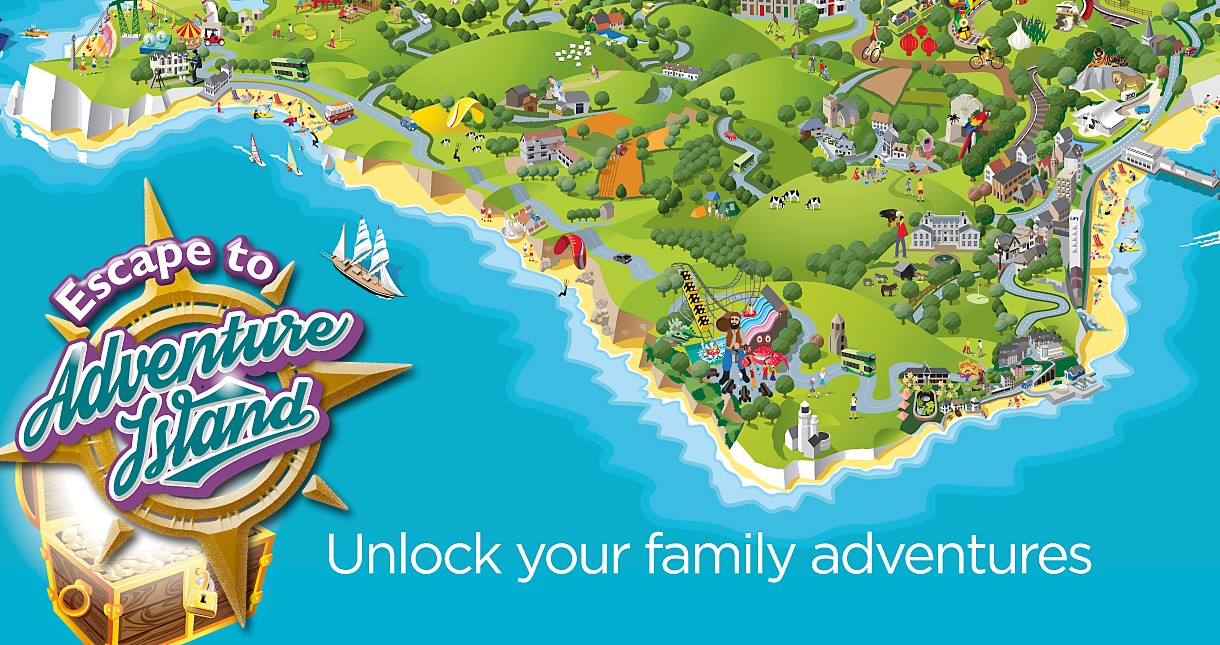 The Isle of Wight is a real Adventure Island - a place of magic and mystery, pirates and dinosaurs, with smugglers and spies thrown into the mix. There are hundreds of places to see, and things to do, packed into a beautiful Island the size of Inner London. Families have been coming here for nearly two centuries and there's even more reason to visit in 2017, as it's the Year of Family Adventures, with amazing visitor attractions, activities and open spaces all promising a magical time on the UK's Holiday Island.
It takes just 10 minutes to reach the Island by hovercraft, and we're under two hours from London, with excellent transport links and frequent crossings by vehicle and passenger ferries from Southampton, Lymington, Portsmouth and Southsea. For more information about getting to the Isle of Wight, have a look at our page about travelling to the Island.
You can also keep up to date with the latest news, offers and competitions by subscribing to our Newsletter.
October magic
This October (6th & 7th, 13th & 14th & 20th October – 4th November), as the autumnal mists form and the sun sets, a mystical air will envelop Blackgang Chine as the magic of Blackgang's Illuminations return bigger, better and more magical than ever!
Celebrate the 70th anniversary of India's independence every evening from 30th September – 4th November, 6pm – 10pm, visitors can experience the lush colours, flavours and magic of the Asian sub-continent set in Robin Hill's glorious autumnal ancient woodland as they venture on a journey of discovery of India.
To find out more about Spectacular October on the Isle of Wight, click the banner below.

Explore the Island this autumn
The Isle of Wight is made for families who want to enjoy pure Island happiness together, with so much to see, do and explore - no one day is the same.
Wherever you are on the Island, you'll discover something interesting and exciting to enjoy, from walking in the footsteps of Dinosaurs, to standing like a giant over a Model Village, or even racing each other on the Isle of Wight's own Go-Kart track. You can even go wild - with plenty of wildlife attractions for you to enjoy, from the Isle of Wight Zoo in Sandown, to Amazon World in the centre of the Island and Tapnell Farm out to the west and the Needles Landmark Attraction where you can enjoy beautiful views and visit some of the shops on site.
Find out more about some of the wonderful places to have an adventure, by visiting our Attractions page.
Finding the perfect place to stay
There are seven main resorts, from Cosmopolitan Cowes in the North, to bohemian Ventnor in the South. In Wild West, there' s beautiful Freshwater, which has been a mecca for artists for many years, including the poet Alfred, Lord Tennyson. And why not find out more about the literary greats who have stayed on the Island, with the Isle of Wight Literary Heroes Trail.
Not far away, Yarmouth has smart shops, coffee houses, a nature reserve and fort. Ryde, in the North East, is also great for families, with a huge golden beach and traditional entertainments including bowling and pottering around on a lake in swan-shaped pedalos. Sandown in the East is the perfect place for water sports, beach combing and spending pocket money on the pier; while neighbouring Shanklin has an historic Old Village, and a beach with activities for children including adventure golf and Jungle Jims' indoor play area. Our Newsletter is a great way of keeping up to date with great offers for places to stay.
Special offers
View our latest special offers for deals on accommodation, things to do and attractions. When searching to find your perfect place to stay, look out for the blue suitcase featured on selected accommodation for special deal with ferry inclusive prices.
You can also keep up to date with the latest news, offers and competitions by subscribing to our Newsletter.
Book your Escape to Adventure Island
There is no better time to visit the Isle of Wight and be part of an exciting year of fun and activities. No matter the size of your family or group, you'll find everything you need on the Island to make your adventure the perfect one for you.
Don't delay, book your holiday now and look forward to what you'll discover when you Escape to Adventure Island.