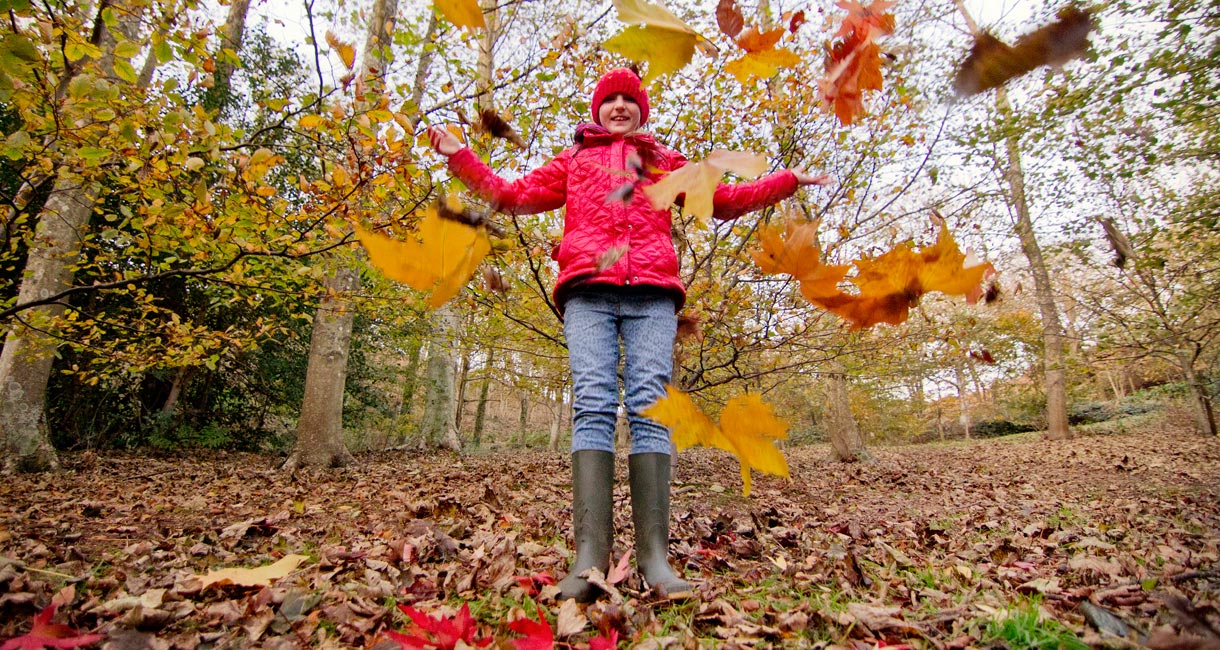 With the start of a new school term just around the corner, many kids will be looking towards October half term. To help inspire you, we've put together some great things to do during the holiday to keep everyone amused.

The Isle of Wight Literary Festival - Youth Zone (the Festival's children's programme) will run from the 19th to 21st of October at Northwood House. The theme this year is 'science' so there'll be loads for kids to do and see including authors, performances, storytelling, workshops, inventions, forest school, competitions and much more for children ages from 4 to 18 years. In conjunction with Visit Isle of Wight there will also be 'We're All Going on a Bear Hunt' so look forward to finding that bear!
Robin Hill will be hosting its annual Diwali event, bringing Festival of Light Inspired by Diwali to life, between the 29th September to the 4th November 2018. From bustling urban bazaar settings to tranquil woodland ponds, Bollywood music and an authentic menu, kids will love the murals, light shows and wild animals creatively brought to life as well as the opportunity to throw the traditional and colourful Holi powder. Daily from 6 – 10pm.

The 20th and 21st of October sees Island Con at Cowes Enterprise College. A brilliant two days for both big and little kids there are not only interviews with films stars including five members of the cast of American Pie amongst others and Jackass star and pro- skateboarder Bam Margera, there's also a full on kid's zone, gaming areas and fan and prop zones including Star Wars and Doctor Who. Kids can meet their heroes, film star legends and be part of this fantastic pop culture weekend.
So how brave are you? Brave enough to hear spooky tales of times gone by? Join the Victorian ghost hunters at Carisbrooke Castle and hear the terrible tales of who lies in the cemetery. You can also make Halloween crafts and there's a prize every day for the best Halloween costume so get your thinking cap on and your mum's sheets off the bed! From the 20th to the 28th of October.

Have a Wizard Week with the Isle of Wight Steam Railway from the 22nd to the 26th. With the friendly witches of Havenstreet you can create potions, magic spells whilst enjoying train rides, magic shows and meeting birds of prey. Come dressed as spooky witches and wizards and enter the Halloween treasure hunt. There are prizes every day for the best costumes.
For junior Jack Sparrow fans there are pirate ships to be made at The Needles Old Battery at Alum Bay on the 24th and 25th of October. Don your best eye patch and parrot if you have one and come and enjoy a swashbuckling adventure while you learn about shipwrecks and smuggling off of the Island.
New for 2018, Wicked Nights is a brand new horror event taking place at Blackgang Chine this half term on the 20th October to the 3rd November. Be prepared to enter the land of twisted imagination.

There are, of course, lots of other attractions and things to do on the Island during half term. You can see the lions and tigers at the Isle of Wight Zoo, marvel over the exotic variety of animals and birds like toucans, flamingos, penguins, monkeys and lemurs at Amazon World, or meet the Island dinosaurs at Dinosaur Isle where you can get interactive with a robotic dinosaur.
For smaller folks, Tapnell Farm is brilliant. There are animals to stroke, a huge pillow trampoline and plenty of room to run around in the indoor and outdoor play areas as well as a café and restaurant for when you all get peckish. Open all year round. And of course, there's Blackgang Chine, the oldest theme park in the UK which has been a family favourite for generations. Explore the underwater kingdom, meet the dinosaurs and ride the giant pirate ship. Celebrating its 175th birthday this year, it's a must for every half term.

And then, there's always just the good old outdoors. Get on your bike and enjoy the Red Squirrel Trail or go and have a blustery walk on any of the Island's many beaches and collect shells. Go up on the Downs and stretch your legs and pick some blackberries for a free jar of jam. The possibilities are (almost) endless and you are only restricted by your own imagination.
Whatever you decide to do, it couldn't be easier to get to the Isle of Wight by car and passenger ferry and by hovercraft. You can find helpful information on travel to the Isle of Wight, and a range of timetables, links and advice to assist you in getting around the Island once you are here.
Don't forget to check out our offers page for travel, accommodation and attraction deals to the Isle of Wight.
Related
1 Comments