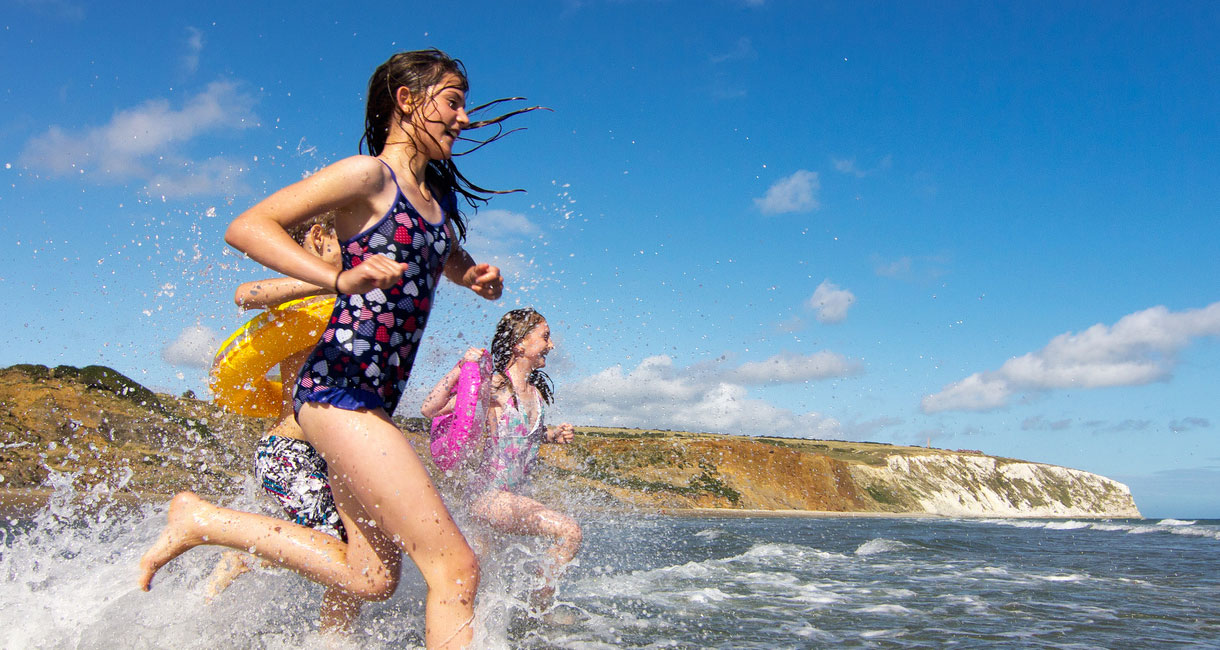 Sometimes, taking the family out can be an expensive business, so we've put together some great free family adventures for you to enjoy. Pack a picnic, take something to sit on, a bag to bring treasure home in and you're all set!
Get on Your Bike

With miles and miles of cycle tracks around the Island and different lengths for all ages and levels, you'll not only get to see the Island from a unique perspective but get some exercise in as well. For families with older children you could try the Round the Island Cycle Route which has various different stages and can be ridden over the course of a few days.
Alternatively there's the Red Squirrel Trail which will take you through wildlife habitats from wetland to farmed countryside and along the coastline. Stop for an ice cream along the seawall path from Sandown to Shanklin and enjoy the mainly flat off-road route that you'll take on cycle ways created from disused railway lines. Or take the trail from Merstone to Newport and see the specially commissioned 'Troll' sculptures and wildlife friendly installations.
Or why not try the Tracks and Barracks Trail which begins in Yarmouth and takes the old journey previously taken by the Island's steam trains past Golden Hill Fort, an old army barracks and Afton Down.
For these and other routes and trails, see our Bicycle Island pages for full information.
Abbeys and Animals

Quarr Abbey just outside Ryde is a perfect place for all the family. With pigs to feed and chickens to cluck over as well as a woodland trail to explore, there's lots to keep little legs busy. For the grownups, there's the beautiful Abbey with its quiet splendour, art gallery and tearoom in the beautiful walled garden.
Home to a small community of Benedictine monks, the Abbey and its Visitor Centre is designed to provide an inspiring and informative introduction to the monastic way of life and the beautiful and historic estate where they live. The centre displays an introductory film to provide a thought provoking insight into the Benedictine tradition, which stretches back over 1500 years.
For Sailors

Experience the ultimate sailing event at Lendy Cowes Week. Even if sailing is not your thing, you can't help but get swept up in the atmosphere that lasts for a whole week from the 4th to the 11th of August.
As well as the sailing and racing, there's free music in the marina and of course the fireworks on the last Friday of the event. Head to the Green with thousands of others, take your picnic tea with you and watch the sun go down before the fireworks begin.
Beach Babes

Sometimes we forget that we're on an island surrounded by water and that we have miles of free beaches to enjoy. Some beaches are dog friendly throughout the year whilst others may have some restrictions so it's best to check before you set off.
For perfect sandcastles, head to Appley in Ryde. It might be a bit of a walk to the sea when the tide's out but it a great beach for kids, activities and there are cafes for that all important ice cream. Or there's Sandown, Shanklin andVentnor beaches, all of which boast lively esplanades with shops and cafes for anything that you might have forgotten.
Compton beach is one of the Island's best kept secrets and is a mecca for kite boarders, surfers and fossil hunters. On the more windy side of the Island, you'll need to take a wind break to stop your sandwiches blowing away!
Hunt for Bears

Get your mini explorers hunting for bears, splash sploshing and squelch squerching around St Helen's Duver on the 8th and 9th of September on our last Official Bear Hunt Adventure Weekend. Based on the popular children's book We're Going on a Bear Hunt, it's a great opportunity for little adventurers to explore the sand dunes and the swishy swashy long grasses. You can collect your official map and activity sheet from our Visitor Information Centre and we also have our Travel Ambassadors who can help with any ideas for great days out on hand.
Carnival Capers

There's nothing that the Isle of Wight likes more than a carnival and there are loads scattered throughout the summer months. August is official carnival month and you can delight in fabulous floats, colourful costumes and singing and dancing galore across the Island at Shanklin, Ventnor, Cowes, Newport, St Helens, Ryde and Sandown.
Kings and Queens and History

Sit in Queen Victoria's pew at St Mildred's Church in Whippingham , the Queen's family church in the 19th century or heck out the Isle of Wight Literary Heroes Trail and brush up on the amazing literary connections of the Isle of Wight. Did you know that King Charles I who wrote poems whilst imprisoned in Carisbrooke Castle?!
If more recent history is your bag then you might like to discover the secret site where Britain joined the space race. The Needles headland might not seem the most obvious of places, but that's where the government in the mid-1950s decided to develop its own rockets. Today, the New Battery houses a free National Trust exhibition about the site's remarkable history.
Travelling to the Island
There's always so much to do on the Island and so much of it can be done for free! And it couldn't be easier to get here. You can find helpful information on travel to the Isle of Wight, and a range of timetables, links and advice to assist you in getting around the Island once you are here. Don't forget to check out our offers page for travel, accommodation and attraction deals to the Isle of Wight.
Related
0 Comments