In
Man
,
about
,
a
,
dog
,
blog,
,
Isle
,
of
,
Wight,
,
dog
,
Friendly,
,
Isle
,
of
,
Wight,
,
Scout
,
hall,
,
Chale,
,
Wight
,
Mouse,
,
Ventnor,
,
West
,
Wight,
,
Pepperpot
Man (Mark) about a Dog (Grenson) have spent a little time at The Scout Hall in Chale. Find out why it's a great place to stay and why the Isle of Wight is the perfect retreat for you and your dog.
Being a man (Mark, hello, pleased to meet you) and a dog (Grenson, the four-legged one starring in all of the pictures) who, via having a wife/mummy from the Island, feel like virtual Caulkheads ourselves, Vintage Vacations were of course already on our radar. They are always our first suggestion whenever anyone asks for a fun place to stay on the Isle of Wight. How can anyone not want to spend a few nights in a big shiny American airstream caravan, or a 'tin tabernacle' built in 1895, or the cutest little wooden shack, all of which are kitted out in the most amazing vintage retro design?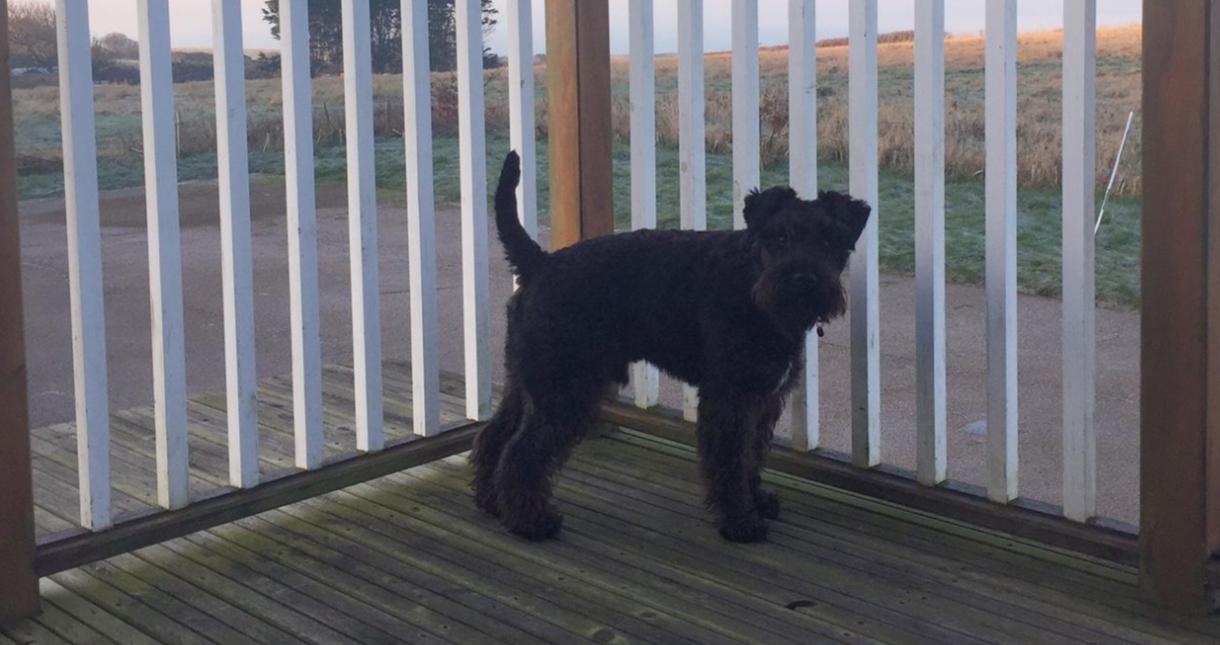 The only problem with all of this was that whilst quick to hand out such helpful advice to all and sundry, due to already having our own place to lay our heads when being DFLs (Down From Londoners) we'd neglected to sort out a stay for ourselves. So when Visit Isle of Wight asked us to check out the Scout Hall (an old wooden Scout Hall in Chale that along with 'The Mission' and 'The Shack' make up part of Vintage Vacations portfolio of unique places to stay known as 'The Shacks'), we absolutely jumped at the chance.
The Scout Hall dates back to the 1900s and as you may have already deduced, was originally used as a scout hall (something about the name gives that away I think). It was converted in 2012 and given the retro make over, and is now quite frankly…AWESOME! Everywhere you look is an Instagram dream. From the retro kitchen, to the scout paraphernalia and straight up to the Elvis themed bedroom (yes it even has a bar in it!). Every inch is just so damned cool.

Located in Chale on the rugged south coast of the Island, it boasts stunning uninterrupted views all along the coast from the wooden balcony that extends from the snug living room. And if you really want to get cosy but still enjoy the views you can sink down in the bath that has a picture window looking out over the fields. It's pretty much like bathing outside. When you're as secluded as this then why not?
On the night we stayed we were treated to a fantastic sunset too. Grenson seemed to particularly enjoy it and could have easily stayed out there on the balcony all night long. It very quickly became his favourite place, and with views like that who could blame him?

Despite the hall's secluded location there are in fact a number of fine pubs and restaurants nearby. Merely a stone's throw away you'll find The Wight Mouse, a lovely big family (and doggy) friendly pub. It's also not far to The Buddle Inn, a stone floored old pub that often has live music outside in the garden. You could even travel to Ventnor with its wealth of pubs and restaurants (Cantina is a particular favourite of ours), or travel to West Wight and sample the delights of Freshwater Bay (The Piano Bar is a must if you venture over there). For us though, on our one night in the Scout Hall, we were loath to leave. The fully kitted out retro styled kitchen offered the option of a home cooked meal…but we lazily went and got a bottle of wine and a take away and then snuggled down for the night. Absolutely perfect!
After a comatose night's sleep in a room that was the darkest and quietest I have ever experienced, we eventually roused ourselves to be bombarded with reports from news outlets of a blanket of fog enveloping the entire island and much of the big island too (that is also known as Great Britain to non-islanders). Opening the curtains we feared a right old pea-souper would put an abrupt end to our planned walk. Miraculously, we happened that morning to be in the only pocket of the land where the fog was staying away. It was like a hole had been cut out just above us to let in the blue sky and bright sun allowing it to bathe us in its rejuvenating crisp winter rays. It really is amazing what the Isle of Wight and Vintage Vacations can arrange to make your stay special!

With good fortune like that there was only one thing to do; quickly don the old walking boots and set off for a good stomp up the nearest hill. Just above the Scout Hall you can catch a glimpse of St Catherine's Oratory, a medieval lighthouse which is more fondly known in these parts by the name The Pepperpot. It is actually one of the highest points on the Island, and once we'd clambered up the side of what my lungs would call a mountain, we could fully testify for this. After taking a few moments to get our breath back (this was not a problem for Grenson who by now was bouncing around the heather having literally the best day of his life) there was no arguing with the view. Generally the rule is that the more out of breath the climb makes you, the more stunning the scenery, and this certainly did not disappoint. What made it all the more pleasing was being able to see the fog that was covering the rest of the world whilst we stood in the clear radiant sunshine. Nothing makes you feel more privileged (and smug) than Mother Nature doing you a special favour.
Our descent was miraculously even less dignified than our ascent and even involved sliding down on my backside at one point! Trust me, there is no need for this type of lunacy, the Pepperpot can be reached easily by anyone with a map and half a brain! Alas, that morning we had neither. Again none of this bothered Grenson, who just thought it was all great fun: 'What doing dad? Why sliding down hill on bum? Shall I chase? Yes!! I chase and jump on you!'
Luckily on our return to Chale, The Wight Mouse had opened and I rested my sore bottom in their bar, with a pint, a ham sandwich, and a bowl of chips on the side – cure for everything really I think.

Despite the 'mountain' climbing it had been a most enjoyable little break for us, and even though The Scout Hall is a mere 14 miles away from the in-laws, we're already planning a family summer 'holiday' with the entire clan (it sleeps up to 8 so perfect for a family get away, no matter how far you're travelling).
So there you have it, if you're looking for a getaway on the Island that offers top quality dog friendly accommodation, glorious sunsets, invigorating views, bracing walks and with a little bit of retro charm sprinkled on top, then look no further, The Scout Hall pretty much has everything covered…which is hardly surprising really is it? After all, Scouts are meant to 'be prepared' aren't they?
To read more adventures by Mark and Grenson, visit their website.