Legendary Joust at Carisbrooke Castle

Carisbrooke Castle
Castle Hill
NEWPORT
Isle of Wight
PO30 1XY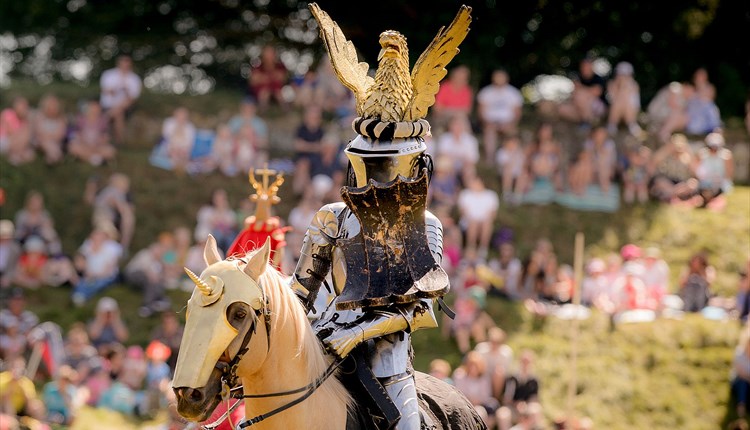 Guide Prices
PRICES:
Member (Adult) - £3.50
Member (Child) - £2.10
Member (Concession) - £3.20
Member (Family) - £9.10
Adult - £13.90
Child, 5-17 years - £8.30
Concession - £12.60
Family - £36.10

HOW TO BOOK:
Ticket price includes entry to the event and site. Under 16's must be accompanied by an adult. Purchase your tickets today using English Heritage' online system, or by calling their dedicated Ticket Sales Team on 0370 333 1183 (Mon – Fri 8.30am – 5.30 Sat 9am – 5pm). Tickets will also be available to purchase at the event site on the day. Please note telephone bookings will close at 3pm the day before the event or on Friday if the event is running on a weekend.
About
DATES:
Tues 13 - Thurs 15 Aug 2019
Tues 20 - Thurs 22 Aug 2019

Experience the exhilarating spectacle of speed and skill as four legendary knights compete for honour and glory in the Grand Medieval Joust.

See lances shatter, feel the thunder of hooves and hear the roar of the crowd as reputations are won and lost. Fearless fighters and their magnificent horses will charge at each other at full speed in and unforgettable display of chivalry and sheer courage. Choose your champion and cheer them on to victory – or console them in defeat.

Immerse yourself in medieval life in the encampment, where you can listen to merry music, join in with the jester's jokes and learn about cookery and crafts from centuries ago. Little knights can test their bravery in hobby-horse jousts and try on medieval armour.

Book your tickets now to guarantee entry. Don't miss your chance to get close to the most breathtaking action in history.
Map & Directions
TripAdvisor
Opening Times
Sorry, this event has passed.