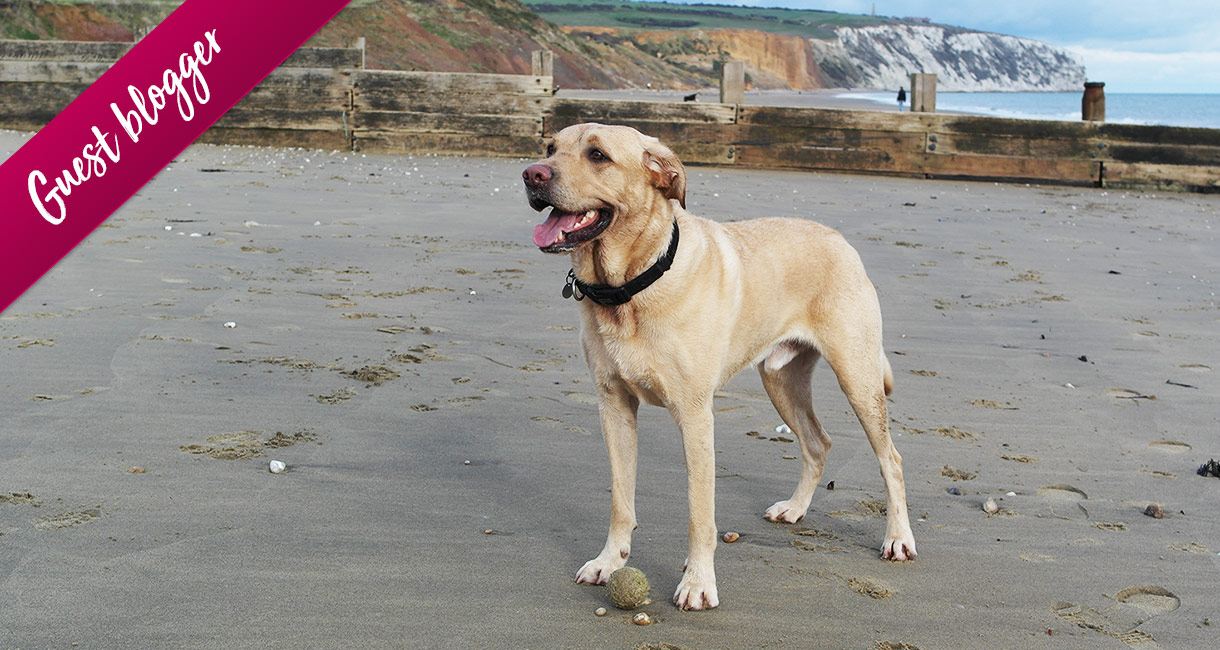 Firstly, let me introduce you to Nigel, he's my four year old yellow Labrador retriever, full of fun and a bundle of energy with quite possibly the waggiest tail in the world. Nigel and I spend many a happy hour exploring the island, whether seeking out one of the many interesting walks (Nigel prefers the beach where there's usually an element of tennis ball throwing and retrieving and he is a dab hand at stealing them too!) or re-fuelling after said walk. Nigel's preference is anywhere where free biscuits may be on offer. So here, in no particular order, are the places Nigel would put on his list of island favourites;
Yaverland Beach

At the at the far end of Sandown and under the chalk cliffs of Whitecliff, this wide open sandy beach ticks every box when it comes to dog walking. It's flat and smooth, perfect for a game of chase along the yellow sand. Pay and display parking is available, just check the tide times before you set off as the sand all but disappears at high tide. Local restrictions apply for dogs during high season but it's best to go off season anyway, when it's lovely and quiet. Find out more about Yaverland beach.
The Crab and Lobster Inn, Bembridge

This is Nigel's favourite pub, bar none. Of course this is nothing to do with the fact the staff love dogs and the chef has been known to bring Nigel a sausage. For me, it's a comfortable place with a good choice of food and ales. There's lovely outdoor seating overlooking Bembridge beach and one of my favourite pastimes is to sit with a glass of wine and watch the sun go down over the Solent. Find out more about The Crab and Lobster Inn.
Brading Marshes Walk

Start from the windmill and take the footpath down to the right, across open fields with views towards Culver Cliffs. The path takes you over the marshes and is well maintained by the RSPB who manage the land. Watch out though if you have a dog who loves mud as there's a boggy area which Nigel loves. Me, not so much, especially as it's my job to clean him afterwards! Luckily the route follows the road to St Helens and then back along the harbour to Bembridge. A quick dip in the sea and Nigel is all clean again. A round trip of about five miles, it takes roughly two hours and is a lovely scenic walk starting and finishing in the village. Find out more about Brading.
The Bakery, Bembridge

Located in the heart of the village, the Bakery is a popular place with seating both indoors and outside. Dogs are welcome in both areas and the staff are never far away with a dog biscuit offering (for Nigel, not me). Myself I prefer a freshly brewed coffee and Bembridge Bun and there's always a great selection of savoury items and cakes for both breakfast and lunch. The perfect stopping off please after a long walk. Find out more about Bembridge Village.
Off the Rails, Yarmouth

Originally built in 1880, Yarmouth Station was part of the Freshwater Yarmouth Newport Railway. The last train pulled out of the station in the 1950's and in 2014 Off The Rails Restaurant opened. Today everyone is welcome to enjoy first class food and service. It's a great place to take your dog as the old railway line is now a footpath running alongside the estuary of the Yar to Freshwater. Sit either inside or outside where benches are placed along the old platform. Every one of the staff here seem to be a dog lover and, much to Nigel's delight there's a constant stream of staff willing to pat his head, and more importantly offer a biscuit. There's even a dog menu with gourmet food and ice cream! Find out more about Off the Rails.
So, if you're planning a holiday on the Isle of Wight with your dog you won't be short of places to visit. Just be aware, if you lose a tennis ball it's probably Nigel who's stolen it!
Classic Cottages have over 60 handpicked dog friendly places across the Isle of Wight for you and your pooch to enjoy, from cosy coastal cottages to more modern abodes. With all of Classic's cottages meeting exacting standards, we want every guest and their pet to sit back, relax and say 'wow' as soon as they step through the door.
Thank you to Liz at Classic Cottages for these dog friendly ideas.
Related
1 Comments