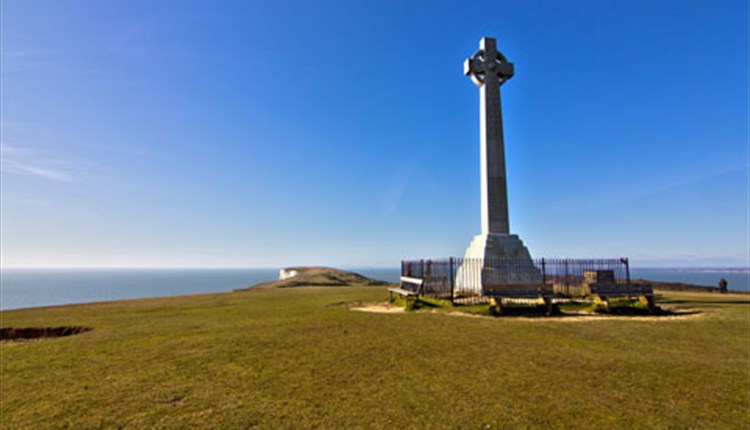 About
The imposing memorial to Alfred, Lord Tennyson, the Victorian Poet Laureate, stands on the highest point of Tennyson Down (formerly High Down), a long chalk ridge with sheer cliffs on its south side.
A late work designed by J.L. Pearson, it dates from 1897. A marble Celtic cross with a tapering stem on a stepped base, it was built by Farmer & Brindley. The views over land and sea are superb.
Tennyson and his wife, Emily, lived at Farringford in Bedbury Lane for thirty-nine years. Visitors included many of the most illustrious names of Victorian Britain. The couple rented the house close to Freshwater Bay in 1853 and bought it in 1858. The Charge of the Light Brigade and other famous poems were inspired by the magnificent scenery the poet enjoyed as he walked on the down, often with friends, and in all weathers. He famously said: "The air is worth 'sixpence a pint.'"
After the poet's death in 1892, a fund was set up to pay for the memorial. It stands on the site of the old Nodes signal beacon that used to give warning of invasion threats. The inscription on the memorial pillar reads: 'In memory of Alfred Lord Tennyson this Cross is raised as a beacon to sailors by the people of Freshwater and other friends in England and America.
**Text courtesy of Albany Associates - www.albany-ballard.co.uk
Book Tickets
Map & Directions
TripAdvisor
Opening Times
Opening
(1 Jan 2023 - 31 Dec 2023)