I moved back to the Isle of Wight seven years ago and I live in Alverstone Garden Village, which is South of the Island. I'm living next door to the house I spent my teenage years living in! I think they tie a bungy rope to us Islanders. Prior to moving back full time, I spent a lot of time here and the draw to move back was just too big.
My earliest Island memory is looking out to the Solent and Spitbank Fort – and my parents saying, 'that's the mainland', and thinking that Spitbank was the mainland! When obviously they were pointing at the bigger 'island' behind it in the distance.
I also remember catching the old steam ferries across to Ryde Pier and getting the trains down.
Walking is a big part of my life and here on the Island you can get out and do it all year round. You can do the same walk in the Summer and again in the Winter and it's a totally different experience. We are also discovering new routes to do all the time.
In the off season I love to walk in a wooded area; in the Springtime, you've got the bluebells, the smell of wild garlic – and early in the year the snowdrops.
In the Summertime my favourite walk would be to the vistas on top of the Downs - any of them! On a clear day you can get a full 360 view of the whole Island.
Then come Autumn, I love seeing the changes in the trees. When you lose the leaves early October, you start to see the Red Squirrels a little easier.
My favourite short walk would have to be close to home, around Alverstone in the Newchurch Parish. There's many nice walks and we've got the 'Red Squirrel Trail' nearby and you can make lots of different variations of it; you can make it a 20-minute walk - or a two hour walk - along the Riverbank.
For a longer trek, without a doubt it would have to be the 'Walk the Wight' route, 26 ½ miles from East to West, with gorgeous views the whole way.
My favourite view on the Island would be looking at Culver Cliff, from any angle - Sandown Bay, up on Shanklin Downs, even from Alverstone, we can see and enjoy it.
This year during the Walking Festival I'm hosting three of the longer walks; Eastern Yar Source to Sea, [9th and 10th October], South Wight – Up Down Up Down (13th October) and the Red Squirrel Trail+ (14th October). I prefer the long walks; I like the ones that get the heart racing!
I've worked with representatives of the Isle of Wight AONB, who have marked these trails out. My first walk is from the Eastern Yar Source in Niton to the Sea in Bembridge. In an ideal world we would do this walk in one day but being mid-October the daylight hours won't allow us to do that so comfortably, so we've split over two.
You've got two very different walks there; the first half is through nice agricultural land and rolling hills then day two is flatter and past the Brading Marshes. During the walk we will be looking for the 'Paul Mason Marker Stones' that are made from Portland Stone. They are every mile from Niton all the way through to Bembridge, there 'should' be six spheres I believe placed in collaboration with the local schools to mark the millennium …….I haven't found them all yet!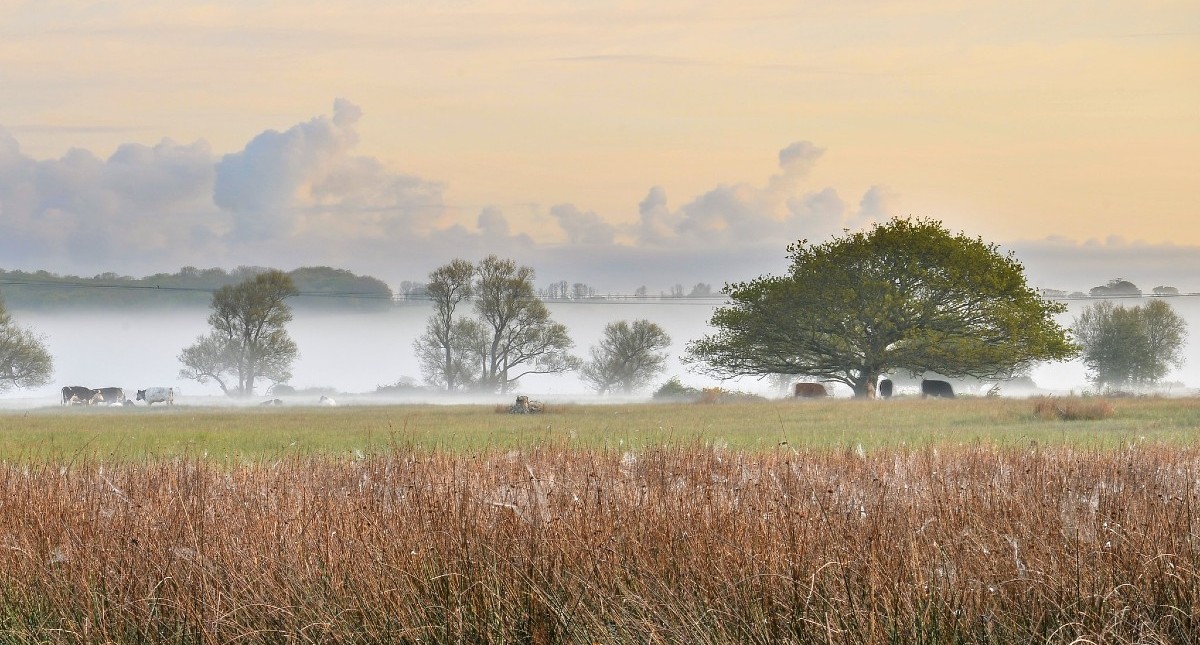 My second walk is South Wight - 'Up Down Up Down', which is literally that! This walk follows the Wroxall Stream Trail. I was on a recce for this walk and when we got to the second part, I thought it would work well to turn around at Godshill, to make it a circular route. It's up a down, down a down, up another down … and then down another down! So, this one really will get the heart racing and if walking up the downs doesn't take your breath away, the views from the top certainly will.
My final walk is following the Red Squirrel Trail+ I mentioned earlier. I thought I would put more of a flat walk option in there and this is as flat as they get [here on the Island!] This trail goes from Shanklin over to Merstone and back, through Scotchells Brook, so it's a really pleasant walk.
During the Festival I will join a few of the other smaller walks and I was also hoping to sign up to the 18 miles 'Goatober Walk' but unfortunately that's on the same day as part two of my Eastern Yar to Source walk.
We are all really excited to be hosting the Walking Festival (9th – 22nd October) once again and have over 50 walks already confirmed, and 100 walks planned across the whole of the Island. There's something for everyone, fun themed walks, longer hikes for keen explorers, walks for children and relaxed strolls. You can take part whatever your level of fitness.
It's something to do with your family, your friends or on your own, it's an opportunity to meet and connect with like-minded new people - you just need a pair of good shoes, and you can get going!
However, if you can't join us for the Festival this year, you can come and do these walks anytime of the year. The Island has a huge network of footpaths – I believe there are more footpaths per mile than any other County in the Country – plus Bridleways and multi-use paths, all very well signposted.
The National Trust has a lot of land you can walk across and enjoy, the RSPB have Brading marshes. So even if you can't be on a guided walk, you can easily self-guide. Use the Walking Festival website and as your inspiration or we have hundreds of these walks and routes available on the Visit Isle of Wight website.
Most importantly… post walking, the Island has plenty of cosy pubs, restaurants and cafes where you can sit back and relax with your drink of choice. It's the perfect way to end a day on your feet.