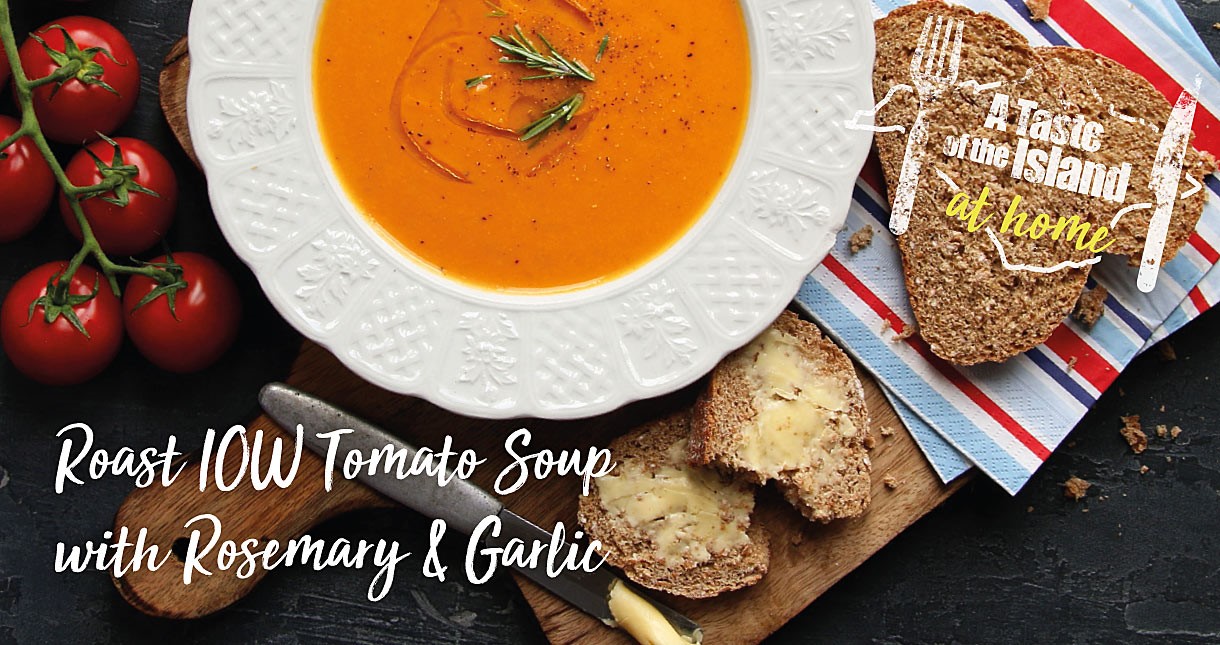 For a delicious taste of the Island at home, try this recipe for our tummy warming Roast Tomato Soup with Rosemary and Garlic.
Packed full of distinctively sweet and flavoursome Isle of Wight grown tomatoes, seasoned with locally produced garlic, Island sea salt and oil, this hearty little meal is the perfect winter warmer to follow up a blustery stroll. A fresh taste of the Isle of Wight wherever you are. We suggest serving with a chunk of crusty bread smothered in butter.
To ensure your soup is bursting with flavour and freshness, we recommend using the following Isle of Wight ingredients, available to buy online right here on the Island.
Enjoy!
Share your photos of your creations on social media with us on Instagram using #TasteoftheIsland and tagging @visitisleofwight.
Isle of Wight shopping list:
Ingredients in full:
Method:
Preheat the oven to 200C/400F/Gas 6.
Cut the tomatoes in half and remove stem. Spread them in a single layer on a baking sheet. Add the rosemary sprigs and garlic cloves to the pan.
Drizzle the rapeseed oil over the pan and add salt and pepper to taste (remember you can always add at the end).
Roast the tomatoes with rosemary and garlic for 30-40 minutes, until the tomatoes are very soft and starting to brown.
Remove the rosemary sprigs, leaving any needles behind in the tray. Add the tomatoes, garlic and any juices from the pan to a blender. Add water & blend until completely smooth.
Adjust the amount of water to make the soup thinner, if necessary. Taste and add salt or or a small drop hot sauce to bring a warming glow to the dish!
---
Find out more about the local producers featured within this recipe below...
The Garlic Farm on the Isle of Wight is a third-generation farming business that specialises in fresh garlic and garlic inspired products. The farm grows and sources the finest garlic varieties from around the world to add to its array of garlic-inspired mayonnaises, dressings, chutneys, condiments and even garlic beer.
The farm is nestled into the downs on the East side of the Island overlooking the beautiful and fertile Arreton Valley. It has its own restaurant, shop and visitor centre where customers can enjoy fine garlicky food and discover the many different varieties of garlic trialled at the farm every year. Visitors enjoy free entry to the farm estate and are encouraged to taste all the different products and garlic types in the 'Taste Experience' and learn all about garlics history, health benefits, cooking methods and growing tips. Farm walks and tours take visitors around the fields and garlic trial beds amongst wild flower fields, woodlands, lakes and grassy meadows.
For the complete garlic experience, visitors holiday on the farm in a luxury glamping yurt or classic county cottage conversion. Oozing with a balance of rustic charm, first class service and open access to the beautiful farm estate, this is a truly unique destination.
The farm restaurant is firmly on the foodie map of the UK and in late 2019 earned a listing in the Waitrose Good Food Guide as a local gem'! Additionally their produce from the farm and from their partner-producers attracted the attention of Ocado who awarded The Garlic Farm as 'Britain's Best Supplier'. With national credentials, this quirky Island venue is a must for any visitor, especially if you are lucky enough to get a table in their restaurant.
When we started the Tomato Stall in 2007, Britain had well and truly fallen out of love with this salad staple. They were round, boring and most of all, tasteless. We all longed for the taste of days gone by; of picking them for yourself in Grandpa's greenhouse or savouring memories of the taste of the Mediterranean on holiday.
From our 60-acre estate in the Arreton Valley on the Isle of Wight with rich, fertile soil, and the most hours of sunshine anywhere in the UK, we began our quest to grow the finest varieties that were full of flavour. On this journey, flavour has well and truly become our infatuation! Hence why we grow up to 200 different varieties a year to find the next best tomato, all of which are rigorously tested before reaching our customers by a dedicated taste panel. We also regularly create delicious seasonal recipes to keep you inspired and enjoying tomatoes all year long via our Instagram and Facebook page. We highly recommend trying our Roasted Tomato Soup with Rosemary and Garlic. Using a medium sized variety like Cocktail Vine this soup is full of flavour and several ingredients are produced by our fellow foodie friends and producers on the Isle of Wight!
Of course, none of this would be possible without the expert knowledge and green fingers of our Head Growers Paul and Brian. With an impressive fifty years combined experience they know a thing or two about growing the perfect tomatoes. We're also passionate about our planet and proud to do our bit to help the environment. That is why we compost all our plant waste to enrich the soil for our organic crops. Working this way means we can fine-tune the nutrient requirements for each plant, reducing the fertilizer levels and improving the soil fertility – giving you an even tastier tomato, whilst our team of hard-working bumbles pollinate our plants and help encourage the perfect balance of predators to pests, keeping our plants healthy and happy.
Locally producing sea salt naturally and sustainably on the Isle of Wight, the sea is at the centre of all Wight Salt products. Owned by Simon Davis, Wight Salt work to harvest Island sea salt and locally produce products inspired by the waters that surround us. Alongside traditional crystal sea salts, Wight Salt also produce a unique sea salt seasoning spray, flavoured with lime and with chilli. Wight Salt is a business built on sustainability, using the abundance of local seawater to create a much-loved product. For a taste of the Island in your cooking.
Oil of Wight are a local manufacturer and supplier of virgin, cold pressed, triple filtered rapeseed oil. The rapeseed used in every bottle is sown, grown, harvested, cold-pressed, bottled and distributed right here on the sun-kissed Isle of Wight and made available for you table. A versatile kitchen oil, Oil of Wight is high in Omega 3, high in vitamin E, low in polyunsaturated fats. Perfect for dressing, drizzling, dipping, roasting, baking and frying, and a low cholesterol alternative to olive oil for making vinaigrettes, salad dressings, mayonnaise etc.
Oil of Wight Rapeseed Oil is available to buy in gift shops, farm shops, fruit n veg shops, butchers shops and Co-op stores across the Isle of Wight.