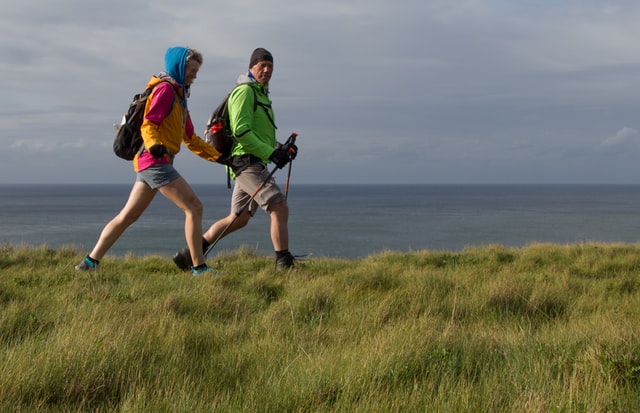 Photo by Hilde Demeester on Unsplash
Guest Blogger
There are many physical activities out there that you can get into with a varying range of difficulty.
One of the least intimidating physical events you might like would be going on a hike. Becoming a hiker starts of, funnily enough, one step at a time.
You do not have to go at a rapid pace. You can take it slow and build up your expertise. Eventually, you might find yourself traveling the entire world for the exciting hiking trails that each country offers.
Not every country is the same, of course, but it gives yourself the chance to explore and enjoy nature. With that said, there are plenty of areas all around the world that are worth going to for their hiking trails. One such place would be England's Isle of Wight.
The Isle of Wight is England's largest island, and it has the second-highest population in all of England. It has a sunny climate, which is the reason why there are a lot of resorts in the area.
The Isle of Wight showcases a lot of its natural beauty, which is why UNESCO designated it as a Biosphere Reserve.
If you are ever planning on going to England for a long hiking trip, you should make the Isle of Wight as your destination.
That's because there are plenty of hiking trails on this island, and here are seven of their best trails:
The Coastal Path

Since the Isle of Wight is an island, you should expect that it has a coastal hiking trail that you can enjoy.
If you're a fan of seeing the sandy beaches and blue seas, then taking the Coastal Path of the Isle of Wight is the perfect hiking trail for you.
The Coastal Path spans at about 67 miles, which you can complete for approximately six days, depending on your pacing. Taking this trail is ideal if you would like to admire the coastal scenery when you hike.
The Ridge Walk

Another excellent hiking trail that you should try in the Isle of Wight would be the Ridge Walk.
This part of the Isle's hiking trails starts at the center of the island. You mainly go from the east at Culver to the west at Needles. This route is the same route that people use for the Walk the Wight fundraiser. An event that is organized every year to raise funds for a local hospice.
The reason why this is the Ridge Walk is that this hiking trail runs along a chalk ridge. What's great about this chalk ridge is that it's home to a variety of flora and fauna, mainly insects.
When you're there, take this chance to look around for local wildlife. What you should be most vigilant of when looking around would be the many butterflies that you could encounter while on the walk.
The Stenbury Trail

The Stenbury Trail is a relatively easy hiking trail, spanning at about 10 miles or 16 kilometers.
The start of this hiking trail is at Newport down to Ventnor. Along the Stenbury Trail, make sure you feast your eyes on Godshill, a charming little English village that's about a hundred yards off the Stenbury Trail.
Overall, the hike itself will take you around three hours to finish. Since it's such a straightforward hiking trail, you don't need to worry about outfitting yourself with hiking poles and other equipment to keep you stable.
At the end of this trail, you can find the Ventnor Botanic Gardens, which you can try and visit if it's something within your interests.
The Warrior Trail

Another short but historic hiking trail in the Isle of Wight would be the Warrior Trail.
This circular 6-mile route had its name from the first World War. It's a dedication to General Jack Seely's good warhorse, whose name is Warrior.
The Warrior Trail used to be Warrior's exercise route that trained him for battle. Hence, the name Warrior Trail.
The entire trail touches upon different parts of both General Jack Seely's life and Warrior's. The trail circles around beautiful villages called Mottistone and Brook, where General Jack Seely lived.
A cycling trail will also take you to the towns of Brightstone and Yafford, which is where Warrior was born.
The Warrior Trail is quite short, so if you're looking for a short hike for a day trip, going through the Warrior Trail is the way to go.
The Tapnell Trail

Similar to the Warrior Trail, Tapnell Trail is another 6-mile circular hiking trail, which makes it great for a short day trip.
It also has a history lesson for you. Tapnell Trail used to be the site for the Isle of Wight's 1970 Festival dedicated to five days of music.
Top of the Wight

The top of the Wight is undoubtedly a place where you might encounter more of a challenge in comparison to the other hiking trails on this list. However, the view atop the Isle of Wight's highest point is worth the effort.
Not to mention that the descent back down to Ventnor Downs is a lot easier than the climb up Isle of Wight's highest point, which is convenient.
Tennyson Down Circular

If you go on hiking trails often, you'll find that a lot of hiking trails have a history of notable people using them for a variety of reasons. The same goes for the Tennyson Down Circular.
This trail is where Alfred Lord Tennyson, a former Poet Laureate, walked around, looking for his creative inspiration to better his prose.
You, too, might find inspiration when you hike these parts if you're also into prose or poetry.
The Isle of Wight is a fascinating island in England that is home to many hiking trails. The ones on this list are but seven of the approximately 30 hiking trails available on the island. However, the ones on this list are truly worth the hike. Therefore, if you find yourself in the area, consider stopping by and giving these hiking trails a chance.