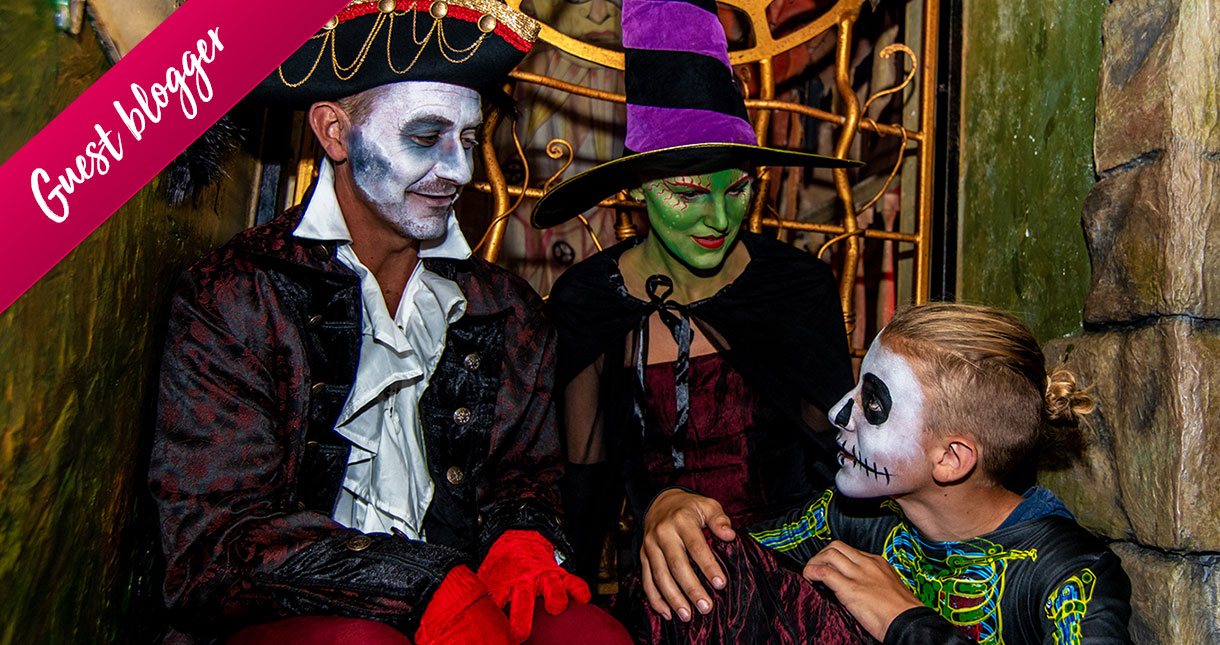 Autumn is here and the Island's oldest theme park, Blackgang Chine, has pulled out all the stops for Halloween this October.
It's that time of year, we've waved the glistening summer sun goodbye and the blue skies have faded to gold. Autumn is a beautiful time of year here on the Island, but it's not all just idyllic settings and beautiful sunsets.
Blackgang Chine will host not one, but TWO brand-new new Halloween events this season. The first is Frights & Sprites, the perfect family affair and the second, Terror Island, a terrifying experience designed by Scare Entertainment specialists. As you can see from the event names, these two experiences are going to be very different…
Frights & Sprites

Let's look at Frights & Sprites first. The gremlins will be running amok around Rumpus Mansion from 12-4 pm October 19th – 27th in preparation of Lady Edwina's Spooktacular of the year! Interact with the servants as they ready the halls for the centennial ball in Rumpus Mansion LIVE.
It's a walk through the grand house like you've never experienced it before. Scuttle past Franklin the grumpy butler to find scatter-brained Gracey frantically dusting the halls, she'd forget her head if she weren't already dead. Mrs Berry is cooking up a storm in the kitchen, be careful, it's a bit of a mess in there! Once you've made it through the topsy-turvy corridors, Lady Edwina will appear and beckon you to Rumpus Lawn to continue your festive fun!
Enjoy an array of spooky activities including, Hook a Skull, Hoopla, Tin Can Alley, Wiggle Cars, Fancy Dress-Up and the Halloween Crafting Zone!
Transform into a wolf, a witch or a bloodsucking vampire with our face painting stand and show off your best moves in with the Spooky Disco. There will be a competition for the best dressed, with fantastic prizes to give away!
Terror Island

Now for the big one, Terror Island. Running on selected dates from October 19th – November 2nd, Terror Island is a strictly 16+ event, with good reason. The production team have collaborated with industry leaders in scare entertainment, AtmosFEAR, to design this truly terrifying experience.
The event's focal point is the scare attractions, Amphibious, HEXcavation and The Blood Shed. These three intricate mazes will take visitors on an interactive journey through their worst nightmares, an experience not for the faint-hearted.
The event encompasses three epic scare attractions, awesome street food, with a bar serving a selection of drinks including cocktails from sponsor, Mermaid Gin. If that wasn't enough, on selected weekend nights there will be a live DJ from 6 pm- late AND shuttle bus running from Newport at various times throughout the night.
To purchase tickets to both events, head over to www.blackgangchine.com.
Thanks to Blackgang Chine for this spooktacular blog!