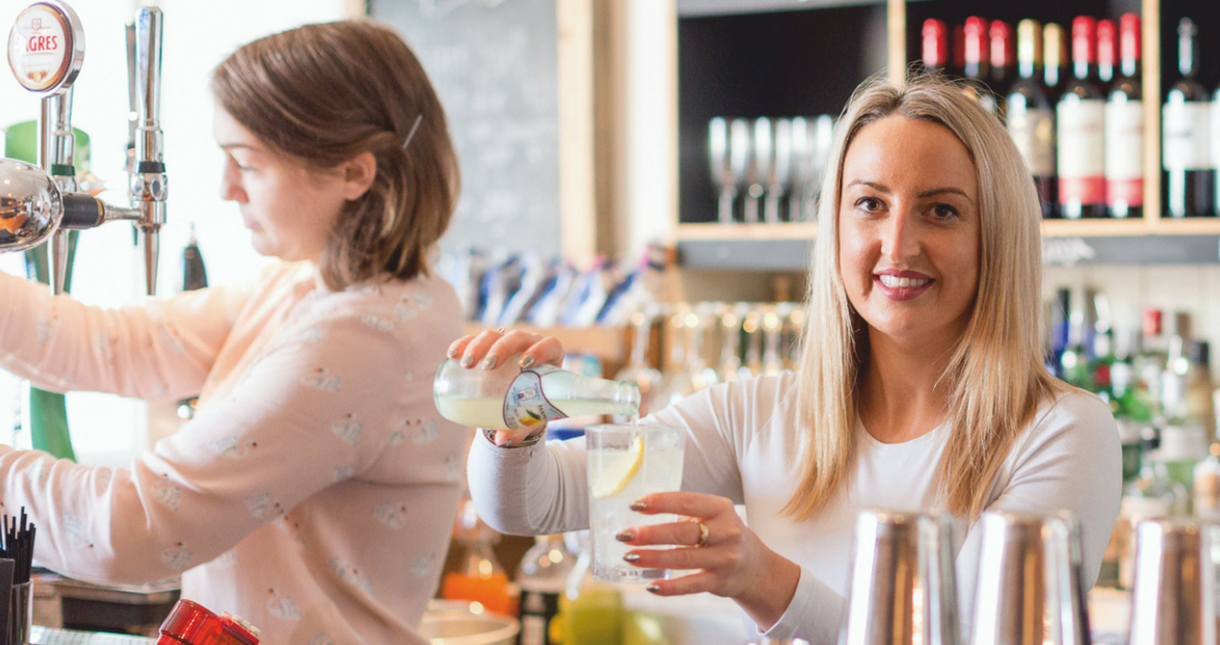 If you thought sailing was the only reason to go to Cowes, then you're in for a pleasant surprise. There are so many dining and shopping options in both Cowes and East Cowes that you may not even have time to make it to the water! And if you have been sailing all day, rest assured there are plenty of eateries to try out afterwards. If you're in the mood for an on-deck picnic then head to The Food Hamper delicatessen on Cowes High Street, where the friendly staff will sort you out a feast fit for a day's sailing. They'll also fix you a simple yet freshly delicious crab sandwich if you'd prefer for a light bite.
Shop local for your foodie treats
If you'd rather throw your own picnic together, there's a pleasing range of independent shops selling local produce. East Cowes offers up a wide selection of fruit and veg to pick up on the go, from the Artisan Pear greengrocers who also showcase local crafts and Fair Trade trinkets. Across the road from The Food Hamper, there's a must-visit for cheese-lovers in Toby's of Cowes cheese shop. Tiffin's of Cowes café offer amazingly delicious yoghurt shakes and plenty of freshly made sandwiches and baguettes.
Breakfast like a (sailing) champion
For a bit of culture with your brunch, try out Jolliffe's, with its stained-glass front and art gallery nestling inside next to a café. For a super traditional breakfast, there's Eegon's Café, and for a central location in East Cowes try out Seabreeze Café. If you're more in the mood for a breakfast picnic al fresco, perhaps in the beautiful Northwood House grounds, then Cowes is well served by the major supermarkets too.
There's a Waitrose in East Cowes, and a Marks and Spencer food hall in Cowes, covering all snacky bases. For a heartier meal, including amazing pizzas, fine wines and perfect nibbles, try The Coast Bar & Dining rooms. In fact, there are far more eclectic dining options in Cowes and East Cowes than most casual visitors realise. Fusion street food is served up by Nomads, while traditional seafood is the speciality at Murray's. Prego Pizza in East Cowes is close to the ferry terminal so ideal if you've just arrived in town.
Dig in to fine dining
If you'd like to dine in style, head to The Albert Cottage, which is part of the Osborne House Estate or try the gorgeous Orangery in Cowes. It overlooks the walled garden of the North House hotel and is a beautiful environment in which to enjoy your meal. For excellent food in a more relaxed environment, you can try one of the many pubs. Real ale aficionados should try Cowes Ale House. Foodies should go to The Yachtsman on the seafront.
Feeling hot, hot, hot
There are two highly recommended curry houses in Cowes (Saffron Flavours of India and Cowes Tandoori) and Taste of India in East Cowes to get your spice fix. Cool it down at Minghella's ice cream parlour on Bath Road and finish off with handmade chocolates from Chocolate Mad Cowes. As if all that food isn't enough, there are also a fabulous range of shops, stores and markets to check out in both towns. East Cowes boasts quirky shops galore and on Cowes High Street, whether you're looking for sailing ropes or a ball gown, you'll find just the store you need.
Party wear to yachting supplies
From chains like White Stuff, Fat Face and Henri Lloyd, Cowes also has lots of local boutiques. Cowes Dress Agency is perfect for party wear, while World Leisurewear can print your crew t-shirts in a day. Gorgeous jewellery to finish off your outfit can be found at the beautiful old Benzie of Cowes shop - you'll be in good company as they have been supplying the Royal Family for decades. Talking of royal connections, follow n Prince Phillip's footsteps and check out sailing photographer extraordinaire Ken Beken in his shop (Beken of Cowes) at the top of town. Drift has contemporary and Fair Trade jewellery and gifts, while quirky souvenirs and knick knacks can be found at Live Like This.
Original art fan be found at Kendalls Fine Art, a gorgeous gallery just off the Parade, and posh antiques at K1 Britannia on the High Street. In East Cowes check out The Old Curiosity Shop and East Cowes Emporium for antiques. There are several yacht chandleries to visit, including Fynn Marine and Joliffe's. Just as you come off the ferry in Cowes you'll see Pascall Atkey with its beautiful vintage shopfront and interior. It's well worth a visit. Spencer Rigging is on hand for your sailing needs and, last but not least, we thought you might fancy some refreshment after all the eating, sailing and shopping and highly recommend popping into Wine Therapy to finish off your dining and shopping extravaganza.
Related
0 Comments