Dawn of the Dinos at Blackgang Chine

Blackgang Chine
VENTNOR
Isle of Wight
PO30 2NU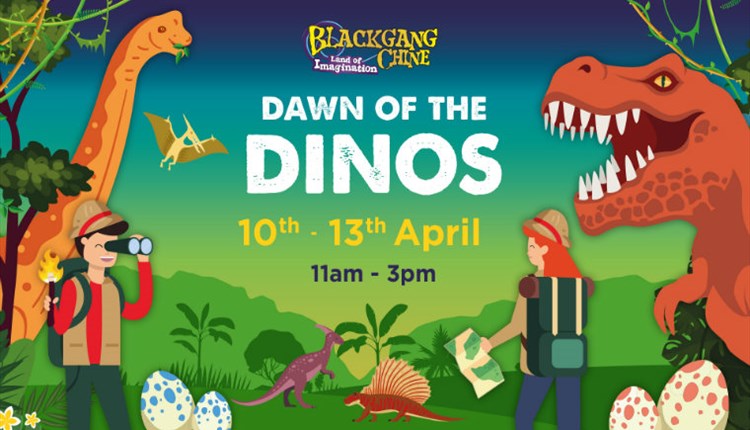 Guide Prices
https://tickets.blackgangchine.com/bg/
About
Blackgang Chine is overrun with escaped Dinosaurs!
Take a walk on the wild side this Easter as the Land of Imagination roars into action for a brand-new event, Dawn of the Dinos, from 10th – 13th April (11 am - 3 pm). For three days the beloved oceanfacing theme park will be inundated with dinosaurs and exciting dino-themed activities…
Archaeologists have made an astounding discovery digging beneath the thick chalk cliffs of Blackgang Chine, The Lost Temple. This incredible site is being prepped and made ready for all intrepid explorers on the Jurassic Hunt. Join the immersive live-action experience to adventure within the ancient walls, dive through boobie-traps and encounter incredible creatures. Keep your eyes peeled for footprints, eggs and other exiting clues to a roaring surprise!
While the adrenaline is still pumping, grab the wheel of your very own off-road Dino Safari vehicle to race your friends around the track, but watch out for any escaped dinosaurs…
Journey into Restricted Area 5 for the Explorer Eggspedition. Keep your wits about you through this treacherous path, some of these reptile descendants have teeth and they're not happy that their eggs have gone missing!
Enjoy dino-themed games and activities beneath the excavation tent, kids can become palaeontologists and join the ancient archaeological dig to uncover fossils and prizes in Explorer Digs.
"We're really excited for this event, especially as this will mark the return of the nostalgic Triassic Club trio! It's been a long wait for many, but Darwin, Oscar and Wallace are ready to eat- sorry, meet you all in their latest venture, Triassic Mining Club." – Dominic Wray, Park Manger.
This year the Triassic club will return in full animatronic force; listen carefully as Wallace explains the location of the sacred hidden jewel. Fail to find the treasure and risk the possibility of becoming dinner!
Keep up to date with the latest news and announcements from Blackgang Chine by following their social media and grab your tickets now at www.
blackgangchine.com/dawnofthedinos.
Map & Directions
TripAdvisor
Opening Times
Open

(10 Apr 2020 - 13 Apr 2020)

Day
Times
Friday

11:00

15:00

Saturday

11:00

15:00

Sunday

11:00

15:00

Monday

11:00

15:00