The Isle of Wight is a gem for cyclists, floating just off the South Coast of England.
Easily accessible by ferry, but far enough away to put the rest of Britain out of your
mind, if you haven't cycled there before what are you waiting for?
---
One of my favourite family bike breaks was last autumn when we went cycling on the Isle of Wight. Cycling under a russet forest canopy, with the kids in tow behind us in trailers our sound track was our two boys chanting Michael Rosen's We're Going On A Bear Hunt, reworked to convey our squirrel spotting mission. The eldest was singing sweetly, but the three year old, with no sense of volume control, was bellowing his words out like an East London Costermonger. It was October half term and we'd come to the Isle of Wight to enjoy a relaxed family cycle without a constant stream of cars whooshing past.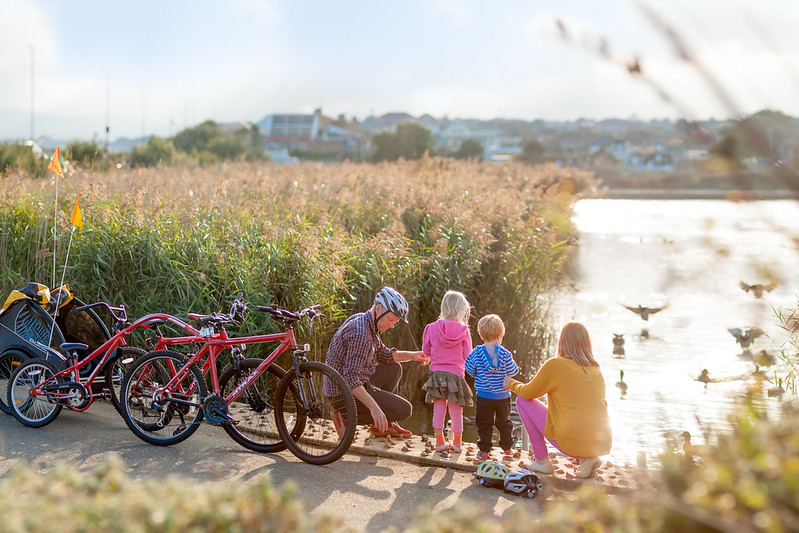 1. Miles of lanes with very few cars.
After a bit of homework we decided to cycle parts of the aptly named 'Red Squirrel Trail', a National Cycle coast-to-coast route, much of which runs along flat, disused railway tracks. This appealed massively to us as we really aren't fit enough anymore for hills. Fitties could do the trail in one day but to keep things leisurely (and because we were pulling trailers) we decided to split the trail over two days, rather than doing the whole 32-mile route in one. Some do it in three.
As we were cycling along parts of the Red Squirrel Trail, it makes sense to keep a look out for the route's namesake! The Isle of Wight is one of the few places in the UK where red squirrels haven't been rendered extinct by their more hardcore grey cousins.
We were glamping at Lower Hyde Holiday Park on the south west coast of the island. This is a great place to start the ride and as an added bonus there is bike hire on site. The tree cover at the start in Shanklin, was so dense it was almost dark. It felt like we were riding through a magical fairy forest, albeit one with a relatively new and smooth cycle path running straight through the middle.
2. Ghosts and a very sexy scandal.
Soon we then found ourselves in a pretty sheep field for a grassy climb. It would have been fine but the kids were helpfully heckling "Go Faster!" all the way to the top where we found ourselves at Appuldurcombe House – a masterpiece of English Baroque architecture and the epicentre of a very Georgian sexual scandal. Also said to be the most haunted in England.
After passing through the impressive gate we met some mud-splattered mountain bikers passed by telling us they were riding the 'Chalk Ridge Extreme', the toughest and steepest route on the island. We are not fit so we left that one well alone.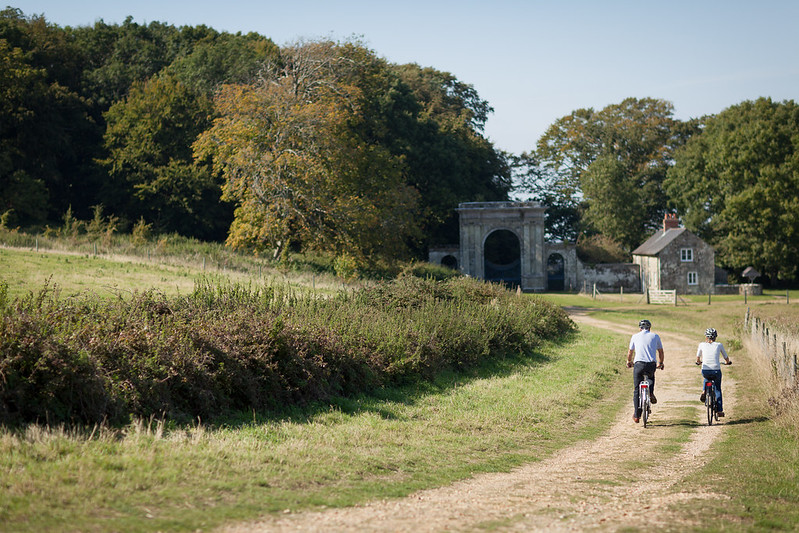 3. Cream Teas to die for.
Next we stopped at Godshill Village with its delightful medieval church, model village, charming thatched-roofed cottages and winding main street lined with plenty of places to stop for a drink and a cream tea. We stopped at the Taverners and sat in the Garden and had a quick game of Boule.
We then rode through a farm, passing goats, pigs, cows, more sheep, and some ducks, which the kids loved. There is a little room in a barn where one of the entrepreneurial local children has opened a little shop selling sweets and drinks.
You'll soon come to a hump back bridge where the sign points you through a narrow gap and down on to another well surfaced, disused flat railway line. Soon it was time for lunch at the Pedallers Café, which as the name suggests is very welcoming to cyclists. I liked its Scandi-style wooden interior and the bike memorabilia on the walls. Out the back there is a shed with a large metal blackened box in where garlic is smoked. It smells gorgeous and made me hungry. We fuelled up on soup and paninis then realised the boys were getting too energetic for the small space.
4. Garlic flavoured beer.
We took a detour from the Red Squirrel Trail and nipped up the road to visit the Garlic Farm where you can free tasters of all the garlic farm products. And they also do a good garlic beer.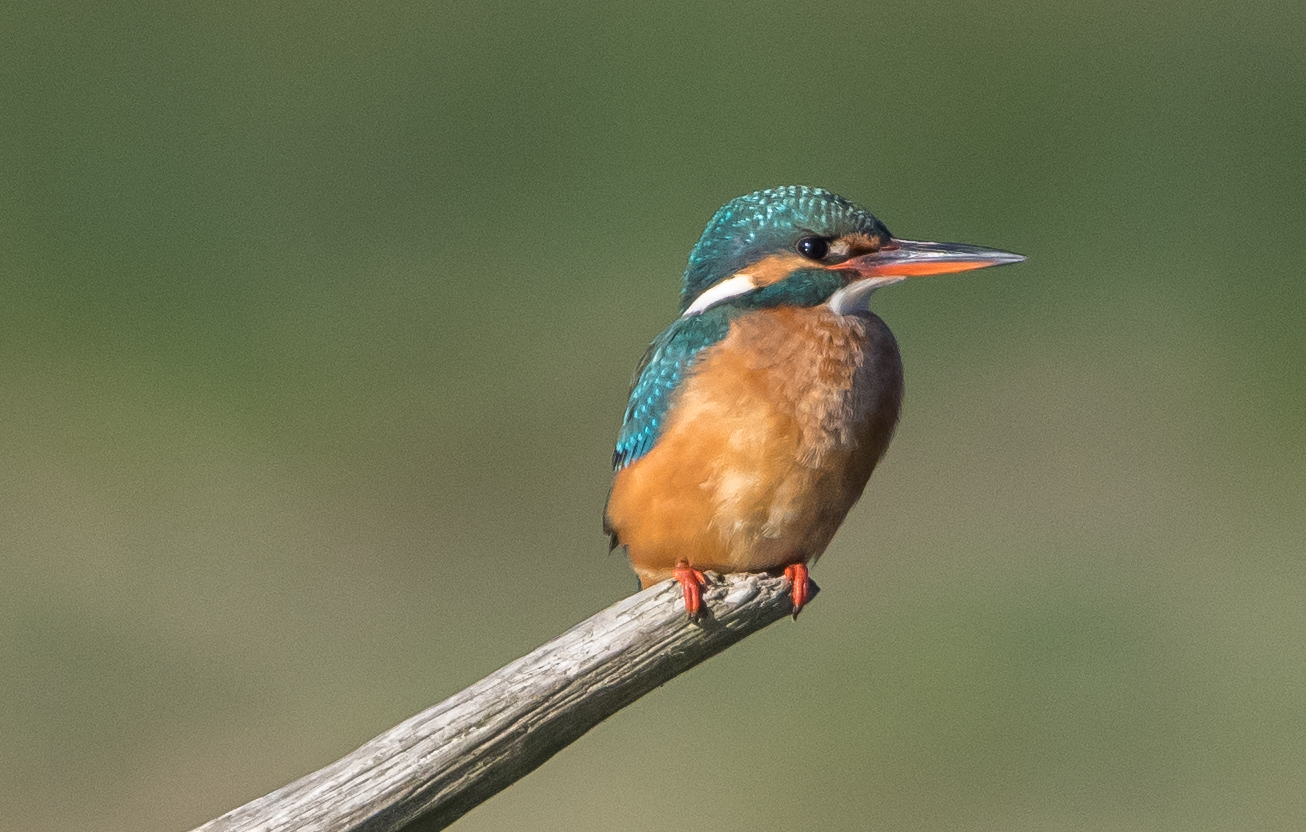 5. Encounter rare and exotic wildlife.
On our way to the beach at Sandown we kept our eyes peeled through Alverstone Mead Nature Reserve There's plenty fascinating wildlife to see here including all manner of wetland wildlife including Kingfishers, Water Voles and some amazing wild flowers.
The entrance to the nature reserve is 50 yard along the road where you'll see a carving of some birds in a tree. Leave the bikes and take a walk in to the nature reserve. In the woods you'll find a Bird and squirrel hide where my son sang "We are going on a Squirrel hunt" very loudly.
If you carry on up this road you will come to the ancient forest of Borthwood Copse. This is a fantastic atmospheric walk which takes you through woods that are home to the red squirrel. It is a particularly beautiful place to be when the trees take on their autumn colours in October and early November. Dormice are also prevalent here, although rarely seen.
It was fast turning into a very English safari. We admired the red admiral larvae on nettles, listened to birds, and marveled at the geese in the field, flapping away with chests puffed out like young gents in a Georgian pub.
The Isle of Wight is also one of the few places in England where you can still see a Glanville Fritillary butterfly so keep your eyes out for them too. After this we decided on another detour and picked up the "Round the Island Trail'. This does take in roads but they are extremely quiet and reasonably car free so worth it.
6. Stunning coastal vistas.
First stop, and just down the road, is Adgestone Vineyard where we purchased a couple of bottles of the wine that they make there and then took in a tour. If you don't fancy that you can just sit in amongst the vines and gaze at the beautiful vista that is Sandown Bay – voted Best Beach in Britain by Countryfile magazine.
Next stop was Brading Roman villa which is one of the finest Roman sites in the UK is great for the adults and kids.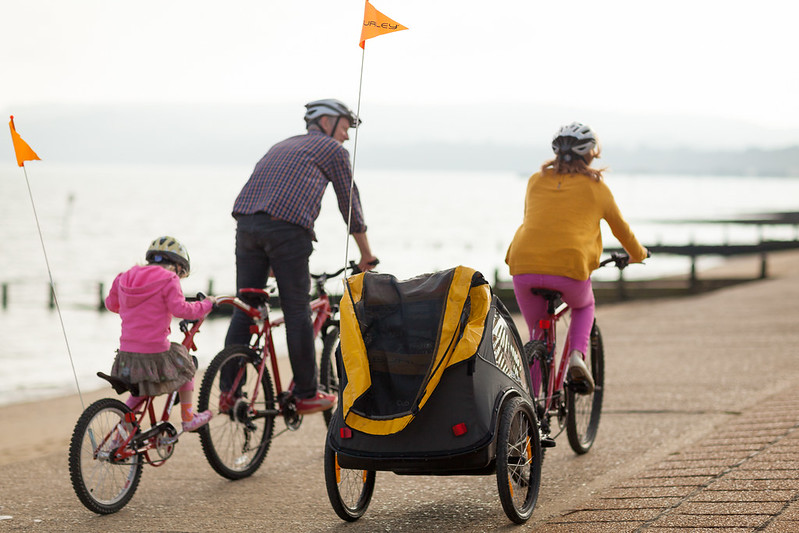 7. You can travel back in time.
We sped on to the sea. At Sandown Station – if you, or your children, are tired you could catch a totally original 1930s underground train home from Sandown Station, which looks like an absolute delight, but we decided carrying on cycling as we were told the reward would be worth it along the flat ride between Sandown and Shanklin following the traffic-free esplanade. We took a walk up the wooden planking of Sandown Pier and from the end we got some great pictures.
8. There's ice cream. Whatever the weather.
The seawall path is breath-taking, with sandstone cliffs soaring above you on one side and sand and sea stretched out on the other and an excellent spot for an ice cream. We let the kids loose on the beach, where they ran about for an hour.
We reached the end of the coast road at "Shanklin Chine" – where you will find the entrance to the Island's oldest attraction. Here you will also find the delightful Fisherman's Cottage. A thatched pub that sits on the beach surrounded by little wooden boats in a variety of colours. From there we came to Shanklin Old Village – one of the most picturesque villages you can imagine and we stopped amongst, not one, but three thatched hostelries. We chose the Village Inn for a well earned refreshment.
The next day we headed north through Merstone, a ghostly deserted station with grass growing over the platform which is still in place but has been overtaken by nature and is now a wildflower meadow, the rare cowslips making it otherworldly. On the platform someone appears to have left their suitcases on the platform albeit concrete representations.
9. You can't get lost. Everything is signposted.
All along the trail it's signposted, this section of the trail we spotted "Stop, Look and Listen" signs which feature all sorts of wildlife you might see or hear near each sign, or elsewhere along the trail. You can spot all sorts from the track, from butterflies to birds of prey "Stop, look, listen, split hazelnuts evidence of red squirrels," a sign instructs. It means we must beclose to the bushy-tailed epicentre.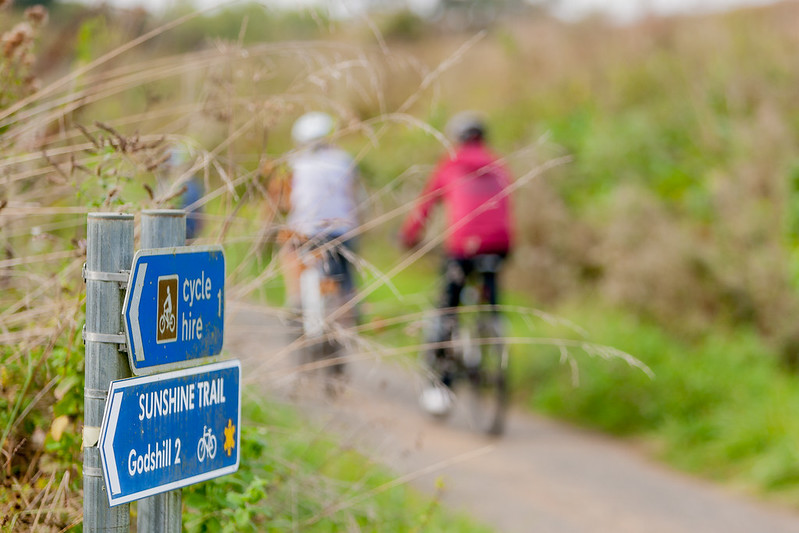 10. Meet some trolls.
Here we pick up the 'Troll Trail'. So named because of the trolls that live under the bridges and inhabit the bushes along the way. Just don't tell the kids that are actually wood carvings.
Another few hundred yards on looms another sign: "Teacher, teacher" it says. On cue, as if in an interactive theatre performance, a great tit starts a merry "teacher, teacher" call.
As you progress the trail meanders through farmland with a mosaic of habitats including field margins, small ponds and woodland. On to Pan Mill Meadow which is an amazing riverside woodland, and wildflower meadow right in the middle of Newport.
Although it will meant navigating some roads, a short distance outside of Newport we went to one of the most popular attractions on the Isle of Wight – Carisbrooke Castle most famous for imprisoning Charles I after his defeat in the English Civil War and shortly before his execution. And for its' donkey that operated the well.
11. Cafés and pubs galore.
Back on track we decided to stop off in Newport town. There are many places to see here: The historic town centres on two elegant squares with Georgian and Victorian architecture surrounding them, with the town's quay a short distance away. The Museum of Island History, and the Newport Roman Villa all within walking distance. You're quickly on a fecund avenue of green trees off-road.
Following the Medina estuary along a wildlife-rich former railway track and an old railway bridge will take you right over Dodnor Creek affording you great views of the Medina Estuary, Dodnor Creek and the surrounding local nature reserve.
Local residents include the black and white oystercatcher, the little skittering dunlin and the curlew with its distinctive long, curved beak.
Carrying on up to Cowes, look out across the Medina Estuary to the far shore where the rusting hulk of the paddle steamer 'Ryde' still survives. Cowes is famous for its many independent shops but mostly for its sailing so it is well worth a visit. We jumped on the town's new chain link ferry for a fun ride with our bikes to cross the river Medina to East Cowes.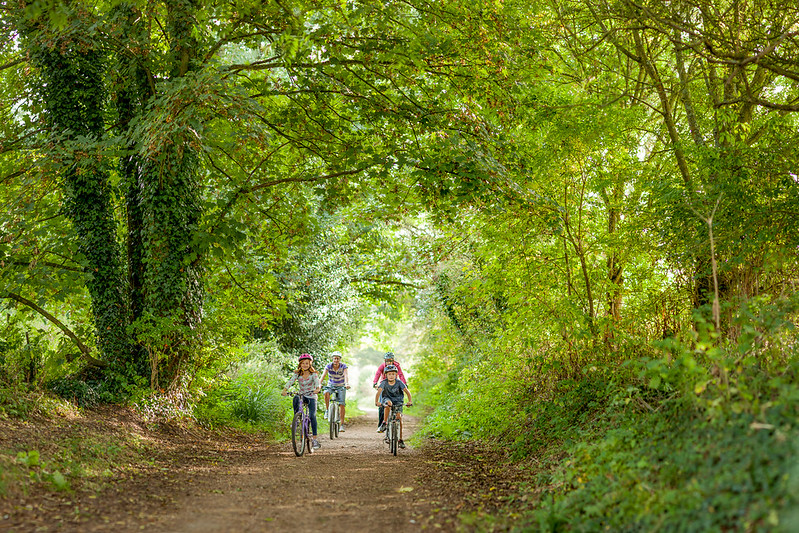 12. Rub shoulders with the royals.
Next stop was the Classic Boat museum and a mile or so from here is Osborne House, once the home of Queen Victoria. Try to follow a tour, it's fascinating. From there you are homeward bound. The cycling did not disappoint. And neither did the squirrel hunt.
13. The locals are very friendly.
OK. It's not one of our 12 but it's worth mentioning the locals are the friendliest we have met. Don't hesitate to ask for directions or give a jolly greeting when you pass a dog walker or farmer in the lanes.
Listed as one of "150 Great Days Out'' by Sustrans, the family friendly Squirrel Trail is perfect for cyclists who prefer car-free cycling on mainly flat, gentle routes. Most of this trail is based on smooth cycleways which were created from disused railway lines and make for a lovely leisurely cycle through the heart of the Island's countryside.
You can chose to go 'fully loaded' with your luggage, or take it easy and have your bags transferred ahead of you each day by 'MoveMyBag-isleofwight. com. Bring your own bikes on the ferry for free or hire them at the start of the trail.
We hired bikes directly on the trail from Routefifty7 Bike Hire, they had trailers for young children,
children's bikes and tandems, alongside a good range of adult bikes.