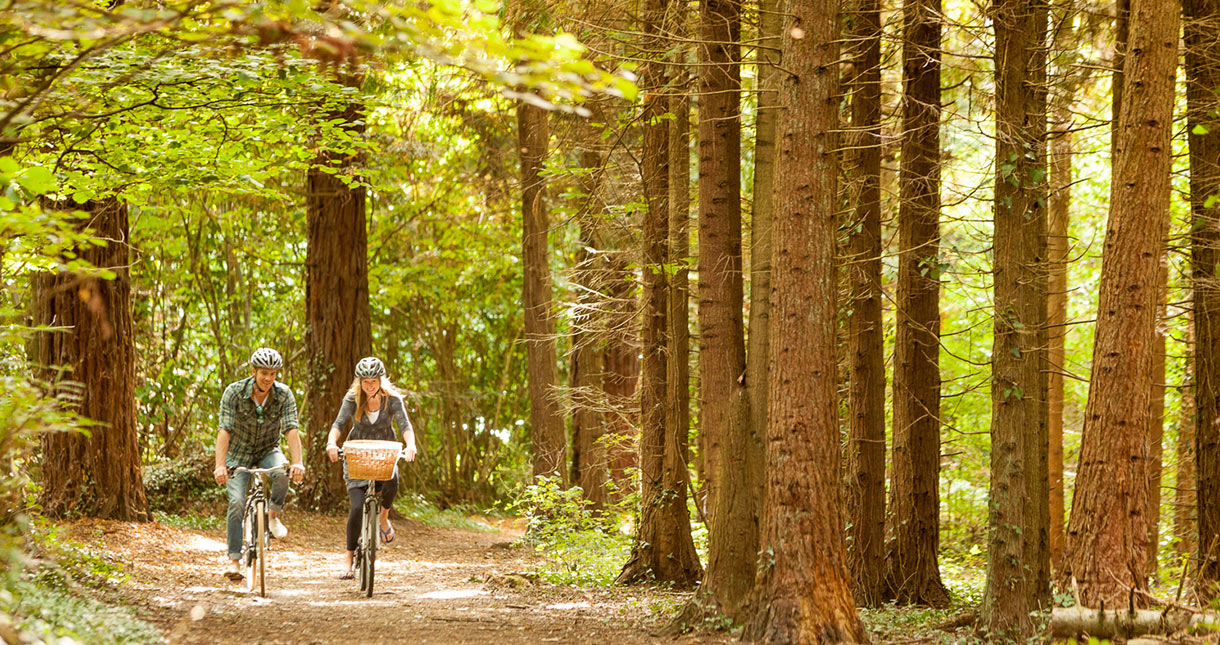 Uncovering hidden footpaths, exploring new cycle tracks and enjoying a bus or train ride are just some of the activities that make travelling on foot feel like an adventure.
It's great to see so many hotels, guesthouses and B&Bs across the Isle of Wight making it even easier for you to choose eco-friendly transport as they join Visit Isle of Wight's Green Star scheme – an initiative that asks hosts to provide their guests with car-free travel information and facilities.
Here are just ten of the many places to stay that have reached gold standard of the scheme for 2019/20:
1. The Miclaran Guest House, Shanklin

A stay at the Miclaran Guest House will put you in the perfect position to enjoy leisurely strolls along the award-winning Sandown Bay. This eco-friendly accommodation is conveniently located just a short walk from both Lake and Shanklin rail stations. Find out more about The Miclaran.
2. Firefly House, Cowes

Firefly House is self-catering accommodation close to Cowes town centre and the Red Jet foot passenger service. This beautiful accommodation welcomes walkers and cyclists and the friendly owners will happily lend you maps, routes and cycle tools for your car-free trip. Find out more about Firefly House.
3. The Pilot Boat Inn, Bembridge

This unique pub - that looks like a boat - is moored up in Bembridge Harbour and is perfectly located for the Round the Island cycle trail. Not only does The Pilot Boat Inn offer bike lockers, bike stands, pumps and puncture repair kits, it also has five beautiful en-suite rooms for those wishing to stay the night. Find out more about The Pilot Boat Inn.
4. Island Riding Centre, Newport

You don't need to be a horse-lover to enjoy staying at Island Riding Centre, but it certainly helps! These fully accessible cottages are located on site of a state-of-the-art equestrian complex. There is a busy bus stop just outside Island Riding Centre which provides quick and easy access into both Newport and Ryde. Find out more about Island Riding Centre.
5. Old Shanklin Guest House

A trip on the Island Line train will take you directly into Shanklin where it's less than a mile to walk to Old Shanklin Guest House. Your hosts have an extensive knowledge of the Island and will help you with bike hire, walking guides and places of interest, which are easily accessible by bus from Shanklin. Find out more about Old Shanklin Guest House.
6. Glamping the Wight Way, Freshwater

Fancy a little time out? Glamping the Wight Way gives you a fantastic opportunity to switch off and enjoy the simple life. Bring your bike or hire one from nearby Wight Cycle Hire, safe in the knowledge that you won't be far from a cycle trail. Find out more about Glamping the Wight Way.
7. The Caledon, Cowes

Hop off the Red Jet and walk straight up to the nearby Caledon guest house for a home-from-home visit. Public transport users will benefit from the conveniently placed bus stop right outside the house, and you may be able to enjoy free bus travel by booking a key card in advance. Find out more about The Caledon.
8. Westbury Lodge, Shanklin

This Bed and Breakfast accommodation is located just moments from the cliff path – perfect for enticing walkers to take in the stunning views and enjoy the sandy beach below. At Westbury Lodge you won't be far from the town centre and you'll also be able to make use of an electric bike charging point if you require. Find out more about Westbury Lodge.
9. The Bay Boutique B&B, Freshwater Bay

If you fancy cycling during your trip to the Isle of Wight but you don't have a bike, you'll be able to hire an electric one at The Bay Boutique B&B. This top eco-friendly B&B is just round the corner from the beautiful Freshwater Bay on the Isle of Wight's stunning coastal path. Walking and cycling routes can be provided. Find out more about The Bay Boutique B&B.
10. Lyon Court, Shanklin

Situated opposite Shanklin Down, Lyon Court is ideally located for exploring the Isle of Wight by bus, bike or on foot, and you'll be offered a free transfer from Shanklin rail station if you arrive by public transport. Speak to your host about the discount available on bike hire from Route Fifty7, too. Find out more about Lyon Court.
If you have any questions, contact our Travel Ambassadors - our knowledgeable and enthusiastic travel experts - for advice on the perfect car-free holiday. You can also like us on Facebook and follow us on Twitter.
Related
1 Comments