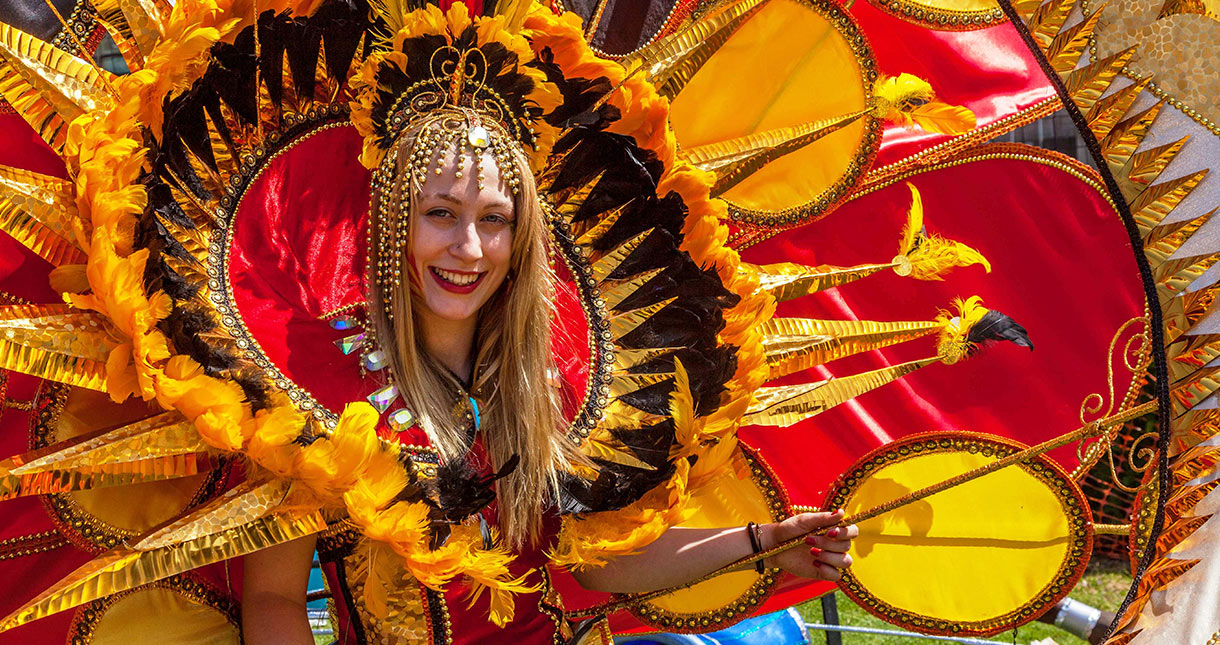 August must surely be one of the busiest and most exciting months on the Isle of Wight. There's everything from music to food, kid's adventures, to scooters and carnivals to Cowes Week. Read on for some great ideas for days (and nights) out.
Fab Fun Festivals
Here on the sunny Isle we love any excuse for a festival and the month of August sees some old and some new which will delight everyone old and young.
Whether you're a Busted or a Peppa Pig fan, the brand new Dick and Dom's Great Wonderfest will be your August go to at the beginning of the month. There are DJs and live bands galore as well as an enormous programme of family activities – and there'll even be an appearance by Derek Sandy we hear…
The Wight Proms four-day festival returns to Northwood house from 29th of August to the 1st of September and will celebrate not just classical music but comedy as well. From A Wight Laugh with Alan Davies and Shappi Khorsandi to the Last Wight of the Proms with Lesley Garrett closing the event on Sunday, it'll be a weekend to remember.
Havenstreet will host the Island Steam Railway's 45th Steam Show between the 23rd and the 26th with falconry, bands, food and drink as well as stunning shows in the main arena, vintage cars and motorcycles.
Jack up the Summer will take place on the 10th and 11th of August at North Fairlee Farm for it seventh outing and will this year feature amongst others, Heaven 17, Aswad and Republica as well as East 17 and Black Lace – so get practising your Agadoo moves…
Puzzling over something different to do? Then get yourself along to East Cowes for the annual Jigsaw Puzzle Festival now celebrating its 25th year from the 12th to the 17th of August. With thousands of puzzles to choose from you'll have plenty to occupy you for many months!
Garlic beer anyone? Or perhaps garlic ice cream? The annual Garlic Festival has both of these, but they are only the tip of the garlic iceberg. Enjoy garlic treats, crafts, animals, cookery demos and lots of thrill and spills for the family to enjoy in the showground. On the 17th and 18th.
Head to Ventnor Botanic Gardens for the Wellbeing Festival with dedicated studios, therapies, fitness and relaxation will all be on offer, all set in the Botanics' beautiful gardens on the 24th and 25th.
Sail Away
Whilst the Island is always a busy sailing destination, August is the month that it really comes into its own.
Cowes Week, the oldest and largest sailing regatta returns to Cowes from the 10th to the 17th of August. With over 8,000 competitors, great shoreside entertainment and food and of course, the famous last Friday fireworks, there's nowhere else to be!
A brand- new event, Cowes SailGP is scheduled for the opening weekend of Cowes Week. SailGP is a new global sports series, during which athletes from six sailing teams and rival nations race head-to-head in five cities around the world. The sailors involved are amongst the most talented in their field, ranging from world champions and Olympic medallists, to America's Cup winners so a shoreside spectator's view is a must.
If powerboats are more your thing then the Cowes – Torbay – Cowes Powerboat Race is for you. The 200-mile spectacular Cowes Torquay Cowes Offshore Powerboat Race sets off from Cowes on Sunday, 25th August 2019 and returns for podium presentations later in the afternoon.
Entertaining Smaller Folk
The Island is a mecca for families during the school summer holidays, and there's always plenty to do for families and younger folk.
Visit the wild animal at Robin Hill during Jungle Fever with their life- sized puppets including Annie the giraffe who will be returning for feeding time at the park. And Brightsparks are back! The epic Fire Extravaganza that wowed crowds last summer returns with a show bigger and better than ever.
New for 2019, every Saturday evening during August there will be Jungle Fever After Dark when the Two Cheeky Monkeys will light up the Woodland Amphitheatre with a more adult evening show, Flaming Risqué at 9pm and a live DJ set down in the Woodland Ponds until midnight!
Please note, no individuals under the age of 16 will be permitted after 7pm and anyone under the age of 18 must be accompanied by an adult.
Get out into nature with a Goodleaf Woodland Adventure. Forage for materials for take home souvenirs and learn skills with instructor Matt and enjoy your outdoor day. Woodland days take place on the 13th and 28th of August. Autistic Spectrum Disorder adults and children can also enjoy a tree climbing experience on the 2nd or 9th of August on Autism Friendly Fridays. Tree climbing is a relaxing, calm activity and can help to bring down anxiety levels. There will also be a Cowes Week tree climb on the 11th and 16th.
Get your armour on and your sword out and enjoy the Knight's Tournament on the 6th to the 8th at Carisbrooke Castle. Meet people from the Middle Ages, try on some armour or become a budding warrior and take park in drills. There's also the Legendary Joust on selected dates in August where you can watch knights in horseback battle.
Blackgang Chine's Big Night Out continue on Mondays, Wednesdays and Friday throughout August with all of your favourites characters appearing as well as Pirate Cove becoming a giant dance floor to keep kids entertained all evening. Top your day off with spectacular fireworks and a great party atmosphere.
Tapnell Park Farm stays open late every Thursday in August for spectacular Sunset Shindigs with circus skills and showmen, live music, pizza and plenty of play within the Farm Park walls and a licensed bar for adult drinks.
Looking for speed? Head to Wight Karting for Junior Track Days - for age 8-15 years junior drivers to get the chance to be Adrenaline Junkies without parents!
For Something Completely Different
The Chale Show is renowned for its horticulture tents, cakes, jams and competitions as well as a main arena featuring the UK's best Stampede Horseback Display as well as a Motorcycle Stunt Show! There are also vintage and steam vehicles, children's magic and fun races, an indoor art and craft market and a bustling local farmers market. 3rd and 4th of August.
Ultimate Ska Wars will feature the Island's own Ska'd for Life going head to head with Buster Bloodvessel and the mighty Bad Manners. Hugely danceable music will get your feet moving on the 9th.
Are you a Dr Who or a fantasy comic fan? Then Fan TC Con is for you. Embracing pop culture, sci-fi and games, this event will take place at Cowes Enterprise College on the 24th and 25th and will include a guest appearance from Colin Baker as well as other special guests and entertainment.
Get your parka out of mothballs and your Paul Weller sideburns on and head to Ryde for the annual Scooter Rally on the late band holiday weekend. Up to five thousand riders of classic scooters will descend on the Island and will take part in the ride out. Food, drink and music at the Balcony Bar in Ryde.
The annual garden fair will take place at Wolverton Manor on the 31st of August and the 1st of September with 140 Island and mainland nurseries, garden and craft stalls, tractors, donkeys, alpacas and a dog agility competition being just some of the highlights.
Food, Drink & Music
While away summer days and evening listening to live music while sipping on a glass of something cold and enjoying some live music.
The Boathouse and Fishbourne Inn both have live music on Sundays between 2 and 4pm – enjoy the music and a glass of Pimms to celebrate summer.
Charles Gold will be performing at The Pub on the Beach in Shanklin on the 17th and 31st from 7pm until close whilst over in Cowes, That 60's Place has live music every weekend. There's also Music in the Chine in the tea gardens in Shanklin every Tuesday and Thursday evening from 7.30pm.
Carnival Life

There are carnivals galore during the month of August in all of the major town on the Island and below is a selection for you to get your Carmen Miranda hat out of the cupboard for…
Freshwater Carnival – 3rd August
Shanklin Children's Carnival and Main Carnival – 6th & 7th August. Illuminated Carnival – 10th August
Cowes Main Carnival – 8th August. Illuminated Carnival 24th August
Ventnor Children's and Main Carnival – 14th August. Illuminated Carnival – 17th August
Yarmouth Carnival Week – 17th – 24th August
Newport Illuminated Carnival – 22nd August
St Helens Carnival – 26th August
Ryde Children's Carnival and Main Carnival – 28th & 29th August. Illuminated Carnival – 31st August
Sandown Illuminated Carnival – 28th August
Getting Here

Whatever you decide to do and however you're travelling, it couldn't be easier to get to the Isle of Wight via Lymington, Southampton, Southsea or Portsmouth. There are regular rail connections to the south coast via SWR.
Travelling as a foot passenger is simple due to our excellent transport links with trains, buses, foot passenger ferries and our hovercraft service. Our friendly and knowledgeable Travel Ambassadors are on hand to help you decide where to go, what to see, and of course how to get there using sustainable transport – meaning you'll also be helping us to protect our environment too.