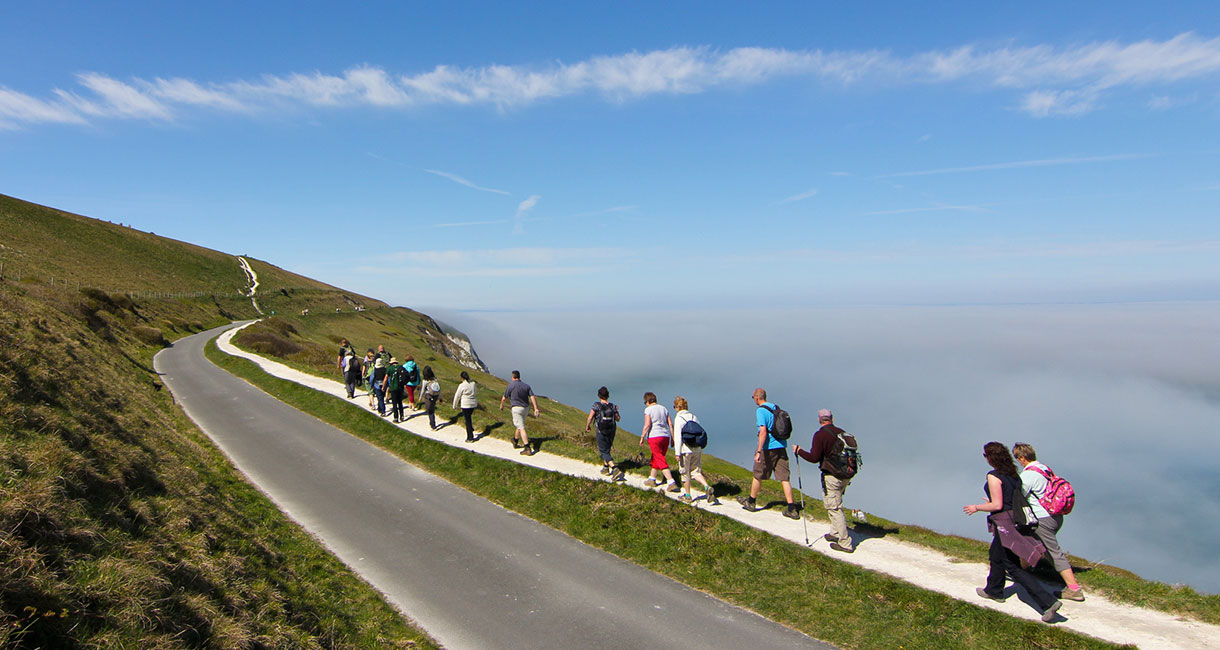 We love May here on the sunny Isle of Wight! The sun is out, the sky is blue and, as always, there's plenty to do. Think galactic sword fights, Wild West, walking, biking and slippery slides...
Get Out and Get Fit!
The Isle of Wight Walking Festival kicks off from the 4th to the 19th of May using trails that are suitable for all ages and abilities and which cover the Island from sea to Downs and back again. Sponsored by Warner Leisure, it's a great opportunity to see parts of the Island you may not have explored before.
The Isle of Wight Randonnee is upon us again in May and will follow its usual Round the Island cycle routes in a clockwise direction and you can choose either the 100km or 55km rides. Sign up and get biking!
There's the Isle of Wight Challenge too which is an annual event in the Ultra Series calendar with endurance events including the Full Challenge (106km) - 24+ hrs, 1st Half option (52km) on Saturday 4th May, 2nd Half option (54km) on Sunday 5th May amongst others. Ideal for seasoned walkers or those looking to step up!
The Mountbatten Walk the Wight will take place on the 12th of May and a choice of five walks and distances, people of all ages and abilities can take part, making this a real community event and raising crucial funds for the hospice.
You could also take some tiny people on a Tiny Walk in Parkhurst Forest with Helen Cunningham from Tiny Homes on the 14th of May – talk all things sustainable and tiny…
Reconnect with yourself at Flourish Yoga Retreat, East Afton Farmhouse from the 6th to the 9th of May. Four days and three nights of yoga including vinyasa flow, mandala, restorative yoga, nidra, pranayama and a special gong bath and includes The Vegan Boys delicious plant-based vegan food.
Exciting Adventures for Kids
Design a space robot, learn close combat galactic training and join space combat masters to learn the skills behind sword fighting at Tapnell Farm's May the Fourth be With You. Special Guests from Across the Universe with the Isle of Wight Garrison. It's life Jim, but not as we know it…
Hullabaloo is back in Sandown on the 11th and 12th of May. This free family festival includes a carnival parade, food stalls, art making and doing and beach activities and will keep your little ones busy for hours!
Cowboy live action comes to Blackgang Chine for half term with Cowboy Town playing host to the Wild West Week. There'll be plenty of entertainment for all ages with dance workshops, cowboy stunts, pyrotechnics and a great chance for little cowboys and cowgirls to don their Stetsons and test their shooting skills. Don't miss this great show from the 25th of May to the 2nd of June!
Robin Hill's GIRNORMOUS slide returns for more slippery fun during half term. Bring your swimmers and enjoy an adrenaline filled slide along 100m of watery fun. From the 25th of May to the 2nd of June. There's also a brand new event Sky High which will be on from the 27th to the 30th May. The sky really will be the limit with over 40 hot air balloons taking flight from the Lower Valley. Meet the pilots, walk inside the balloons or take a kite flying and making workshop – up up and away! You will also be able to see the balloons lit up on the 27th and 29th during Night Glow with music, food , a bar and live music.
Historic Events
Imagine yourself at the Great Exhibition of 1851 and go to Osborne House on the 28th to the 30th of May and enjoy the celebrations to mark the 200th anniversary since the birth of Queen Victoria and Prince Albert at The Great Victorian Show. The Royal couple will arrive by carriage at Osborne and you and the family can take part in activities and delight in Victorian sideshows including the iconic Punch and Judy show.
From the 23rd to the 27th of May, East Cowes town will be celebrating its rich industrial and royal history. With history walks and show as well as a Victorian day and Grand Exhibition, there'll be plenty to keep everyone amused.
The Isle of Wight Steam Railway will host an historic weekend Spring Gala from the 25th to the 27th of May when they have as much of their historic rolling stock in operation as possible. There will be an opportunity for rail buffs to take a ride around the sidings and you can explore the Train Story Discovery Centre and learn the story of Victorian and Edwardian railway vehicles, and their lasting impact on all our lives.
Jazz, Folk & Blues
If a real ale beer tent, BBQ, Tea Tent, children's activities, craft stalls, circus skills and Morris Dancing as well as some of the best folk and blues music around are your thing then you need to be at The Wolverton Folk & Blues Fair on the 11th of May and now in its ninth year. Top live music, beautiful scenery and great festival food.
For junior and adult jazz fans there will be the annual Jazz Weekend which will take place from the 28th of May to the 2nd of June. Always popular with visitors and locals alike, there will be some of the best jazz singers and musicians taking part. The weekend will centre around Newport with bands and singers playing in pubs, restaurants and other venues, some of which will be free of charge and will cover not just traditional jazz but also Dixieland, Latin / funk and mainstream.
Food (and drink) for Thought
The Boathouse in Seaview will host an Isle of Wight Produce Night on the 18th of May which will showcase the best of what the Island has to offer. With dishes created by the Head Chef and his team there'll be everything from cheese to crab to beef to potatoes. Or there are Moules & Frites Fridays to enjoy all the way through May.
Enjoy a glass of real ale at the Steam Railway from the 4th to the 6th of May. With beers brewed on the Island and further afield, this will be the 14th Isle of Wight Real Ale Festival.
Whatever you decide to do and however you're travelling, it couldn't be easier to get to the Isle of Wight via Lymington, Southampton, Southsea or Portsmouth. There are regular rail connections to the south coast via SWR.
Travelling as a foot passenger is simple due to our excellent transport links with trains, buses, foot passenger ferries and our hovercraft service. Our friendly and knowledgeable Travel Ambassadors are on hand to help you decide where to go, what to see, and of course how to get there using sustainable transport – meaning you'll also be helping us to protect our environment too.