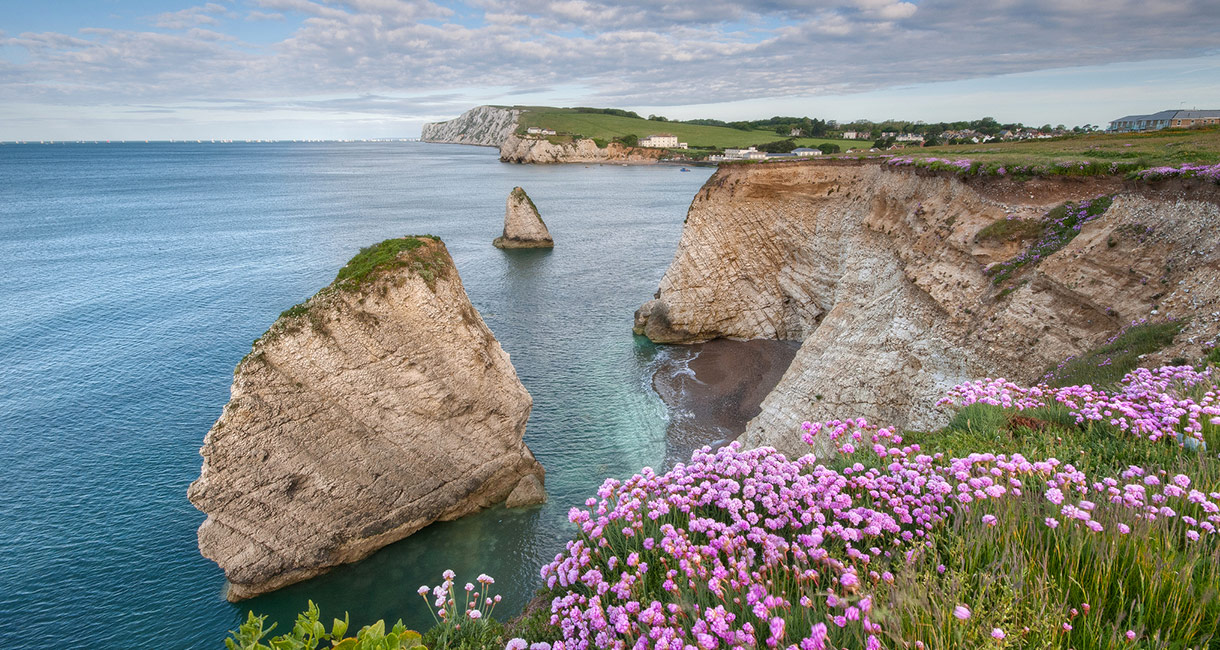 Spring and April on the Isle of Wight are always beautiful with spring blooms to delight the eye, warm days on the beach and, with Easter falling this year during April, there's even more for you and the family to do here. So, let's hope for sunny days and not too many April showers!
Did Someone Say Chocolate?

Immerse yourself (literally) in chocolate at Chocofrolica at Blackgang Chine with the opportunity to dive into a giant chocolate bubble bath to find the golden bubble. Explore the park for your chance to win chocolatey prizes as you race on the Bouncy Milk Cow Hoppers and take on the Honey Bee Quest. There'll be an Easter bunny hopping around and Cedric the resident dragon and his Mad Chocolatier will be creating chocolate mayhem! From the 6th to the 27th of April.
At Easter Weekend enjoy Chocofrolica with added fun with the amazing 5 tier chocolate fountain and performances from Coco the Bubble Wizard and his incredible giant bubbles. From the 19th to the 22nd of April.
Lambs and Bunnies and Ducks too
Have you always wanted to feed a baby lamb? Then you could have your chance at Tapnell Farm during April with their twice daily bottle- feeding sessions. Join in the bunny hop races with Tapnell's friendly Easter Bunny and try your hand at some seasonal crafts. From the 5th to the 22nd of April.
Shaun the Sheep and his baaahrilliant friends will be coming to Robin Hill this spring for the Farm Fest from the 6th to the 27th of April. Make friends with the animals in the Touring Petting Farm and enjoy some very silly races including the Free Range egg and spoon race and the Naughty Pig sack race.
On Easter Sunday the annual duck race from the Yar Bridge will take place at 4pm. Organised by the Yarmouth Carnival Committee, there will be more than 1500 ducks racing and prizes to be won!
Strictly speaking monkeys are not the most usual of Easter animals, but they are celebrating the Easter holiday in the Monkey Haven where there will be egg hunts, egg decorating, keepers dressed as bunnies and Crème Egg and Mini Egg milkshakes in the café.
Festival of Fun

This spring, Ventnor Exchange will transform the Quay Arts Centre in Newport for three days with the return of the Isle of Wight Children's Festival. There'll be amazing shows, enchanting storytelling and madcap games from 10th - 12th April including loads of free activities
Challenge Yourself
If cycling or walking are your thing then there are some great events for you to choose from in April – and you'll also be giving something to charity too!
The 27th of April will see the International seafarer welfare charity The Mission to Seafarers head to the Isle of Wight this year to host its highly popular Round the Island Cycle Challenge. Or you could Follow the Seagulls and walk 50 miles in 2 days for the Brainstrust charity. Both challenges won't be easy, but just think what great causes you'll be supporting.
How about climbing a tree? Goodleaf's qualified and experienced instructors will teach you the ropes (and the knots!), to enable you to take to the canopy of their stunning mature oak tree to enjoy a squirrel's eye view.
Blossoming Holidays
Enjoy spring blossoms from an Island Steam Railway carriage as you puff through the Island's countryside. Enjoy an Island Heritage Train Day on the 14th of April and explore the Train Story Discovery Centre or join in the fun and frolics over Easter weekend with the Desmond Duck Treasure Hunt and an Easter Bonnet Parade each day – pre-make your bonnets and show them off at the parade.
On Easter Saturday and Sunday, Northwood House will be holding the first Spring Art & Garden Fair. There'll be all manner of garden related items including plants, machinery tools and furniture for sale as well as an Island Arts Showcase which will feature artists exhibiting and selling their work and you can even participate in a life drawing class…so challenge your inner Monty Don or Picasso and come along!
For Something Completely Different

Get your leg warmers and ankle boots out of mothballs and welcome back the eighties for the weekend! Jack up the Weekend will take place on Good Friday and Easter Saturday evening at Medina Theatre where you can enjoy From the Jam featuring Jam bassist Bruce Foxton and Big Country who will be playing a one off exclusive on the Island. So, slap on your mod sideburns on Friday and your tartan on Saturday and party the Easter weekend away…
Of course, there's always the great outdoors to enjoy with miles of coastal paths, Downs and beaches to explore. So spend at least some of your April breathing in some fresh sea and country air and enjoy the stunning scenery that the Isle of Wight has to offer.

Whatever you decide to do and however you're travelling, it couldn't be easier to get to the Isle of Wight via Lymington, Southampton, Southsea or Portsmouth. There are regular rail connections to the south coast via SWR.
Travelling as a foot passenger is simple due to our excellent transport links with trains, buses, foot passenger ferries and our hovercraft service. Our friendly and knowledgeable Travel Ambassadors are on hand to help you decide where to go, what to see, and of course how to get there using sustainable transport – meaning you'll also be helping us to protect our environment too.