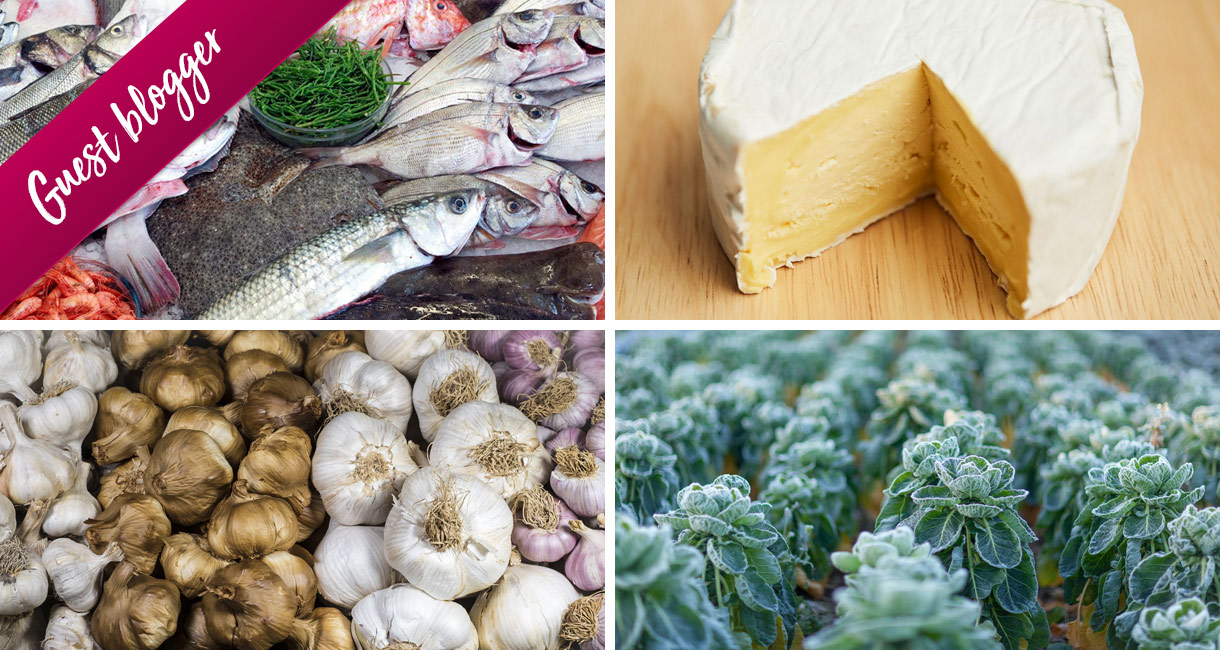 The early part of the year can sometimes be thought of as lacking on the local produce front, but thankfully due to our abundance of fertile soils, surrounded by bountiful seas and a collection of dedicated artisan producers, The Isle of Wight still has lots to shout about when it comes to eating local right now. The team over at Taste of the Wight tell us how...
Isle of Wight Cheese

Christmas may be long gone but our cheese addiction is here to stay! Keeping us in the cheese habit we have become accustomed to, Rich Hodgeson knows more about the stuff than Wallace of Wallace and Gromit fame. Having made cheese at Queen Bower Dairy since 2006, they have recently acquired the dairy and herd behind the multi award-winning cheeses. Take your pick from latest addition Blue Slipper - the softest blue cheese you'll ever have the pleasure of tasting; Borthwood - a spreadable, white rinded cheese that was soft at an early age; Isle of Wight Soft which fits nicely in between the brie and camembert brackets; Isle of Wight Blue - a multiple medal winner at the World, British and International Cheese Awards and Gallybagger an unpasteurised cheddar type, classed as a modern British hard cheese. Find out more here.
The Garlic Farm

Garlic is good no matter what time of year it is. Throw it in hotpots during the winter months to pack some flavour to your stews, rub it on chicken before throwing on the BBQ in the summer and stick it in your Bolognese all year round. If you are still maintaining your January healthy diet this far into February (well done you!) then garlic adds flavour to even the simplest of dishes.
A visit to the shop at The Garlic Farm will turn up treasures such as grow your own at home kits, garlic mayonnaise and marinades, plus a huge variety of bulbs including the oak-smoked, perfect stuffed inside a roast chicken and slow cooked. Find out more here.
Captain Stan's

If fresh, local fish is up your street (stream?) then a visit to Captain Stan's in Bembridge is a must. They fish daily in the Bembridge and surrounding waters for wild fish such as bass, plaice, Dover sole, skate as well as for lobster and crab. Pop into their shop in Bembridge or, if you can't get there, they handily do a home delivery service and will prepare your fish in whichever way you choose. Find out more here.
Living Larder

For produce that is in season right now, Living Larder grow vegetables at its farm in Galley Horne. Family owned and run, owners Will and Aimee eat everything they grow so know what tastes best and when. You can subscribe to their Vegetable Delivery Box service or just order a one off and choose from basic, standard, family and veggie lover boxes straight to your door. For February, the purple sprouting broccoli and forced rhubarb are at their best and well worth a try! Find out more here.
For more information about these producers and the many more on the Isle of Wight, visit tasteofthewight.co.uk, your local guide to food and drink on the Isle of Wight, from who's cooking what, to where to go and eat it, you will find it here.
Thank you to Taste of the Wight for this inspirational post.