The Isle of Wight is feeling the influence of the East this February Half-term as the "Spirit of the Orient" comes to the Electric Woods at Robin Hill, and the famous Russian Moscow State Circus comes to Shanklin Theatre. Plus take a Valentine's Day trip to the beach in Shanklin and you can take part in the Island's infamous "Sandman Snowman" competition"!
Elsewhere on the Island there are lots of other family-friendly events and activities to entertain visitors:
Electric Woods "Spirit of the Orient"
Following on from the success of the biggest Electric Woods event to date back in October with the "Festival of Light" Robin Hill will be celebrating coming of the Chinese New Year in style this February Half-term with "Spirit of the Orient".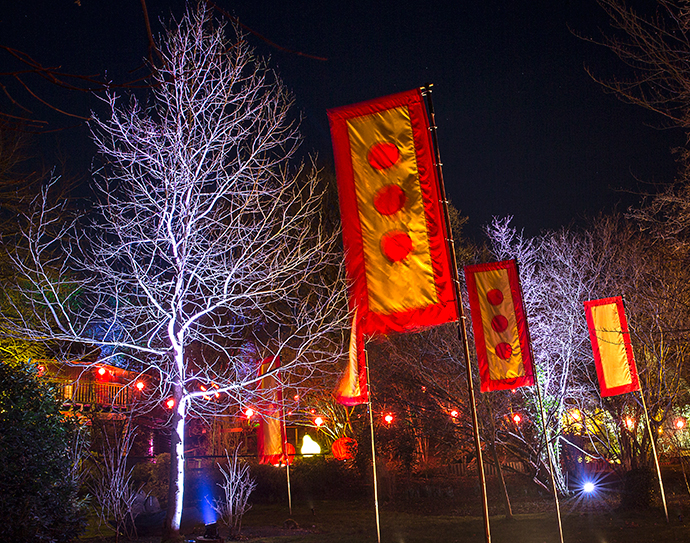 Packed full of loads of Chinese themed entertainment, including lion dances and dragon processions for the kids to get involved in, with an Oriental menu to enjoy as refreshment deep in the woods. The magical illuminations will also have an Eastern twist, with floating coloured lanterns, cascading water features, impressive flags and much more.
Dates: 14th to 22nd February, 5pm til 9pm
Moscow State Circus
The Moscow State Circus returns to Shanklin with their latest production, "PARK GORKOGO" (Gorky Park.) This world famous spectacle will feature the Yakovlev Vertical Pole Jugglers, the gracious Ariel skills of Tatiana Goncharova, the Kozak whip crackers, and the incredible roller-skating of the Veslovskis.
Dates: 14th and 15th February, 2pm and 5pm show times.
Sandman Snowman Competition at Small Hope Beach
The infamous "Sandman Snowman Competition" returns to Shanklin's Small Hope Beach on Valentine's Day, combining the Isle of Wight's "sandcastle" holiday heritage with some late festive fun! Of course you don't need to stick to a traditional "sandman" if you don't want to (coal and carrots are provided should you choose to) and previous sandsculptures have included mermaids, dolphins, dogs, and "sandladies".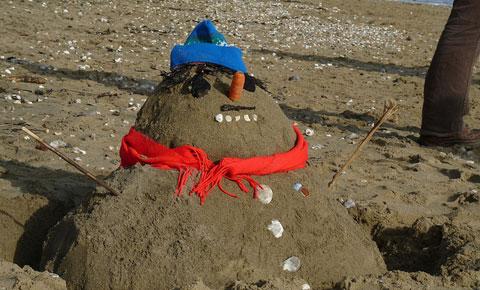 This fun event is organised by Gift to Nature, and free to enter (donations are of course welcomed.) There will be Hot Chocolate made available to warm the chilly fingers of all hard working sculptors!
Dates: 14th February, from 10.30am.
Junior Explorers at Quarr Abbey
Quarr Abbey (the beautiful church you can see nestled amongst the trees when travelling on the Portsmouth to Fishbourne ferry) is one of the Isle of Wight's "hidden gems", and comes highly recommended for a great family day out. Amongst various recent additions to the grounds is the new nature walk, which along with a specially developed "junior explorer kit" (containing activity cards, bug pots, binoculars and "Rufus the Red Squirrel) will encourage children to get out and explore nature this half-term. Plus you can feed the resident pigs, check out Quarr's successful "Poultry Project", and take a look around the Abbey's all-weather visitor centre. Entry to Quarr Abbey is free (with no additional costs for borrowing explorer kits from the teashop) so your whole visit won't cost you a penny!
Open 7 days a week, 10am til 4pm Mon-Sat, 11.15am til 4pm.
Open Week at Isle of Wight Steam Railway
Another great free attraction this February Half-term is the Isle of Wight Steam Railway, offering you the rare chance to explore Havenstreet Station whilst the trains aren't running. See the restoration work that goes on out of season inside the Carriage and Wagon Workshop before walking down past ancient woodland to check out the recently opened "Train Story" visitor experience. The locomotives might not be in service, but "Train Story" will bring the steam railway to life with its unique insight into 150 years of amazing history.
Dates: 15th to 20th February, 10am to 4pm.East meets West for February Half-term
Related
0 Comments