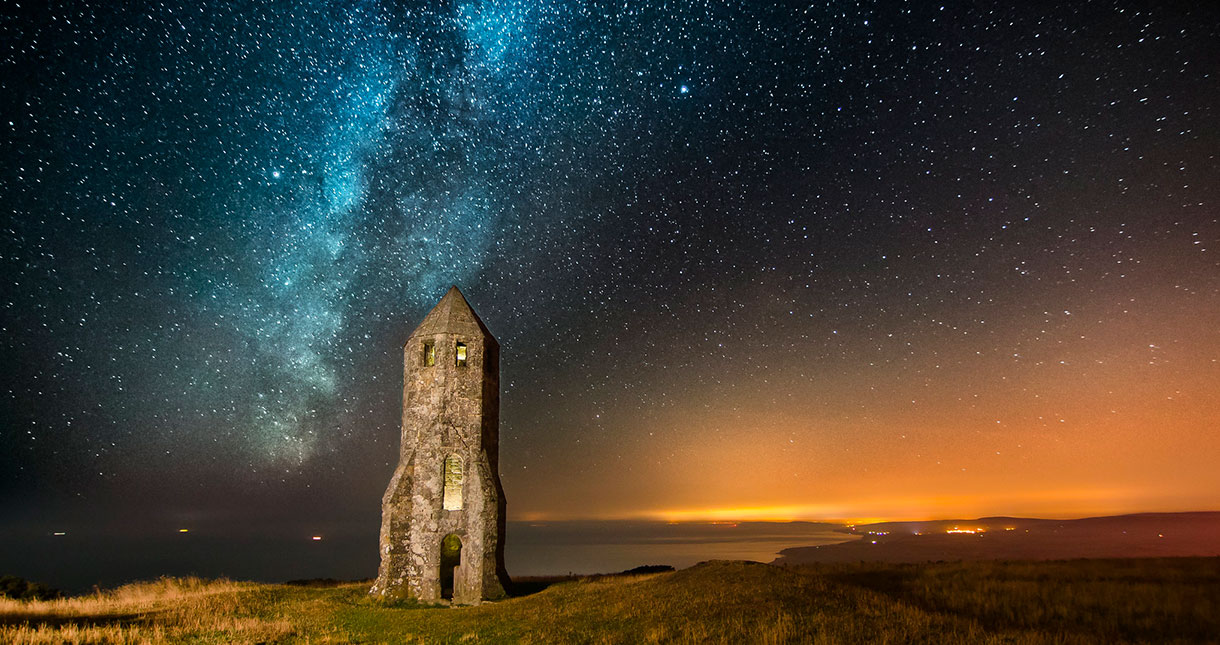 Just because the nights have drawn in and there's a nip in the air it doesn't mean that there aren't still loads of things to do on the Isle of Wight. So, get your bobble hat on and get out and enjoy all that the winter Island has to offer.
Fun for Kids
There are still a few days left at the end of the half term to catch some of the Island's attraction's spectaculars with Robin Hill hosting Diwali, Creepy Critters at Carisbrooke Castle, Blackgang Chine's Terror Island, Spooky Zootacular and Spooky Farm Fun at Tapnell Farm Park lasting over the weekend of the 2nd and 3rd. Yarmouth Guy Fawkes Night on the 5th is sure to go with a bang with a torchlight parade, Guy competition and of course, fireworks galore.
Meet Peter Rabbit at Tapnell Farm on a Woodland Weekend and see the Haven Falconry and Isle of Wight Hedgehog Rescue too on the 9th and 10th for lots of fun and adventures. If you want to dress up and meet enchanted princesses then go to the Snowflake Ball on the 24th and join the Snow Sisters from Enchanted Isle for food, music, games and prizes at Ryde Castle.
From the 29th Robin Hill will be featuring Polar – a dazzling evening full of frosty woodlands, twinkling lights and the magical tale of one boy's Christmas dream come true in a sensational amphitheatre show. On until December 21st.
Fun for Foodies
Have a Gastronomic Weekend at the Royal Hotel and enjoy, amongst other treats, a chef masterclass demonstration alongside Living Larder's, Will Steward, a tour and cheese tasting at Isle of Wight Cheese Company, lunch and introductory tour at The Garlic Farm and 3 course gourmet dinner each evening – 8th – 10th.
Curry and a pint? The Boathouse is offering curries, rices and accompaniments all made in their kitchen during November where two can dine including a bottle of wine for under £20.00. Over at The Fishbourne, it's Game Night on the 9th as shooting season gets underway. From rabbit to partridge there will be rich Autumnal flavours to warm your cockles. Or have an evening of murder mystery at the Spinnaker when Caught Redhanded Production return for a night of intrigue, mystery and skulduggery. A whodunnit with dinner.
It'll Soon be Christmas…
Yes, we know it's only November but why not kick the festive season off early with some great activities!
Jack up Christmas disco party nights will take place on the 22nd and 23rd and feature The Fizz (formerly Bucks Fizz) on the Sunday night for full cheese effect. Meanwhile there are Christmas karting parties over at Wight Karting from the 29th of November until the 16th of December.
Take a Santa Special at the Isle of Wight Steam Railway with Christmas music, a bustling Christmas market, and lots of entertainment and magic shows just for children. Or see how the Victorians did Christmas at Osborne House on the weekend of the 30th with Victorian games, food and entertainment.
Music and Drama
Shatter the myth of Jack the Ripper with Trevor Marriot – retired murder squad detective and leading Ripper Expert on the 1st at Quay Arts or for something completely different enjoy the words and music of Judy Garland on the 15th at the Apollo.
The Garlic Farm hosts one of the UK's finest Django inspired bands, Latchepen, accompanied by the exceptional Eva Scholten from the Netherlands on the 13th with amazing interpretations in the style of Ella Fitzgerald.
The Tashi Lhunpo Monks from Tibet will be dancing at Quay Arts on the 16th with sacred music and dance whilst on the 16th Flying Dutchman return to Ventnor following the shows performances at this year's Ventnor Fringe with The Astonishing Singing Fish. Have the Ultimate Country Experience with some of the best country tribute acts with Dolly Parton, Johnny Cash and Billie Jo Spears amongst the luminaries.
The 29th sees Ovid with Reverb Remixed – a show that mixes verse, comedy, performance and music with a literary journey from Ancient Rome to the present day whilst on the 30th you can enjoy Gergely Kaposi in concert with the acclaimed pianist being joined by soprano Annalisa Vaughan.
Join The Wight Brainy Bunch on the 30th November at Shanklin Theatre, for their charity night Humour4Tumours2 with Nina Conti and welcome back Sean Collins for an amazing night of comedy or see Matt Millership aka Tensheds, the critically acclaimed, classically trained multi award winning rock pianist at Quay Arts on the 30th.
Plenty to keep everyone amused!
Art and Nature and Wellbeing
Make a beautiful willow deer head sculpture – perfect for outside your Christmas door at Tiny Homes or have a rural yoga retreat – a wonderful weekend of yoga and rural escapism. Great wholesome food, warm hospitality, five- star accommodation and inspirational yoga.
Get your wellies on and go on a birdwatching walk at Newtown. Learn all about birds, from spotting them to song identification, and discover the winter migrants or see the autumn birds of the Island with The Garlic Farm and Natural Links on a weekend break that combines all the comfort you would expect from a choice of Country Cottage or Luxury Yurt. If you are an experienced yoga practitioner then a five day retreat is just the thing - enjoy an immersive retreat to relish the practice, silence and the teachings of the Bagavagita.
Watch the night skies with your host astronomer John Slinn through John's specialist telescope, in the back garden of The Chequers Inn in Rookley. Every Tuesday. Or enjoy a Life Writing Weekend with Nick Barlay and explore approaches to life writing through a combination of examples, discussions and practical exercises to discover forms most appropriate to unique and individual stories.
Nights out with the Stars

We're going to be sharing some fantastic starry night pictures over on our Instagram account during November. All taken by talented local photographers, the pictures will inspire you to come and experience #WightatNight!
Getting Here
Whatever you decide to do and however you're travelling, it couldn't be easier to get to the Isle of Wight via Lymington, Southampton, Southsea or Portsmouth. There are regular rail connections to the south coast via SWR.
Travelling as a foot passenger is simple due to our excellent transport links with trains, buses, foot passenger ferries and our hovercraft service. Our friendly and knowledgeable Travel Ambassadors are on hand to help you decide where to go, what to see, and of course how to get there using sustainable transport – meaning you'll also be helping us to protect our environment too.