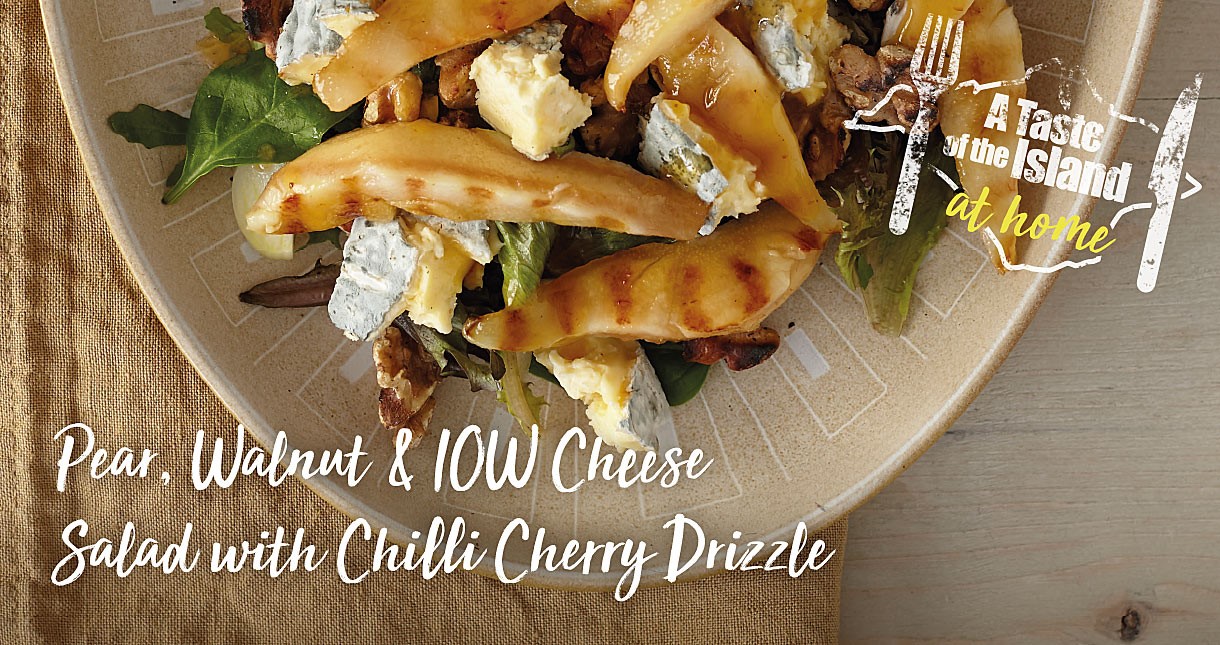 Perfect this hearty salad ready for longer lighter evenings and dining alfresco! Fill your favourite salad bowl full of fresh leaves with crunch, then toss in creamy IOW Blue Cheese, rich walnuts and juicy pears for a deliciously light but luxurious lunch. Finish your creation with a drizzle of sweet and zingy cherry chilli oil, cutting perfectly through the flavour packed cheese. Mouth-watering!
Isle of Wight Shopping List:

- Ripe pears and salad leaves from Briddlesford Farm Shop
- Smoked Isle of Wight garlic from the Garlic Farm
- IOW Blue Cheese from Isle of Wight Cheese
- Chilli Cherry Drizzle from Wild Island

Ingredients in full:

- 100g walnuts
- 2 large, ripe pears
- Small bag of mixed salad leaves
- 1 clove of smoked garlic (The Garlic Farm – Smoked Garlic)
- 100g IOW Blue cheese (Isle of Wight Cheese)
- Chilli Cherry Drizzle (Wild Island)

Method:
- Toast the walnuts in a dry pan until starting to colour, set aside.
- Peel, and slice pears lengthways, and place on a hot griddle pan for one min each side.
- Very finely slice clove of smoked garlic.
- Arrange the leaves, pears, walnuts, garlic and crumble over the blue cheese.
- Drizzle with Chill Cherry Drizzle and serve.