StoneCrabs' Out On An Island project unveiled LGBTQ+ stories, faces and places from the last 100 years. Some you will have heard of, and others are everyday Isle of Wight people, each with their own fascinating story to tell. Download the below map to pinpoint notable figures and read the beautiful Out On An Island – Our Stories book which reveals the incredible stories behind the names. You can buy the book by clicking here or at the independent bookshop, Medina Books in Cowes.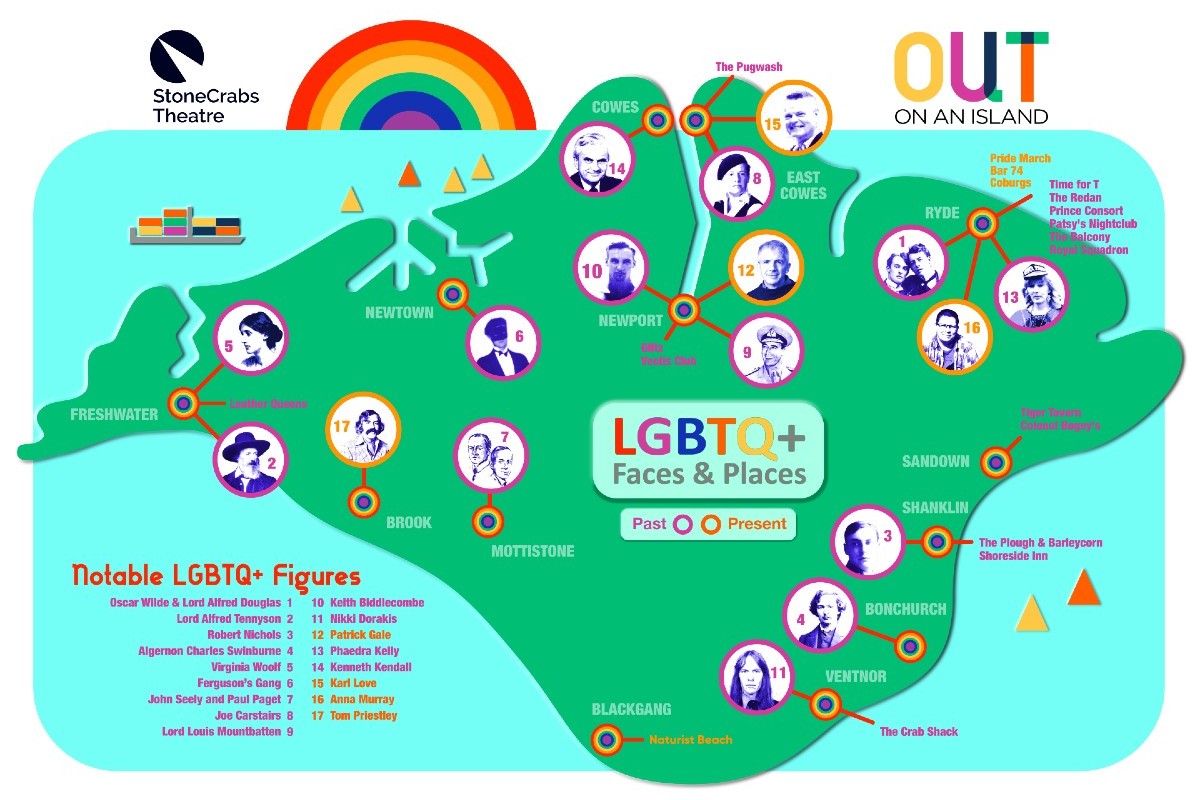 Ryde…
Start at the top of Union Street, Ryde with its eclectic independent shops like The Velvet Pig for vintage fashion. This is where the Island's first Pride Parade in 2017 headed down to the beach. Find 60 Union Street, past the Royal Victoria Arcade, looking up to the top of the building you will see three distinctive figures. This building belonged to Victorian photographers Hughes and Mullins who photographed Oscar Wilde when he visited the Island in 1884 to give his talk 'On Dress'. Call in at Bar 74 a few doors down for a coffee or something stronger.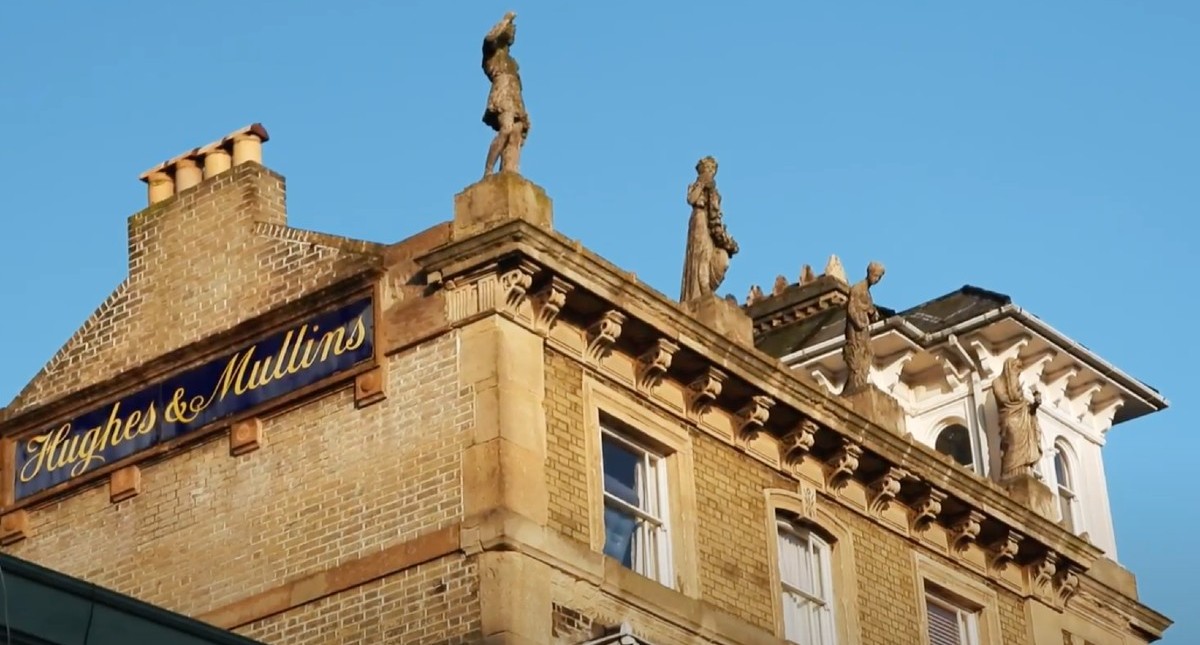 East to West Wight…
Take a trip from East to West Wight where you will find Farringford House, the home of poet Alfred, Lord Tennyson from 1853. Tennyson had a close relationship with Arthur Henry Hallam. Less than a mile away is Dimbola Lodge in Freshwater, where author Virginia Woolf lived, her love for Vita Sackville West was well documented. Vita wrote her only play 'Freshwater' there in 1923.
Ventnor…
Enjoy the spectacular views along the Island's south coast down the Military Road then on to Ventnor, the former home of Nikki Dorakis. Dorakis founded the Island's Campaign for Homosexual Equality in the 1970's and faced violent homophobia. Then visit St Boniface Parish Church, a Grade ll listed building where poet Algernon Swinburne is buried. He spent his childhood at East Dene in Bonchurch.
Shanklin…
Across the downs to neighbouring Shanklin you will find East Mount where poet Robert Nichols was born. He wrote 'The Burial in Flanders' with the lines:
'Other loves I have, men rough, but men who stir
More grief, more joy than love of thee and thine'.
Newport…
Newport was where author Patrick Gale was born in 1962. His father was a Prison Governor at HMP Camp Hill and his grandfather had held the same post at HMP Parkhurst.
In the Out On An Island book, stories of lesser known LGBTQ+ people from the Island are as compelling as the stories of those we recognise. You can read about islander Keith Biddlecombe who was in the Royal Navy when he was imprisoned at 20 years of age for homosexual activity.
East Cowes…
Head to East Cowes and call in at the Classic Boat Museum and learn about wealthy, enigmatic lesbian, Joe Carstairs who raced boats in the Solent in the 1920's. Look across the water to Southampton as you ponder the challenges many of these people have faced, and still do, just to be their authentic selves.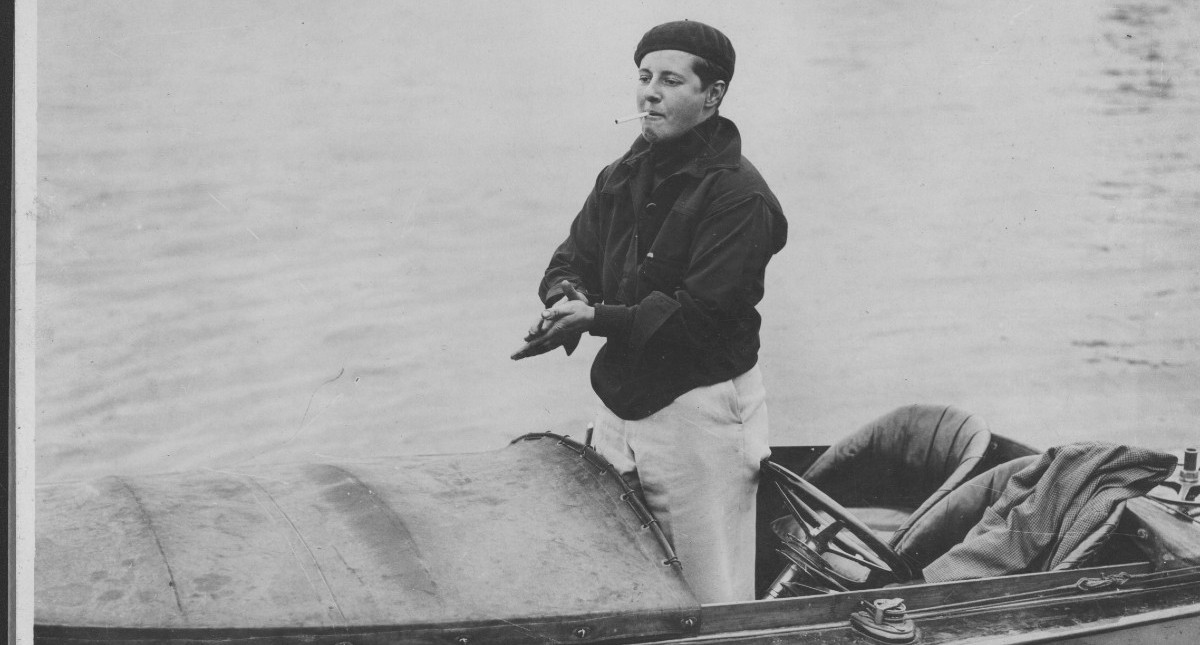 *Blog written by Stone Crabs Theatre*