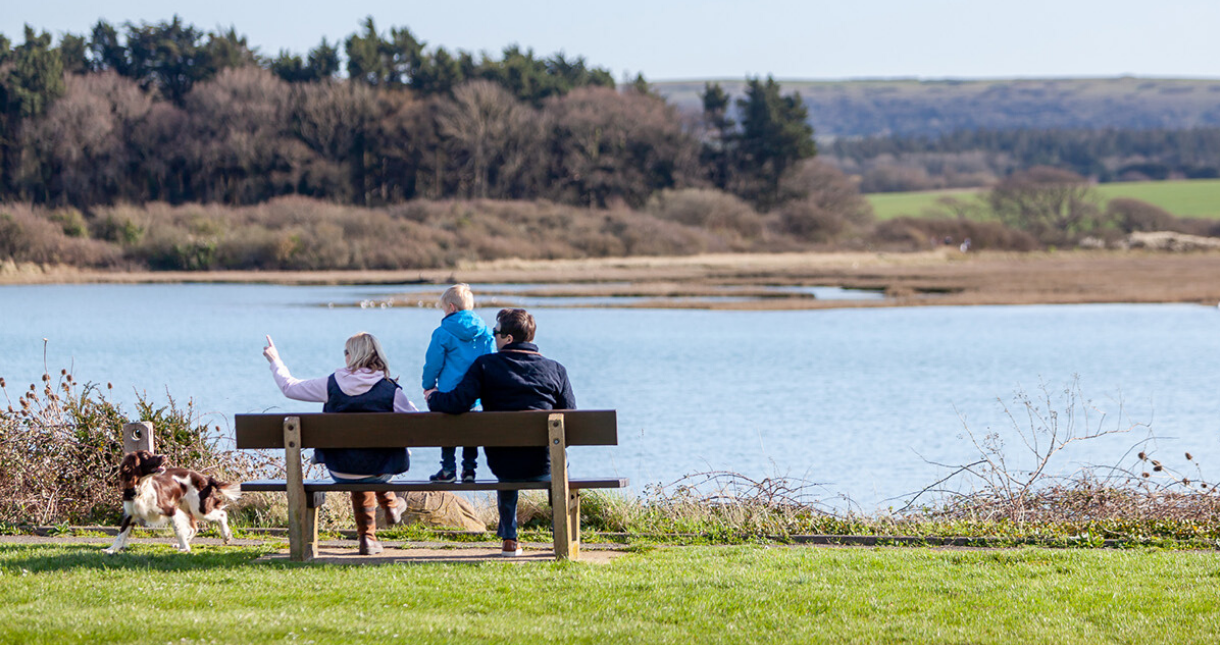 Here at Visit Isle of Wight we're always eager to hear what our visitors love about the Island. So, we conducted a little survey on our social media channels to see what it is that that makes you come back time and time again and the results may surprise you!
Go for a walk
Getting top marks across all of our social media was how much you all love to walk on the Isle of Wight. Whether it's by the sea, across the Downs or through the forest, the Island has all sorts of walks to offer along its many miles of footpaths and trails. And, if you plan your route carefully, there's bound to be a great pub or café at the end of it. Here are a few of your suggestions:
Walk from Sandown to Shanklin and back and listen to the sound of rolling pebbles at high tide. Pop into the Steamer Inn in Shanklin for a sandwich or lunch or go back the way that you came and head for the Bandstand and enjoy the brilliant views.
If you love a birdwatch then Newtown, Alverstone, the Hersey Nature Reserve and Mottistone are great places to get your binoculars out, or you could walk around the Duver at St Helens – make sure you tide watch though! Have dinner at Fox's in Bembridge or Gander's in St Helens is you're in that neck of the woods or if you're Newtown way, stop off at The New Inn in Shorwell a short drive away for great food and local beers.
Have a wonderful blowy walk along Compton Bay and then go and have lunch at the Wight Mouse – you'll have walked miles, so their more than generous portions will be necessary! Or go further along the coast to the Isle of Wight Pearl and enjoy a jewellery browse and then an afternoon tea. And if you're feeling really energetic carry on further still to Yarmouth for a coffee at PO41, dinner at The George or a swift lunch courtesy of the Yarmouth Deli.
Favourite Watering Holes
From our Facebook and Twitter surveys come some of our visitor's favourite places to stop and have a pint. "Great meals at The Fleming Arms in Binstead and The Black Sheep in Ryde," and "Cosying up in the bar at the Seaview Hotel with a nice pint of Goddards Fuggle Dee Dum," are just a couple of recommendations as well as "A pint of local island ale by the fire at The Buddle," and "Storms and eating at the Royal Hotel." We are spoiled for choice for great pubs, restaurants and cafés on the Isle of Wight and last word on this subject should go to @oscarthehandsomepug on Twitter who likes nothing better than, "Crisp winter walks (when it's dry) and visiting the many dog friendly cafes."
There's loads to do on the Isle of Wight and it's great to have such positive feedback from, not just visitors, but Islanders too. From fishing off the pier in Yarmouth, beachcombing, and exploring the Island towns to woodland walks, cream teas and bagging quirky charity shop finds, the Isle of Wight really is everyone's Island, however old you are or whatever the weather.
And remember, When you're out and about on the Island, remember to tag us in your images, videos and stories on Facebook, Twitter and Instagram and we'll reshare our favourites.
Getting Here
Whatever you decide to do and however you're travelling, it couldn't be easier to get to the Isle of Wight via Lymington, Southampton, Southsea or Portsmouth. There are regular rail connections to the south coast via SWR.
Travelling as a foot passenger is simple due to our excellent transport links with trains, buses, foot passenger ferries and our hovercraft service.
Related
0 Comments