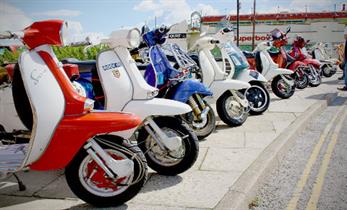 Address/Location
Quay Road
RYDE
Isle Of Wight
PO33 2HH
Contact
The world's biggest gathering of vintage and modern scooters - The Isle of Wight International Scooter Rally

The first Isle of Wight International Scooter Rally was way back in 1980, scooter riders have come every August since, with numbers of participants numbering anywhere between four to seven thousand each year.

Organized by the British Scooter Rally Association and The VFM Scooter Collective, the rally has gone from strength to strength. The centre of the rally has always been in Ryde, with Smallbrook Stadium used as the main campsite, but over the years scooterists have spread all over the island, staying in camp sites and hotels in most towns across the island.
On the Saturday it is the International Scooter custom show at Planet Ice, seafront Ryde, scooter parts, clothing & accessories fair at Smallbrook Stadium and DJ's and live music at Ryde Superbowl, Ryde Seafront.
Sunday is the mass scooter ride-out leaving the Planet Ice car park at 1pm. It makes for an amazing sight with some fantastic looking machines on show with many of the riders dressing up for the occasion.

The evenings are very lively, with most of the entertainment based around the 1960s music scene with bands and DJ's in venues all over the island. The main venues are Planet Ice and The Balcony Bars with the biggest bands and sixties DJ playing here.

What's Nearby
Historic Ryde Society was formed in 2009 to celebrate the 175th anniversary of the Royal Victoria...

0.22 miles away

ABOUT US:

Fired Art is a friendly family run business in the heart of Ryde. We guarantee you a...

0.26 miles away

The beaches at Ryde lie on the north east coast of the Isle of Wight and offer miles and miles of...

0.37 miles away

Leo Leisure Bingo club & cinema is situated at the top of the town in Ryde and is the Island's only...

0.39 miles away
Long established cycle store for sales, service and cycle hire. Selling specialised and trek cycles...

0.44 miles away

Goodleaf offers a unique opportunity to enjoy fantastic tree climbing in beautiful surroundings....

0.69 miles away

FREE ADMISSION! Stroll round the vines, tour the winery, watch our 'vine to wine' video and enjoy...

1.27 miles away

Springvale Beach stretches from Puckpool to Seaview on the north coast of the Isle of Wight and is...

1.37 miles away

Gold Award Winners – Best Tourism Experience

Seaview Wildlife really stands out from the crowd! ...

1.61 miles away

Seagrove Bay sits between Seaview beach and Priory Bay on the north east coast and boasts some of...

2.45 miles away

Priory Bay is one of the Isle of Wight's most exclusive beaches as it sits at the back of the...

2.85 miles away

Inspiring, Surprising and Award-Winning … Equally appealing to adults and families, your visit to...

3.13 miles away

The main beach in Bembridge runs down the coast from the spit at the edge of Bembridge harbour. The...

3.94 miles away

Award winning exhibition and Visitor Centre with interactive display with loads for kids to do....

4.09 miles away

NATIONAL TRUST PROPERTY:
* Built around 1700 this is the only surviving windmill on the Island and...

4.21 miles away

Buy beautiful long-keeping garlic. Learn about growing garlic, garlic for health & the power of...

4.41 miles away
Previous
Next