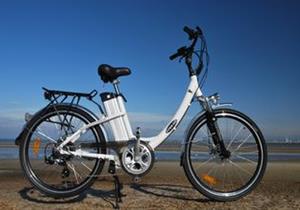 Address/Location
Unit 6
Lake Industrial Way
SANDOWN
Isle Of Wight
PO36 9PL

Contact
Hire ELECTRIC BIKES and add a new dimension to your Island holiday!
The Island is a great place to cycle as there are many places to go and sights to see which you can't get to by car. The pretty lanes and villages are perfect for a cycling tour. But it is a bit hilly, and there are so many places to go that it is quite tough on a normal push bike.
Now, you can hire ELECTRIC BIKES to swoosh you effortlessly along while you enjoy the lovely scenery and views. Words used by first time ELECTRIC BIKE users include "Awesome", "Fantastic", "Absolutely genius", "A complete revelation".
ELECTRIC BIKE HIRE:
You can hire ELECTRIC BIKES from our Showroom and Hire centre at:
AXCESS ELECTRIC BIKES, 6c, Lake Industrial Way, Newport Rd, Sandown PO36 9PL. 01983 407049 (FREE PARKING AVAILABLE).
and
AXCESS ELECTRIC BIKES, 50 High Street, Ventnor, PO38 1LT, 01983 716340. (NEXT TO TESCO, VENTNOR)
Please ring to book you bikes.
ELECTRIC BIKE HIRE: - Rates
An Hour £5, Half a Day £15, Whole Day £25
3 Days £60, By the Week £125
Hirer must be 18 or over (children aged 14 or over).

Ticket Information
| Ticket Type | Ticket Tariff |
| --- | --- |
| 3 Days | £60.00 per ticket |
| Day | £25.00 per ticket |
| Week | £125.00 per ticket |
Note: Prices are a guide only and may change on a daily basis.
Opening Times
Opening

(01/01/2013 - 31/12/2013)

Day
Times
Monday

09:00

18:00

Tuesday

09:00

18:00

Wednesday

09:00

18:00

Thursday

09:00

18:00

Friday

09:00

18:00

Saturday

09:00

18:00

Sunday

09:00

18:00
* 7 days a week, 9.00am to 6.00pm.
What's Nearby
Shanklin Beach is a one of the Isle of Wight's best known stretches of golden sands, which backs...

1.16 miles away

Shanklin Seafront has everything you need for the perfect family day out at the Seaside, popular...

1.18 miles away

Where better to get away from it all and enjoy your Golf? Visitors and societies are assured a warm...

1.28 miles away

Historic Gorge, with dramatic waterfalls and nature trail. Nature Hide, with live camera to...

1.35 miles away
Sandown Beach is one of the Isle of Wight's finest and most recognised beaches, with miles of soft...

1.44 miles away

Meeting by the slipway at Yaverland car park. A qualified geologist will take you back through time...

1.72 miles away

Amazon World Zoo Park is the Isle of Wight's largest exotic animal attraction and is a great day...

1.74 miles away

We are a family run, Island based business providing quality vehicles and cycles. We offer small,...

1.84 miles away

Our ex-working farm is a unique venue set in 12 acres of the beautiful Arreton Valley. The...

1.91 miles away

Dinosaur Isle is Britain's first purpose built dinosaur attraction just over the sea wall in...

1.96 miles away

Overlooking the sandy beaches of Sandown Bay, this is the Island's original zoo. The team here...

2.23 miles away

Yaverland Beach is one of the Isle of Wight's best beaches, providing a long stretch of sand and...

2.34 miles away

Award winning exhibition and Visitor Centre with interactive display with loads for kids to do....

2.37 miles away

Buy beautiful long-keeping garlic. Learn about growing garlic, garlic for health & the power of...

2.82 miles away

Situated a mile or so from the village, Nunwell House and Gardens should definitely not be missed....

3.05 miles away

Celebrating 60 years in 2012 you will find this beautiful Model Village nestling in the grounds of...

3.27 miles away
Previous
Next