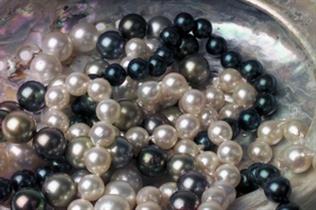 Address/Location
Chilton Chine
Military Road
BRIGHSTONE
Isle Of Wight
PO30 4DD

Contact
At Isle of Wight Pearl, we have the most extensive range of pearl jewellery in the UK. Whether you're looking for a special gift; or simply a keepsake, Isle of Wight Pearl has something for everyone.
Pick a pearl from our oyster pool and then relax and partake of refreshments in our licensed 'Peal Café' and enjoy spectacular views of the English Channel.
If pearls aren't your thing; then visit Chilton Chain Store where we have a stunning range of 18 carat gold chain-on-the-reel. Or the Isle of Wight Silver shop, selling modern and contemporary jewellery.
For the little ones, hot foot it to the 'Bear Works' where they can bring a furry friend to life.
Open all year. Mon – Fri 10:00am, Sun 10:30am-4:30pm.
Closed Christmas Day and Easter Sunday.
Free admission and free parking.

Opening Times
Opening

(01/01/2013 - 31/12/2013)

Day
Times
Monday

10:00

16:30

Tuesday

10:00

16:30

Wednesday

10:00

16:30

Thursday

10:00

16:30

Friday

10:00

16:30

Saturday

10:00

16:30

Sunday

10:30

16:30
* Times vary with the season
What's Nearby
Mottistone Manor Garden, which is in the care of the National Trust, is one of the most peaceful...

1.01 miles away

Visit our working studio at Chessell Pottery Barns where you can have a go at painting your own...

2.36 miles away

One of the Isle of Wight's best kept secrets is Compton Beach. Located in West Wight, Compton...

2.45 miles away

Freshwater Bay is one of the most picturesque beaches in West Wight and lies just to the South of...

4.5 miles away
We have been teaching paragliding since 1981 and have become one of the most successful schools in...

4.61 miles away

First Contact organises activities for groups of adults including corporate events, team building...

4.61 miles away

We love outdoor adventure activities, and we want to show you why we love them. Our adventures are...

4.62 miles away

*This ancient building is the only remaining evidence of the former importance of Newtown.
*The...

5.27 miles away

Family Cycle Hire and is suitable for all ages and abilities.

With 2 locations; their main hire...

5.61 miles away

The award winning* Colemans Activity and Play Farm Park home to:

- COLEMANS PLAY...

5.65 miles away

Famous for its donkeys and as a royal prison to Charles I and now the location of the stunning new...

5.77 miles away

A Wight Walks Holiday is a wonderful way to explore the hidden charms of the Isle of Wight; it's a...

5.84 miles away

Set in Over 40 acres of spectacular cliff-top gardens - you will find a magical mix of fantasy,...

5.89 miles away

What-Knot Crafts provides a variety of decorative and functional items using different techniques...

6.08 miles away

Discover a hidden underwater world!

Come to Sunken Secrets at Fort Victoria and get closer to...

6.49 miles away

The Aquarium aims to allow visitors to come face to face with many of the amazing creatures found...

6.49 miles away
Previous
Next