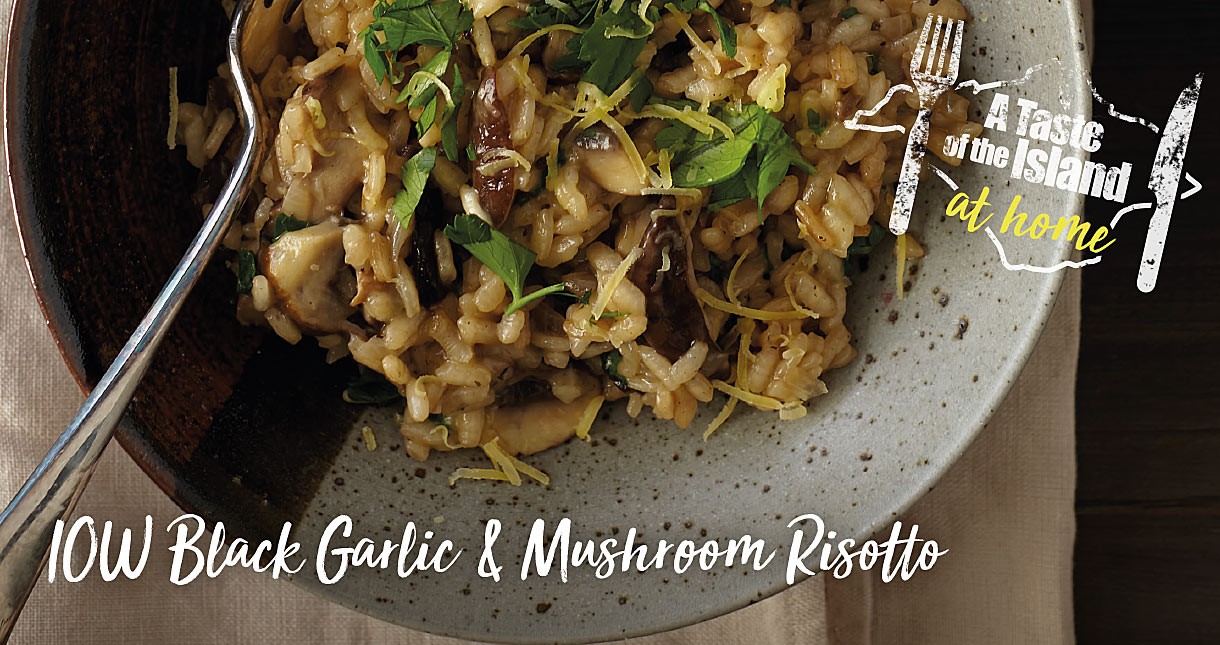 For a delicious taste of the Island at home, try this recipe for our smoky but smooth Black Garlic and Mushroom Risotto.
A hearty and warm meal perfect for a winter's eve, or light enough as a lunch, this Black Garlic and Mushroom risotto is packed full of delicious Isle of Wight flavours. Rich garlic, creamy cheese, rich velvety mushrooms and clouds of arborio rice, soaked in white wine. Yum!
For a little something extra, why not pair this dish with our Isle of Wight Garlic Bread.
To ensure your bursting with flavour and freshness, we recommend using the following Isle of Wight ingredients, available to buy online right here on the Island.
Enjoy!
Share your photos of your creations on social media with us on Instagram using #TasteoftheIsland and tagging @visitisleofwight.
---
Isle of Wight Shopping list:
Ingredients in full:
Serves 4
Method:
In a large heavy based pan, heat the oil and melt the butter together over a medium heat.
Add the onion and fry gently for about 5 minutes.
Sprinkle in a few pinches of Wight Salt.
Add the chopped black garlic and stir well.
Keeping the pan on the heat, tip in the mushrooms and cook for another 5 minutes.
Add the rice and stir well to coat, adding a little more butter to loosen if necessary.
Pour in the wine and cook until evaporated.
Keep the pan over a medium heat and gradually add the stock, stirring often, and adding more once the liquid is dissolved.
Continue until rice becomes tender and the risotto has a creamy texture.
Add half the cheese, and parsley and stir through.
Serve with remaining cheese and parsley sprinkled on top.
---
Find out more about the local producers featured in this recipe below:
The Garlic Farm
Garlic Farm on the Isle of Wight is a third-generation farming business that specialises in fresh garlic and garlic inspired products. The farm grows and sources the finest garlic varieties from around the world to add to its array of garlic-inspired mayonnaises, dressings, chutneys, condiments and even garlic beer.
The farm is nestled into the downs on the East side of the Island overlooking the beautiful and fertile Arreton Valley. It has its own restaurant, shop and visitor centre where customers can enjoy fine garlicky food and discover the many different varieties of garlic trialled at the farm every year. Visitors enjoy free entry to the farm estate and are encouraged to taste all the different products and garlic types in the 'Taste Experience' and learn all about garlics history, health benefits, cooking methods and growing tips. Farm walks and tours take visitors around the fields and garlic trial beds amongst wild flower fields, woodlands, lakes and grassy meadows.
For the complete garlic experience, visitors holiday on the farm in a luxury glamping yurt or classic county cottage conversion. Oozing with a balance of rustic charm, first class service and open access to the beautiful farm estate, this is a truly unique destination.
The farm restaurant is firmly on the foodie map of the UK and in late 2019 earned a listing in the Waitrose Good Food Guide as a local gem'! Additionally their produce from the farm and from their partner-producers attracted the attention of Ocado who awarded The Garlic Farm as 'Britain's Best Supplier'. With national credentials, this quirky Island venue is a must for any visitor, especially if you are lucky enough to get a table in their restaurant.
@garlic_farm
Briddlesford Farm
We have been producing dairy products at Briddlesford since our first 15 Guernsey Cows arrived with Great-Grandfather Charles Griffin in 1923. Since then, our herd has expanded to 140 cows (all direct descendants) along with our range of high-quality dairy products. We currently produce a full range of milk, cream and butter as well as a selection of distinctive farmhouse cheeses. See our full range of produce.
Isle of Wight Mushrooms
Isle of Wight Mushrooms is an exotic mushroom grower set up in the Arreton Valley, Isle of Wight producing Oyster and Exotic mushrooms, Grow-Your-Own kits and Freshly Dried Mushrooms.
We specialize in producing fresh produce and kits using natural methods and environmentally-friendly packaging with no chemical inputs of any kind. Our products are available online at https://www.iwmushrooms.co.uk/ , at the farm gate or through local retailers and The Tomato Stall website https://thetomatostall.co.uk/shop.
Check us out on social media @iwmushrooms and we look forward to seeing you soon!
Wight Salt
Locally producing sea salt naturally and sustainably on the Isle of Wight, the sea is at the centre of all Wight Salt products. Owned by Simon Davis, Wight Salt work to harvest Island sea salt and locally produce products inspired by the waters that surround us. Alongside traditional crystal sea salts, Wight Salt also produce a unique sea salt seasoning spray, flavoured with lime and with chilli. Wight Salt is a business built on sustainability, using the abundance of local seawater to create a much-loved product. For a taste of the Island in your cooking.
@wightsalt
Oil of Wight
Oil of Wight are a local manufacturer and supplier of virgin, cold pressed, triple filtered rapeseed oil. The rapeseed used in every bottle is sown, grown, harvested, cold-pressed, bottled and distributed right here on the sun-kissed Isle of Wight and made available for you table. A versatile kitchen oil, Oil of Wight is high in Omega 3, high in vitamin E, low in polyunsaturated fats. Perfect for dressing, drizzling, dipping, roasting, baking and frying, and a low cholesterol alternative to olive oil for making vinaigrettes, salad dressings, mayonnaise etc.
Oil of Wight Rapeseed Oil is available to buy in gift shops, farm shops, fruit n veg shops, butchers shops and Co-op stores across the Isle of Wight.
@oilofwight