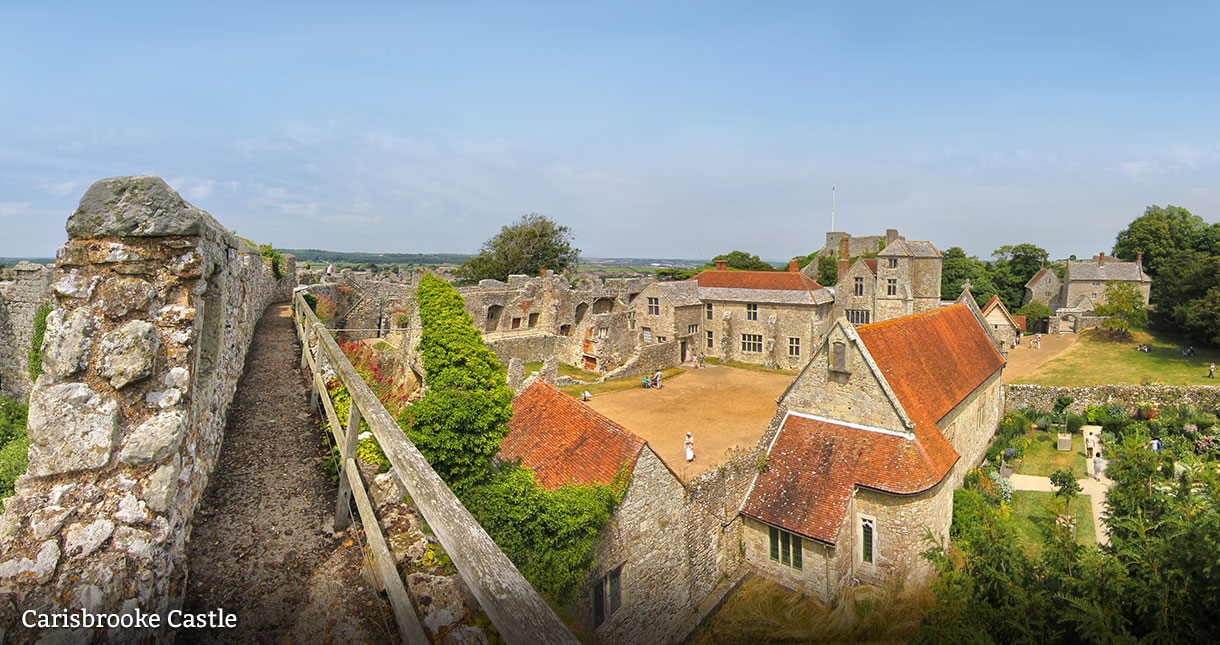 The Isle of Wight is steeped in history. From the internment of Charles I in Carisbrooke Castle and Queen Victoria's holiday home of Osborne House to the many poets, artists and writers who have all stayed on the Island, there's plenty for historians to enjoy. There are wonderfully historic buildings, quirky refurbishments and traditional places to visit which have cafes and restaurants – so you really can eat out with history.
Indulge your love of photography at, Dimbola Lodge former Freshwater home of the celebrated Victorian photographer Julia Margaret Cameron. The Lodge is now a gallery and museum dedicated not just to her life but also showcases contemporary exhibitions from photographers from around the globe. The tearoom serves lunches, cakes and afternoon teas and is also licensed.
Popular Newport restaurant God's Providence House is one of the oldest buildings in Newport and was built in 1554. The original building functioned as a bakery before it was destroyed by fire in 1699 when regulations put in place across the country following the Great Fire of London were not taken note of. Now it's a family run restaurant serving home cooked breakfasts and lunches as well as daily specials and afternoon tea.
All aboard! For one of the most unique places to eat and drink on the Island, head to Yarmouth and Off the Rails. Located in the former train station and set along the old railway line, it overlooks Yarmouth Marshes and Mill Copse and is an ideal pit stop for walkers and cyclists taking advantage of the paths. Diners will love the quirky luggage racks and train style seating. Open for breakfast, lunch, dinner and special pop up events, Off the Rails has won several good food guide awards since opening in 2014.
Picture perfect and dating from 1817, Fisherman's Cottage is nestled beneath Shanklin Chine and is the town's original thatched dining pub on the beach. With seasonal local crab and lobster, bream and bass in the spring and cod and flounder heading into winter as well as favourite pub classics, it's perfect for couples or family dinners.
Part of the J.D Weatherspoons group, The Man in the Moon pub in Newport was formerly a Congregational church designed by Francis Pouget and built in 1848. You can now sit beneath the vaulted ceiling and enjoy good value food and drinks in this most unique setting.
For some of the best coffee on the Island you should try PO41 in Yarmouth, housed in the former post office or head across the road to the 17th century townhouse, now The George Hotel which was once home to the most noteworthy of the Island's Governors, Sir Robert Holmes who often entertained King Charles II. With its sea views and Italian garden, it's the perfect place for lunch or dinner.
For a special occasion or a sumptuous afternoon tea there's the Royal Hotel in Ventnor. Founded in 1832, The Royal is one of the oldest hotels on the Isle of Wight and was originally built as a coaching inn called Fishers Hotel. After it enjoyed Queen Victoria's patronage, it was renamed the Royal and remains truly fit for royalty.
There are numerous other great historic places on the Isle of Wight to visit including Carisbrooke Castle and Osborne House to have some lunch or cake and these are just a taster to get you going! The best way to sample some of these is by bus or bike and by doing this you really are slowing down and going back to the pace of some of our forebears.
Getting Here
Whatever you decide to do and however you're travelling, it couldn't be easier to get to the Isle of Wight via Lymington, Southampton, Southsea or Portsmouth. There are regular rail connections to the south coast via SWR.
Travelling as a foot passenger is simple due to our excellent transport links with trains, buses, foot passenger ferries and our hovercraft service.
Related
0 Comments