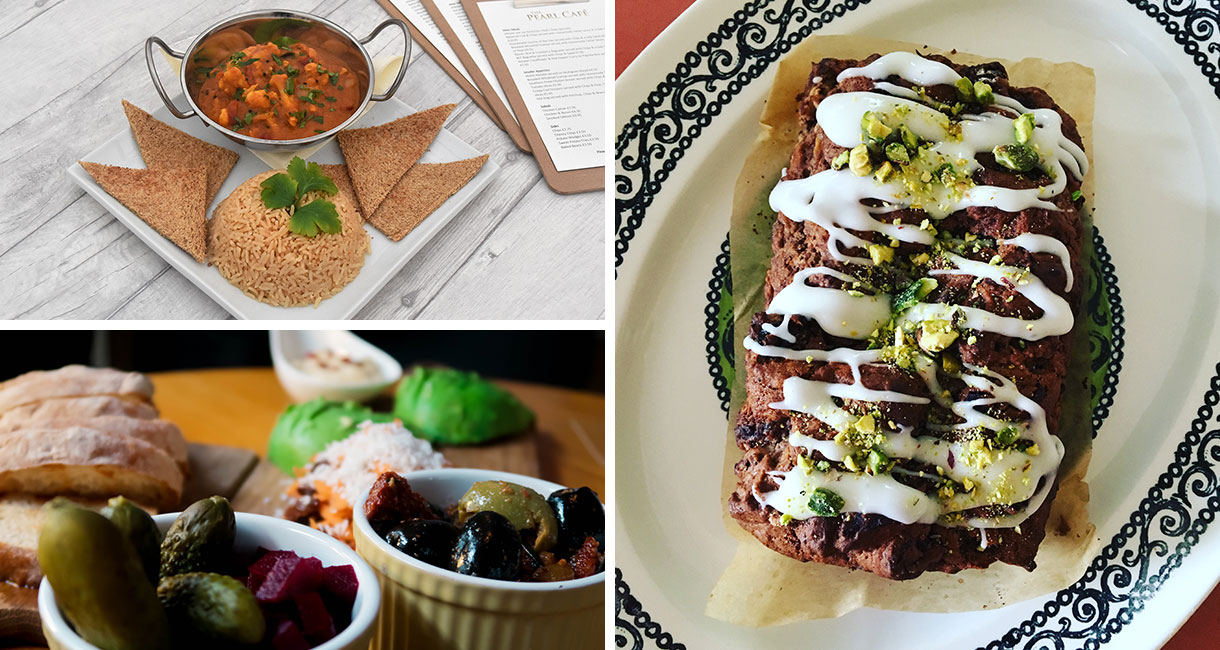 There are loads of brilliant places for dining out on the Isle of Wight, whether you're looking for a quick lunch stop on a bike ride or a fine dining meal out for a special celebration.
With January being the month of #veganuary, we wanted to share with you some great vegan dining options on the Island.
No 64, Shanklin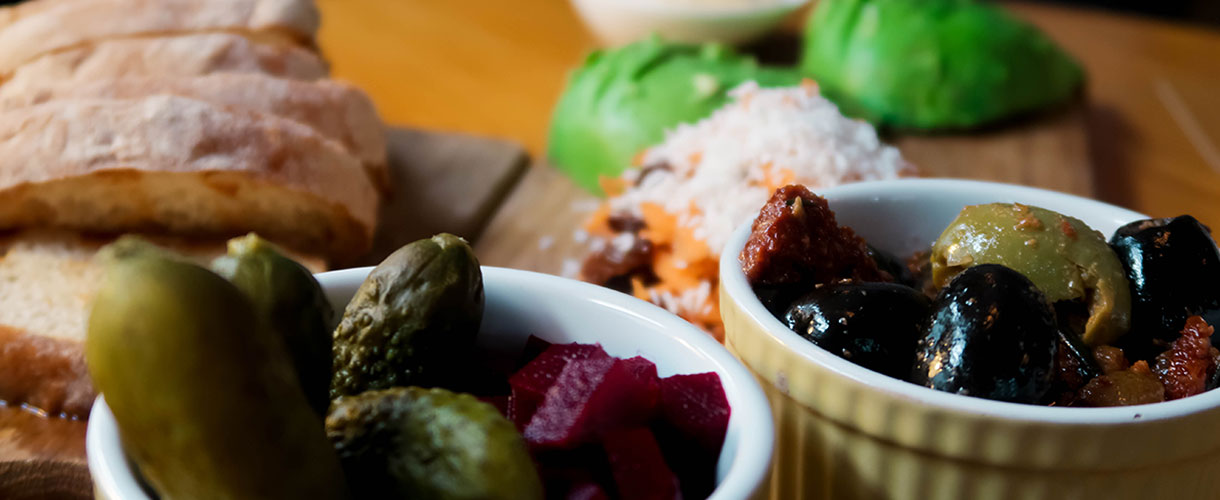 If you're visiting Shanklin, pop into No 64 Shanklin, who have a vegan sharing deli platter that includes:
Sliced avocado, hummus, sun dried tomatoes, marinated olives, pickled vegetables and a carrot, sultanas and toasted coconut salad, all served with toasted bread and oils.
The Garlic Farm
The Isle of Wight's Garlic Farm believes garlic can help you through Veganuary! According to our garlic experts, garlic is one of the best flavours to boost your vegan dishes, bring amazing health benefits and provide culinary inspiration. Try out the vegan options in The Garlic Farm Restaurant from vegan main dishes to vegan cakes and even vegan ice cream before stocking up on vegan-friendly garlicky products in The Garlic Farm Shop.
Tiny Homes Holidays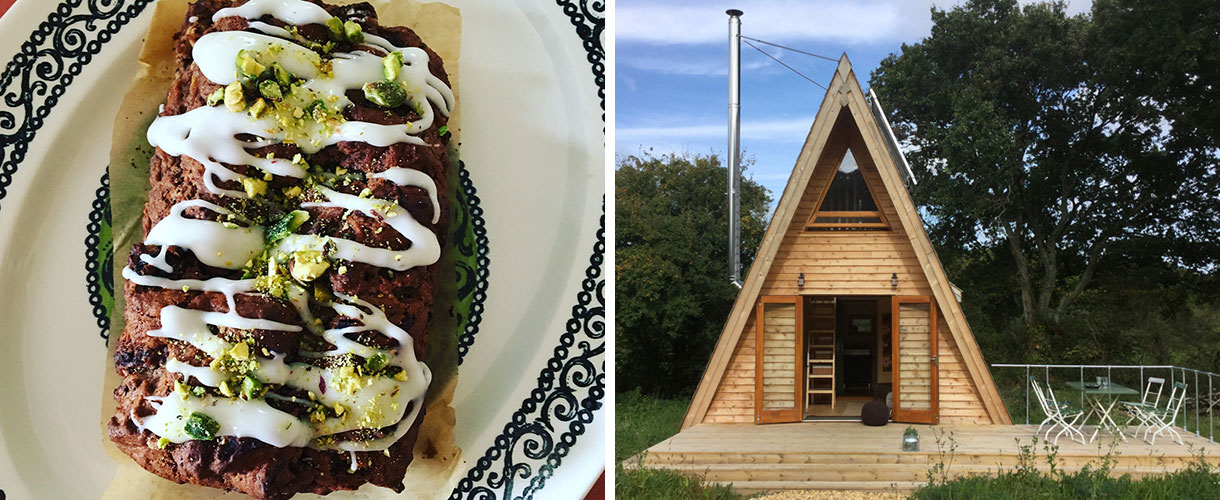 A stay at the architect designed bijou holiday homes at Tiny Homes Holidays is a unique experience. All stays come with milk and home-made cakes and you can ask in advance for any dietary needs including vegan. Vegan breakfast packs and meals are available on request. Check out the delicious Tiny Homes Holidays homemade vegan banana and fruit loaf with orange flower icing and pistachio topping above!
There's a great workshop space – watch this space for more news on vegan cooking courses coming in 2019.
The Caledon Guest House, Cowes
Looking for a great vegan breakfast as part of your B & B stay in Cowes? Try The Caledon Guest House! Complete with homemade vegan sausages, they also serve yummy Isle of Wight vine tomatoes, pan fried mushrooms, Heinz beans, Graces Bakery toast. They always have soya milk, almond milk and Oat milk too.
Woods Kitchen, Godshill
Wood Kitchen in Godshill have an entire menu dedicated to vegan dining. Open Tuesday to Sunday, you can book on 01983 840909.
The Isle of Wight Pearl
Lovers of a sea view and a great curry should head west to The Isle of Wight Pearl. Their Keralan Cauliflower curry (£7.95) comes with paprika rice and melba toast and is a new addition to the menu for 2019. Located on the outskirts of the pretty parish of Brighstone with cliff top walks and historical monuments nearby, muddy boots and well-behaved dogs are also welcome at the Isle of Wight Pearl.
The Bay, Freshwater
Gold standard GreenLeaders, The Bay Boutique Bed and Breakfast offer full cooked vegan breakfasts (sausages, tomatoes, beans, mushrooms), toast with vegan spreads, cereals and drinks with dairy free milks (coconut, almond, soya). We also cater for vegetarians and any food intolerances such as gluten or dairy free. Sounds like a breakfast worth waking up for!
Ventnor Botanic Garden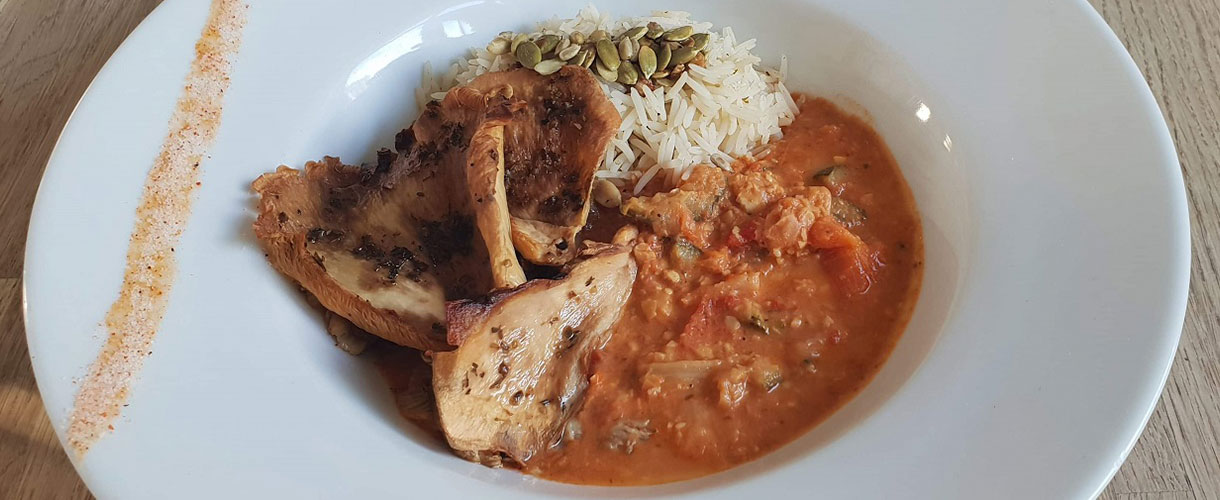 Hot, hot, hot – that's the garden and the curry! Enjoy a vegan meal for two at Ventnor Botanic Garden. Try their Napa Cabbage & Roasted Red Pepper Madras with VBG-grown oyster mushrooms, roasted with our own chilli salt, oregano and cardamom served with steamed basmati rice accented with toasted pumpkin seeds and pine nuts. Dinner for 2, each with a bottle of Ventnor Botanic Garden lager, for just £25.
Related
0 Comments