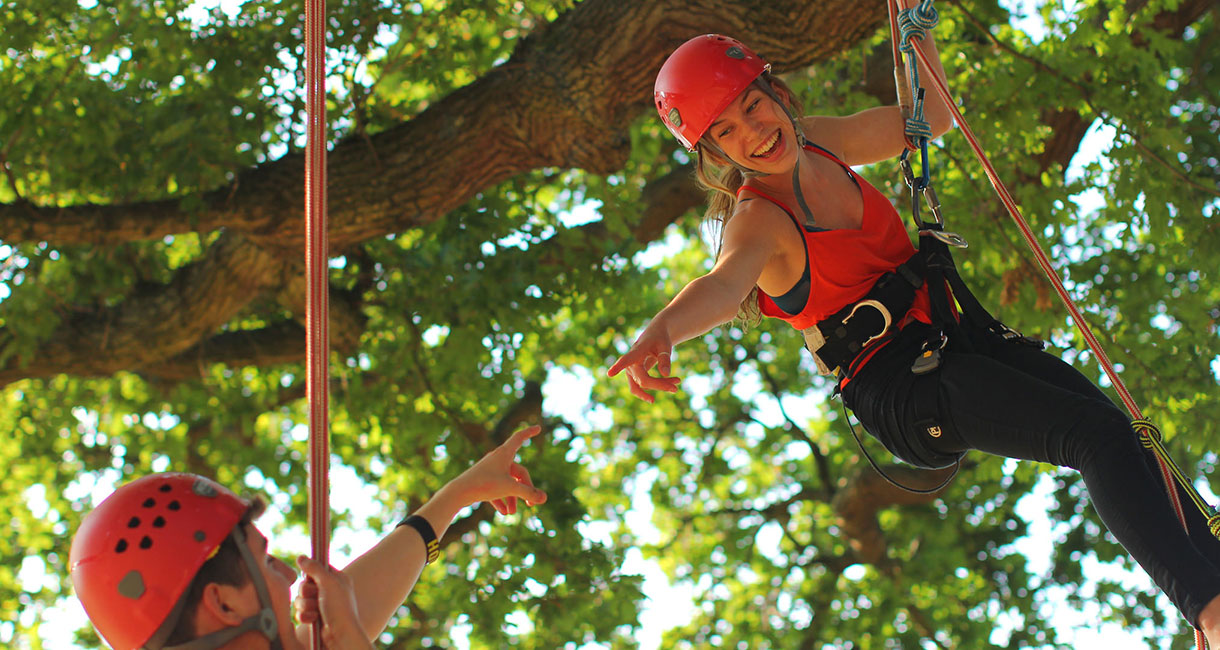 #MyMicrogap is a new VisitEngland campaign to inspire young Brits to discover the UK by taking mini gap-year style breaks.
The microgap campaign research by VE shows how 18 to 34 year olds are now taking mini trips in the UK that offer the same self-development opportunities of a typical gap year or career break abroad. Flexible working arrangements are also giving UK millennials an appetite to discover what's on their doorstep and take a new look at the adventures and experiences on offer.
The Isle of Wight is the perfect place to make the most of your travels and immerse yourself in your surroundings. So whether you'd like to indulge a passion, support a good cause, embrace a challenge, or open up new life-changing opportunities, here are a few inspiring microgap opportunities for you to experience:
Find out about animal conservation

New for 2019, the Founder Day Experience, a limited exclusive experience with Charlotte Corney, founder of The Wildheart Trust, which currently provides funding and technical support to in-situ conservation programmes for tigers in India, lemurs in Madagascar and native species here in the UK.
Charlotte grew up at the Isle of Wight Zoo has many colourful tales to tell from sharing her family home with exotic animals to walking tigers on the beach. Alongside this having spent many years running the zoo after her father died, Charlotte also has an intricate knowledge of the management of zoo and extensive knowledge of the conservation projects it supports.
Throughout your one to one with Charlotte, you will experience her trademark intimate style of engagement, leaving you feeling empowered in both the heart and the head. She will ensure that you enjoy intimate encounters with individual animals and leave with some very special memories to share with your friends and family. Click here to find out more.
Or you can spend an unforgettable day learning how to take better photographs of stunning animals at the Isle of Wight Zoo's Photography Workshop.The Island's seafront zoo is well known as a centre for rescued big cats – most recently five ex-circus tigers who are now healthy and thriving in their new, spacious enclosure.This one-day photography workshop will help you to develop your photography skills under the guidance of two experienced photographers – and capture great wildlife photographs. The cost of the photography workshop is £125. Click here to find out more.
Learn a new skill

Tiny Homes offer all kinds of amazing #studycations breaks, #artisanholidays at their on-site studio near Parkhurst Forest on the Isle of Wight.
Here they host everything from writers talks, to craft workshops to yoga with an emphasis on wellness and wellbeing in all its different forms. Forthcoming studio events include Willow weaving sculpture, Natural Perfumery Workshop, Spoon crafting, Practical Magic Weekend of Creative Living, Modern Macramé and a two-day introduction to the ancient craft of resist dyeing from Japan, entitled "Shibori Techniques and Indigo". Stay in your favourite Tiny Home Eilidh, Hygge or Silva and then choose a studio event to enhance your stay. Course prices vary, please visit thier website for full details.
Get back to nature

Tree climbing is a great way to explore the natural world while getting out in the fresh air and exercising. This 3-day Essential Recreational Tree Climbing course will teach you to access tall trees safely, enable you to move around in the canopy and descend in a controlled manner. Relish the peace and quiet, have fun and develop a hobby you will never grow out of. The cost is £325 for three days (from 9am to 5pm) and if you book for two or more people together, you'll receive a 10% discount. Click here to find out more.
Fun and adventure on the water

Discover the thrills and spills of sailing on a weekend taster course at UKSA in Cowes on the Isle of Wight. The RYA Start Yachting course is a practical sailing programme aimed at absolute beginners. The course is spent on-board the yacht and is a great way to get a feel for sailing, whilst having a fun and adventurous time on the water. 2019 course dates are; 8-9 June, 13-14 July, 21-22 July, 24-25 August, 31 August-1 September and 7-8 September. The course price of £210 includes all food while on-board the vessel. Click here to find out more.