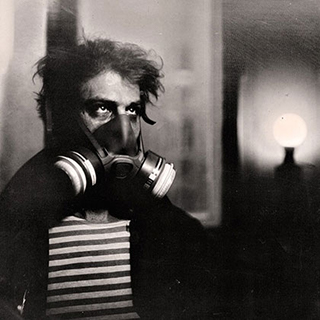 Silent Portraits by Honza Sakař, is the summer exhibition at Dimbola Galleries, the former home of the great Victorian photographic artist Julia Margaret Cameron. It is a collection of striking, emotionally charged black and white images produced using the wet collodion process.
If you're wondering why a young photographer would choose to step back in time and embrace the arcane photographic techniques used by Cameron, Honza says:
"The wet plate process is demanding technically and artistically, which has forced me to change my approach and over the years I have developed a prophetic second sight. That is why, most of the time, I am able to capture the image in just one take. Images are studies, they become artefacts conveying a visual and emotional narrative and in many ways they can be seen as letters to Julia."
The wet collodion process, invented in the 1850s, involves what can only be described as magical amalgamation of chemicals (some poisonous), liquids, light and plenty of patience. Like Julia before him, the process still tends to vandalise appearance, staining his clothes and hands black and wildly teasing hair in all different directions. Mastering the technique also took several years and Honza vividly recalls a portrait of his friend Lili that he regards as one of his first successes.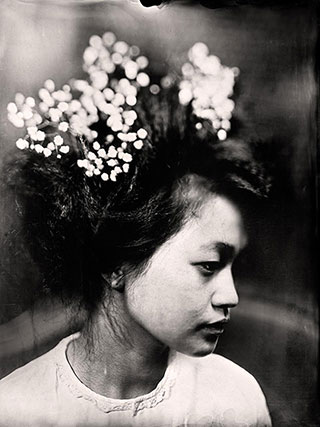 'Lili turned up with a bouquet and declared 'I am not leaving until we have a great image.' As it turned out this moment was hard to get, possibly the fifth plate or, in Lili's case, the fifth dimension as it captures her spiritual supremacy, the flowers become a crown, and there is also the tantalising presence of yearning."
Honza, who is definitely not stuck in the past, has installed an update. He scans the plates which are then manipulated in a computer programme. It is unusual to get a perfect plate and one free from processing errors – these are the blurs, halos, scratches and patches created by uneven applications of chemicals or simply bits falling onto the plate. Honza believes that these errors can cause a powerful emotional reaction that sometimes give credence to weak images.
"I manipulate plates to break through the superficial effects of processing errors. These errors can form a layer of meaning that diverts attention away from the image. The image is vital, not the processing errors, so, the manipulation is about finding balance to convey meaning."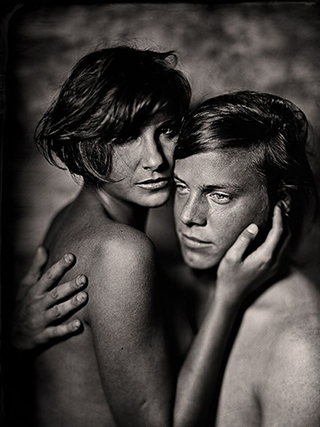 Each Silent Portrait is charged with hidden meaning and other-worldly beauty. Lovers embracing at the stroke of midnight. The suggestive flowering of hidden desires or longings that bloom in a paused moment. The fidgeting glow of a restless performer. The timeless mother's love for her child. Each image an artwork. Each person a work of art.
That an artist should look to traditional techniques as a medium of expression in an age when 93 million selfies are taken each day is in itself thought-provoking. Maybe a silent portrait is a sanctuary for the soul? Whatever his reasons, Honza's exceptional body of work reveal the power and appeal of wet collodion photography is still very much relevant today. This is also an astounding legacy for Cameron, the Victorian mother of six who took up photography at the age of 48 and transformed it into a fine art form. In Silent Portraits, if you listen carefully enough, you will hear the whispers of the past inviting you to open your heart.
SILENT PORTRAITS 26 May – 30th September
For more information about Dimbola Museum and Galleries, including opening times and ticket prices click here.
Related
2 Comments