Acoustic Isle celebrates the rich music and festival history of our small Island, which every year plays host to some of the biggest events in the UK. The Isle of Wight Guru takes us on a quick "rock and roll tour" of festival sites, past and present, which you can still explore today!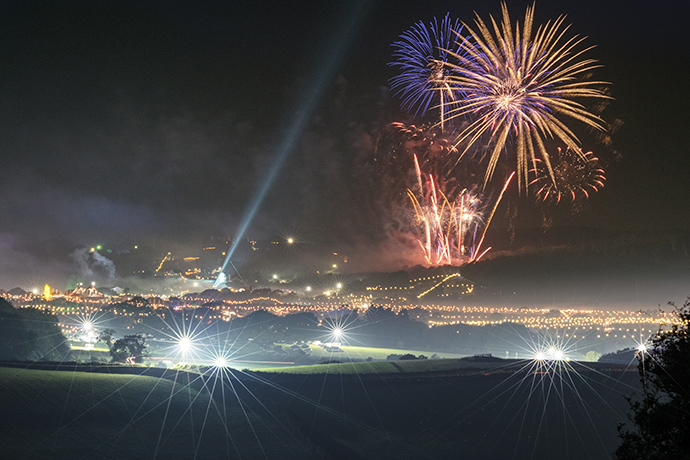 (above) Closing Fireworks at Bestival, Robin Hill Country Park
I once heard a singer at the Isle of Wight Festival at Seaclose Park remark how proud he was to play on the same stage as such greats as Jimi Hendrix and The Doors. I didn't like to mention that the stage he was talking about was 12 miles away near Freshwater. In fact, the Isle of Wight's musical history is rich enough for a whole tour which covers a big chunk of the Island.
The first major festival – in 1968 - was held on land near Ford Farm which is halfway between Godshill and Whitwell. About 10,000 – 15,000 people turned up to see Jefferson Airplane, Arthur Brown and T-Rex. Ford Farm is now a bed and breakfast.
A year later Bob Dylan was somehow persuaded to re-emerge to the public eye by appearing on land overlooking Woodside Bay at Wootton Bridge in front of about 150,000 people. The arena was about 150 metres from the shoreline and looks to be accessible on foot (although I've not attempted it myself yet). Big names who apparently turned up to see Bob Dylan included John Lennon, Ringo Starr, Keith Richards, Bill Wyman, Charlie Watts, Eric Clapton, Yoko Ono, Liz Taylor, Richard Burton, Jane Fonda and Elton John.
In 1970, the festival moved again, this time to East Afton Farm near Freshwater, just off the Middle Road. Jimi Hendrix, Joni Mitchell, Leonard Cohen, The Doors and Emerson, Lake and Palmer were amongst those who performed. How many people turned up? Estimates seem to go up every year, but some say it was about 600,000. I suspect there are a few hippies who still haven't left. You might also like to visit the Jimi Hendrix statue at Dimbola Lodge in Freshwater.
In 2002, after a rather lengthy break, the Isle of Wight Festival turned up at Seaclose Park in Newport. There's a hotel at the site which is used by some of the bands, so you might get to share a bed with acts including the Rolling Stones, Paul McCartney, Coldplay, REM, Jay-Z, Pharrell Williams, Red Hot Chilli Peppers, Bruce Springsteen, Foo Fighters, Kings of Leon, David Bowie, The Police and The Who. You've got to admit that's an impressive list when they're all put together.
On the final stop of the rock and roll tour, you might like to visit Robin Hill Country Park near Arreton, home of the Bestival since 2004. Bestival started as a boutique festival but has grown to compete in terms of numbers with the Isle of Wight Festival. On one surreal day I remember Basement Jaxx riding on the park's toboggan run. In recent years, Stevie Wonder, Elton John and Snoop Dogg have been amongst the acts. As far as I know, Elton John didn't ride on the toboggan run unfortunately.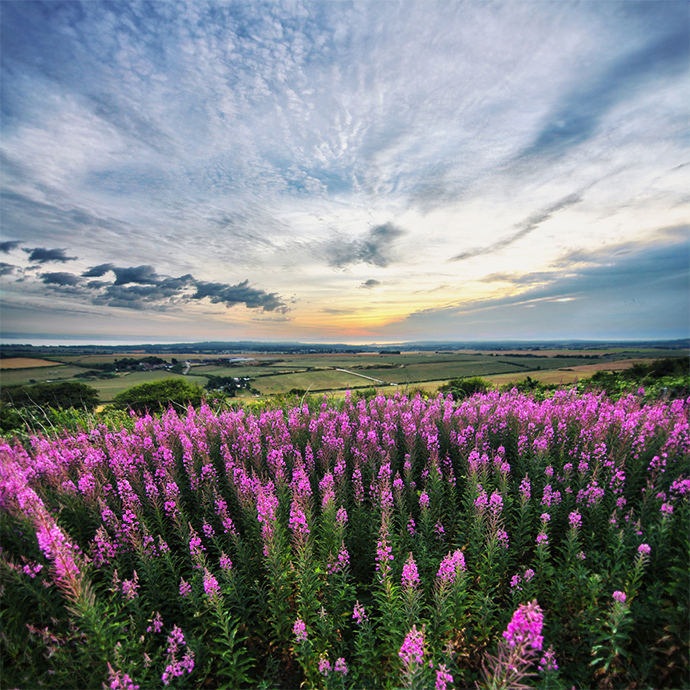 (above) View from Afton Down, location of 1970 Isle of Wight Festival Site
This is an extract from Isle of Wight Guru's 25 historic places to visit on the Isle of Wight (view here) and Isle of Wight Guru's history of the Isle of Wight Festival (view here).
Why not try the Isle of Wight Guru's tour for yourself during Acoustic Isle - information on walking routes and places to stay nearby can be found elsewhere on our website, and check out the gig guide, for the latest line-up of musical entertainment.
There are also some great value Acoustic Isle Special Offers to check out.
Related
0 Comments