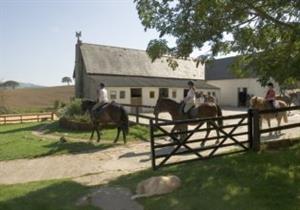 Address/Location
Newport Road
GODSHILL
Isle of Wight
PO38 3LY

Contact
*Top Quality tuition at all levels with BHS registered instructors.
*Excellent hacking in stunning countryside.
*Children's Club.
*Liveries/schooling/preparation for BHS and NVQ exams.
*All within a professional, friendly yard.
*Opening hours: - 9.00am - 5.00pm. Closed Mondays.
*Advanced bookings please, 24 hours notice required.
*All rides escorted.
*Hard hats must be worn, available for hire for £1.
*Gift Vouchers.
*Day rides, picnic rides by arrangement.
*All weather outdoor school.
*All care will be taken but riding is at own risk.
BHS approved riding establishment.
www.allendale-ec.co.uk
PRICES:
Adult 30 min Lunge Lesson: £26.00
Adult 1 Hour Class Lesson: £25.00
Adult 30 min Class Lesson: £17.00
Adult Hacking - 30 mins walkout: £15.00
Adult 30 min Private Lesson: £26.00
Adult Hacking lesson 1 hr: £25.00
Adult 2 hrs: £45.00
Child 30 min Lunge Lesson: £26.00
Child 1 Hour Class Lesson: £24.00
Child 30 min Class Lesson: £16.00
Child Hacking - 30 mins walkout: £15.00
Child 30 min Private Lesson: £26.00
Child lesson 1 hr: £24.00
Child 2 hrs: £43.00
Opening Times
Opening
(01/01/2013 - 31/12/2013)
What's Nearby
Celebrating 60 years in 2012 you will find this beautiful Model Village nestling in the grounds of...

0.97 miles away

Our ex-working farm is a unique venue set in 12 acres of the beautiful Arreton Valley. The...

1.71 miles away

Amazon World Zoo Park is the Isle of Wight's largest exotic animal attraction and is a great day...

2.1 miles away

With free unlimited return visits over a seven day period, award-winning Robin Hill definitely...

3.06 miles away
Buy beautiful long-keeping garlic. Learn about growing garlic, garlic for health & the power of...

3.24 miles away

When the owners of a nearby house sank new foundations for a garage in 1926, they discovered...

3.56 miles away

Famous for its donkeys and as a royal prison to Charles I and now the location of the stunning new...

3.61 miles away

Hire ELECTRIC BIKES and add a new dimension to your Island holiday!

The Island is a great place...

3.61 miles away

Designed by John Nash and built in 1816, the historic Guildhall is home to the Museum of Island...

4.01 miles away

Historic Gorge, with dramatic waterfalls and nature trail. Nature Hide, with live camera to...

4.18 miles away

Shanklin Beach is a one of the Isle of Wight's best known stretches of golden sands, which backs...

4.22 miles away

Shanklin Seafront has everything you need for the perfect family day out at the Seaside, popular...

4.25 miles away

JR Zone has the largest adventure play frame on the Island. Covering 3 amazing levels, kids will...

4.26 miles away

Where better to get away from it all and enjoy your Golf? Visitors and societies are assured a warm...

4.34 miles away

Ventnor beach is the southernmost holiday beach on the Isle of Wight and is well-loved by locals...

4.35 miles away

Ventnor Botanic Garden boasts an impressive collection of sub-tropical plants and trees, making it...

4.4 miles away
Previous
Next