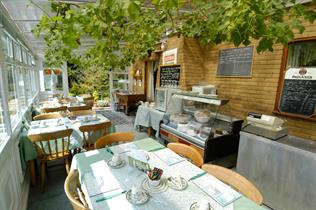 Address/Location
Newbarn Lane
GATCOMBE
Isle of Wight
PO30 3EQ

Contact
Award winning Cream Tea emporium established in 2002 set in an Area of Outstanding Natural Beauty.
Located in Gatcombe (arguably) one of the most beautiful villages on the Island.
Enjoy a cream tea/home made cakes/pastries etc with over 30 Teas to choose from, open all year round (except xmas and new year 12 noon- 5pm,4pm winter).
Outstanding views, and service second to none.
The Gatcombe Tearooms invites you to treat yourself to your "obligatory" (and why not?) holiday Cream teas, here on the island so that you go home and never forget the experience.
We look forward to welcoming you to The Gatcombe Tearooms very soon.
Opening Times
Opening
(01/01/2013 - 31/12/2013)
What's Nearby
Famous for its donkeys and as a royal prison to Charles I and now the location of the stunning new...

1.5 miles away

When the owners of a nearby house sank new foundations for a garage in 1926, they discovered...

2.22 miles away

Designed by John Nash and built in 1816, the historic Guildhall is home to the Museum of Island...

2.6 miles away

*Top Quality tuition at all levels with BHS registered instructors.
*Excellent hacking in...

2.61 miles away
JR Zone has the largest adventure play frame on the Island. Covering 3 amazing levels, kids will...

2.83 miles away

Celebrating 60 years in 2012 you will find this beautiful Model Village nestling in the grounds of...

3.49 miles away

With free unlimited return visits over a seven day period, award-winning Robin Hill definitely...

3.49 miles away

The award winning* Colemans Activity and Play Farm Park home to:

- COLEMANS PLAY...

3.54 miles away

FIELD STUDIES FOR SCHOOLS
geography, biology and ecology
RYA SAILING AND POWERBOATING COURSES...

3.66 miles away

Whooping gibbons, mischievous marmosets, cheeky capuchins and alluring owls are just some of the...

3.8 miles away

Our ex-working farm is a unique venue set in 12 acres of the beautiful Arreton Valley. The...

4.09 miles away

The Isle of Wight Butterfly World is filled with butterflies from around the world and a range of...

4.11 miles away

Amazon World Zoo Park is the Isle of Wight's largest exotic animal attraction and is a great day...

4.26 miles away

Buy beautiful long-keeping garlic. Learn about growing garlic, garlic for health & the power of...

4.47 miles away

*This ancient building is the only remaining evidence of the former importance of Newtown.
*The...

4.98 miles away

At Isle of Wight Pearl, we have the most extensive range of pearl jewellery in the UK. Whether...

4.98 miles away
Previous
Next