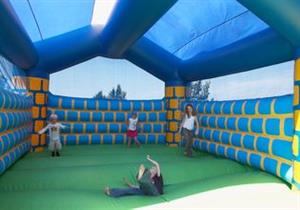 Address/Location
Main Road
NINGWOOD
Isle of Wight
PO30 4NW

Contact
Awarded 'Best Family Pub' in the South East by The Great British Pub Awards for both 2009 and 2011, this 250-year old coaching inn provides traditional home-cooked pub meals with an emphasis on local produce.
The pub has a roomy interior with original wooden beams and flagstone flooring, as well as a family-friendly atmosphere with a kid's corner to keep the little ones entertained. It's also home to a large, fully equipped outdoor play area complete with a bouncy castle and crazy golf.
Food is served all day, opening at 9am for breakfast, and there's also a menu for smaller appetites and children. The week culminates with a fantastic roast every Sunday.
Opening Times
Opening
(01/01/2013 - 31/12/2013)
* Open everyday Monday to Sunday 9am-11pm.
What's Nearby
*This ancient building is the only remaining evidence of the former importance of Newtown.
*The...

1.84 miles away

Visit our working studio at Chessell Pottery Barns where you can have a go at painting your own...

2.15 miles away

Family Cycle Hire and is suitable for all ages and abilities.

With 2 locations; their main hire...

2.54 miles away

A Wight Walks Holiday is a wonderful way to explore the hidden charms of the Isle of Wight; it's a...

2.76 miles away
We love outdoor adventure activities, and we want to show you why we love them. Our adventures are...

3.4 miles away

One of the Isle of Wight's best kept secrets is Compton Beach. Located in West Wight, Compton...

3.41 miles away

Mottistone Manor Garden, which is in the care of the National Trust, is one of the most peaceful...

3.44 miles away

The award winning* Colemans Activity and Play Farm Park home to:

- COLEMANS PLAY...

3.59 miles away

Brook Beach can be found on the unspoiled south west coast of the Isle of Wight, and is a beach...

3.6 miles away

Discover a hidden underwater world!

Come to Sunken Secrets at Fort Victoria and get closer to...

3.65 miles away

The Aquarium aims to allow visitors to come face to face with many of the amazing creatures found...

3.65 miles away

50 acres of woodland centred around a Victorian Fort.

Guided Ranger Tours - please contact the...

3.65 miles away

Freshwater Bay is one of the most picturesque beaches in West Wight and lies just to the South of...

3.79 miles away

We have been teaching paragliding since 1981 and have become one of the most successful schools in...

3.8 miles away

First Contact organises activities for groups of adults including corporate events, team building...

3.8 miles away

What-Knot Crafts provides a variety of decorative and functional items using different techniques...

4.29 miles away
Previous
Next