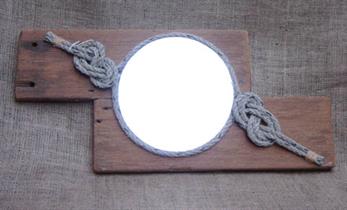 Address/Location
Quarr Abbey
Quarr Road
Ryde
Isle Of Wight
PO33 4ES

Contact
Thursday 24th to Tuesday 29th May 10.30 to 4.30 daily
This year at Quarr Abbey John Steggles of What Knot Crafts is hosting an exhibition of his work. John works with found objects such as drift wood and rope to make some very original items for the house and garden using different techniques including knotting and macramé. He also uses cord and braid to make smaller items such as key rings, brooches and bracelets. He is always open to new ideas and commissions.
He is pleased to be joined by Ruth Herbert of Cards by Ruth, an artist from Yarmouth.
It was when she retired to the Island in 2006 that Ruth took up her hobby again. It was the clean air, scenery, interesting buildings & wildlife which prompted the revival. Her artwork depicts landmarks on the Island, also animals, birds and flowers. Some are used to produce cards, postcards, notepads and limited edition prints.
Ruth has recently completed a major commission and gives small class teaching in her own home.
He is also welcomes Pauline Evans with her kiln formed glass which is inspired by the coastline, flora and fauna of her surroundings. She has a large range of both decorative and functional pieces including coasters, bowls and wall hangings.
We look forward to meeting you. Admission and parking are free. The Abbey Tea rooms will be open for refreshments.
What's Nearby
Long established cycle store for sales, service and cycle hire. Selling specialised and trek cycles...

1.65 miles away

Leo Leisure Bingo club & cinema is situated at the top of the town in Ryde and is the Island's only...

1.67 miles away

ABOUT US:

Fired Art is a friendly family run business in the heart of Ryde. We guarantee you a...

1.7 miles away

Inspiring, Surprising and Award-Winning … Equally appealing to adults and families, your visit to...

1.95 miles away
FREE ADMISSION! Stroll round the vines, tour the winery, watch our 'vine to wine' video and enjoy...

2.1 miles away

The beaches at Ryde lie on the north east coast of the Isle of Wight and offer miles and miles of...

2.25 miles away

The Isle of Wight Butterfly World is filled with butterflies from around the world and a range of...

2.8 miles away

Whooping gibbons, mischievous marmosets, cheeky capuchins and alluring owls are just some of the...

3.14 miles away

Gold Award Winners – Best Tourism Experience

Seaview Wildlife really stands out from the crowd! ...

3.39 miles away

Osborne House, Queen Victoria's family home, is one of the most popular tourist attractions on the...

3.46 miles away

Two holes opened by Royal Household in 1892. Extended to nine holes by Osborne House Governor in...

3.54 miles away

With free unlimited return visits over a seven day period, award-winning Robin Hill definitely...

3.61 miles away

Buy beautiful long-keeping garlic. Learn about growing garlic, garlic for health & the power of...

3.63 miles away

Situated a mile or so from the village, Nunwell House and Gardens should definitely not be missed....

3.93 miles away

Goodleaf offers a unique opportunity to enjoy fantastic tree climbing in beautiful surroundings....

3.99 miles away

FIELD STUDIES FOR SCHOOLS
geography, biology and ecology
RYA SAILING AND POWERBOATING COURSES...

4.05 miles away
Previous
Next